The First Look At ASOS' Hello Kitty Collection Is Here & You Will Want Every Item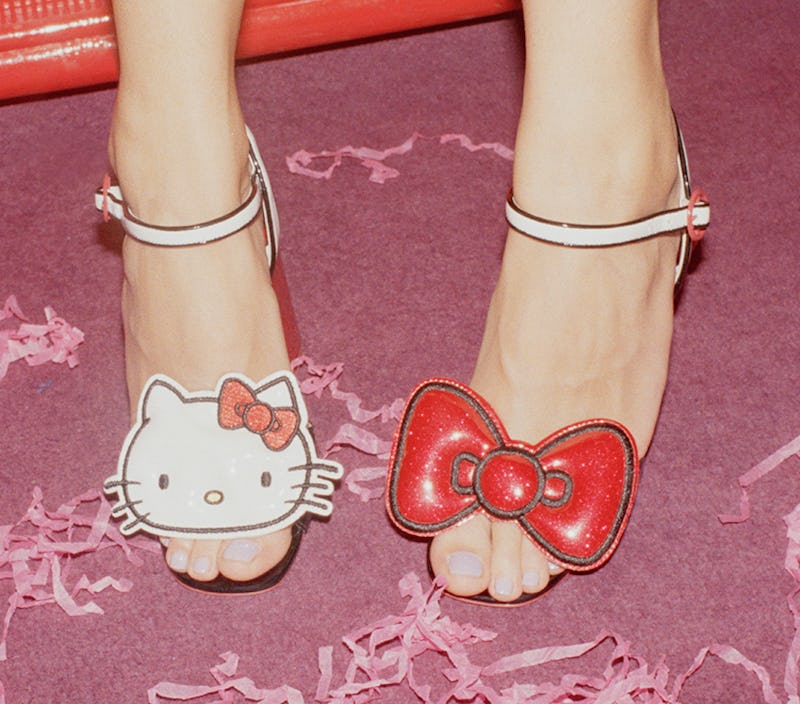 Hello Kitty has infiltrated the beauty scene multiple times this year, with everything from a Peter Thomas Roth skin care collection to Fragrant Jewels Bath Bombs. Now, HK is taking on the fashion realm with a fabulous feline flourish. The Hello Kitty x ASOS collection cruises onto the fast fashion retailer's site on Thursday, Oct. 26.
Let's pause for a hot second so you can whip out your smartphone and program a reminder to shop this 40-piece range before it sells out. After all, it's too cute not to fly off the e-shelves.
The collection is as adorable as it is wearable and appropriate. It's also chic, not totally adolescent. Any of the pieces will add a dose of feline fashion fun to your #OOTD.
Hello Kitty x ASOS collection is a clothing and gifting range, so you can stock up on plenty of things for your own closet and get some holiday shopping done at the same time. The apparel is streetwear-inspired and offers a fun mix of preppy classics and basics alongside kitschy, dressier pieces.
According to a press release, the brand and the retail outlet worked in conjunction to create the exclusive, dabbing Hello Kitty logo that is sprinkled throughout the collection.
That's right. Hello Kitty is hitting that dab.
A variety of dresses, tops, PJs, and sweaters, as well as socks, jewelry, and bags, has been giving a delightfully devilish Hello Kitty makeover in the collection. HK x ASOS pricing starts as low as $8. Some of the offerings have a cool, hipster like these heels. Cutest. Strappy. Shoes. Ever!
Affordably adorable Hello Kitty accessories, such as this chain strap bag, will elevate your outfit.
The Hello Kitty silhouette is instantly recognizable and translates beautifully as an earring. Who needs another boring gold hoop when you can have an oversized, gold Hello Kitty head instead?
The sequined sweater with the floating Hello Kitty bow and whiskers graphics will serve many wardrobe needs. You can wear this top to a festive event this holiday season or during a GNO. So many options!
Of course the Hello Kitty x ASOS collection has a sassy LBD. It's anything but basic, thanks to the sequins, the long-sleeved construction, and that statement bow.
These slide sneakers are fuzzy, just like a cat. Furry footwear always adds a little extra "oomph" to an ensemble. Dress these kicks up with an LBD or down with leggings. You really can't go wrong.
The Hello Kitty x ASOS collaboration allows you to be decked out in HK items from top to toe. This knit beanie with a bow is super cozy and subtle in its branding. Even the most casual fans of the enduring cartoon cat will fall in love with this hat.
The bucket bag is another piece with the floating (and more subtle) imagery. It is just the right dose of chic and cheeky.
HK x ASOS is all about the placement of darling details. This striped-and-structured button down enjoys a playful boost from the bows at the wrists and the Hello Kitty head playing peek-a-boo above the pocket.
Adventurous fashionistas will be quick to scoop up these black sweats, which are totally glam, thanks to those scarlet side bows. This is the most high-fashion pair of joggers you will ever own.
This super soft jacket with bow detailing on the hood strings is one of the coziest items in the set. You need not sacrifice cuteness simply because it's cold — and this coat is proof.
If you aren't left purring with exciting over this expansive collection, then I just don't know what to say.