Juicy Couture x Urban Outfitters Will Make You Super Nostalgic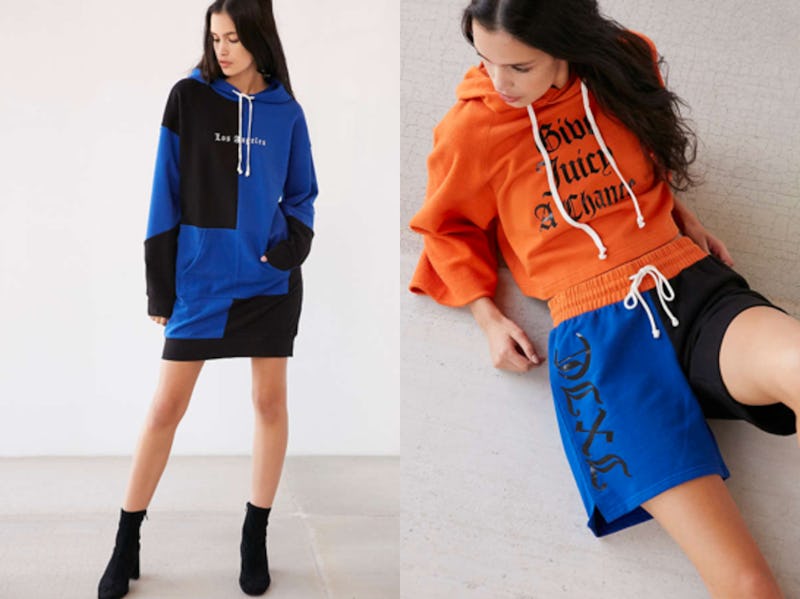 Juicy Couture for UO
You know you're excited about the collaboration — so, what's in the new Juicy x Urban Outfitters collection? It is kind of a match made in heaven, after all — UO is nostalgia central, and Juicy Couture was your early 2000s holy grail brand. Oh, and best of all? The whole new line just dropped May 1st at Urban Outfitters, in stores and online.
So, what exactly can you expect from the Juicy Couture for UO? Well, for starters, it's actually fairly affordable, with prices ranging from $28 to $169. It also happens to have something of an athleisure vibe, something that plays nicely off of Juicy Couture's iconic California girl vibe (and of course, their infamous tracksuits) as well as current trends. You can expect lots of cropped sweatshirts, colorblocked sweatpants, and comfy tank tops — as well as that iconic gothic lettering and velour leisurewear, of course.
Whether you were born in the iPhone age, or you remember the halcyon days of the early-mid 2000s when the pale pink Scotty dog-printed Sidekick reigned supreme, it's officially time to get excited about the latest offerings Juicy x UO — so, let's take a look at some of the coolest pieces from the new capsule collection!
Gothic Crystal High-Rise Velour Track Pant, $99, Urban Outfitters
Pull off that Kylie Jenner flair in these bejeweled velour track bottoms, updated from the classic with a modern jogger pant silhouette.
Gothic Crystal Hooded Velour Top, $119, Urban Outfitters
Here's another fun Juicy Couture classic, also with a fashion-forward 2017-friendly update.
Oversized Hoodie Sweatshirt Dress, $119, Urban Outfitters
Suede platform boots encouraged, but not required.
High-Rise Color Block Jogger, $79, Urban Outfitters
Colorblocked joggers? Yes, please.
All You Need Cropped Tee, $39, Urban Outfitters
And last but not least? A simple, to the point staple.
That was just a few highlights — the full collection actually contains much more. Head over to Urban Outfitters to see it all!