Twitter Thinks It Has The Solange Knowles x Ikea Collaboration Sussed & LOL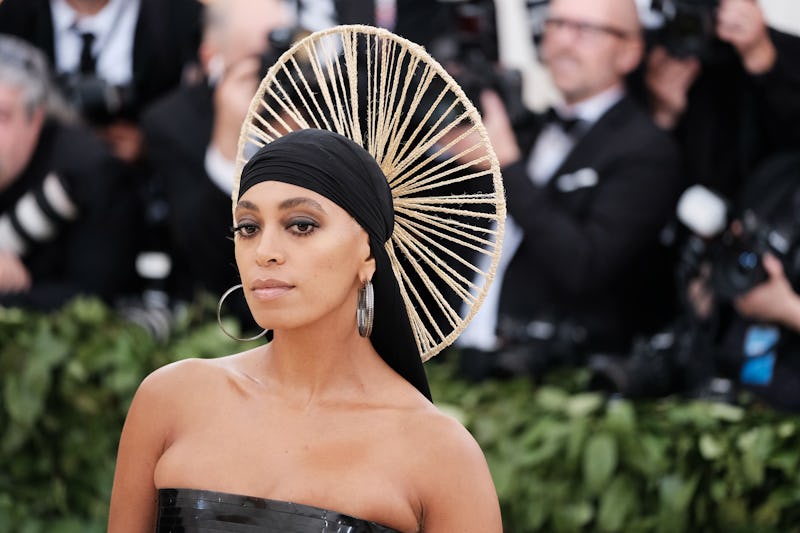 Nina Westervelt/BEI/REX/Shutterstock
Ikea seems to be everyone's new favourite collaborative partner, and to be honest, that doesn't surprise me. What does surprise however is who the brand's latest partnership deal is with. Seriously, nobody saw this one coming, but it turns out Solange Knowles is collaborating with Ikea. Yes, as in Beyoncé's sister. OK, well, it's not technically a Solange x Ikea deal — the project is actually with Knowles' design collective Saint Heron, but it's pretty close. So what's in the Solange and Ikea collaboration?
The news was announced on Thursday night with an elusive video that can hypnotise you if you're not careful (see below). Apparently, the collaboration is set to explore "architectural and design objects with multifunctional use." It's unclear what this means exactly . A chair that doubles up as a bed? A table that turns into a bookcase? A duvet that can also work as a coat? With Solange's Saint Heron on board, anything can happen.
Marcus Engman, Ikea's head of design, enlightened everyone a little more, talking about the project in a statement. "At Ikea we are curious about the creative space in between architecture, design, art, and music and how that could come alive in the homes of the many people," he is quoted by the Metro as saying. "This is what we want to explore together with Saint Heron."
Although zero images have been released, perhaps all of us should be expecting furniture with some kind of musical twist. I don't even have the imagination to conjure up what that could look like. Perhaps a guitar-shaped sofa? There's no date set for the collection's release just yet but expect more news very soon.
As you can expect, people are very very excited about the upcoming collaboration. In fact, the Twitterverse is practically begging Knowles to take their money:
Meanwhile, plenty of fans are sharing the items that they're dreaming of seeing in the collection. There are calls for water beds and pillows made from Knowles' wigs as well as hopes for full-on meditation room furniture.
Ikea has dominated headlines since the big announcement. Along with confirming the Saint Heron collaboration, the Swedish brand has also spilled the beans on a collection of home sports equipment with Adidas, and a range of children's toys in partnership with Lego.
And that's not all. You've probably seen pictures of a giant receipt rug and a brown rendition of Ikea's iconic Frakta bag doing the rounds on social media. Both of the designs are the work of Off-White's Virgil Abloh. This particular collaboration won't be released until 2019 but has been building hype since the beginning of this year.
Abloh was tasked with creating items perfect for people moving into their first home. Everything that has been unveiled so far features a pop art twist from the quote mark rugs to the glass cabinet.
While most collaborations will set you back a decent amount of money, Ikea's new ventures will remain affordable and at the usual prices offered by the homeware brand.
Ikea has Balenciaga to thank for its recent spate of new friendships. Last year, the French fashion house — headed up by Vetements' Demna Gvasalia — released a blue bag that looked almost identical to Ikea's Frakta bag. The only difference? The price. While Ikea's accessory only costs 40p, Balenciaga's version was a whopping £1,705.
Of course, Ikea responded brilliantly, releasing an advert that told shoppers how to spot an "original" Frakta bag. "If it rustles, it's the real deal. It can carry hockey gear, bricks, and even water. A true Frakta is simply rinsed off with a garden hose when dirty," the ad read. Guaranteed you can't douse Balenciaga's leather design in water without regretting the effects.
Ikea may be the most confusing place in the world to walk around but I will 100 percent be there to pick up every single piece from Knowles' artistic collection. Race you to the till.