This Star Wars Fashion Collection Might Be Most Perfect One Yet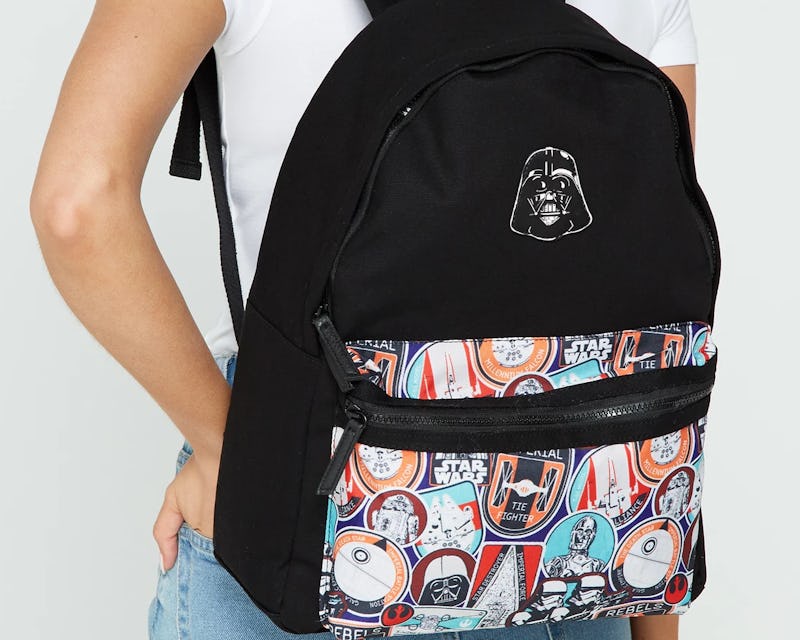 Courtesy of Cotton On
The Last Jedi is now in theaters, and raked in millions in box office receipts in one weekend alone. There have been many Star Wars collabs in preparation for the film, from the Cargo Cosmetics collection to the ASOS x Star Wars menswear collection. Now, there's also the Cotton: On Star Wars fashion collection, which has unisex pieces and apparel for men, women, and children. It's trendy, cute, and affordable, starting at $7 and going as high as $50.
If you've got any last minute holiday shopping to do, you might want to get on this capsule collection for Star Wars lover in your life. Or you can add a little Star Wars spice to your own closet as a treat yo' self.
While there is a variety of everyday stuff available, ranging from mugs, laptop cases, cell phone cases, keyrings, lights, beverage bottles, and headphones, it's really the attire and apparel that's calling your name.
The pieces feature cool Star Wars graphics on fashion forward cuts and silhouettes. Hoodies, tees, baseball caps, and socks are featured in this super wearable, athleisure-focused range.
The collection won't be a drain on your financial resources if you stock up, either. These are the items you will want to incorporate into your wardrobe, stat.
Delevingne Graphic Hoodie, $15, Cotton On
It's pink and it announces your love of the franchise on your person. You can wear it with skinnies, boyfriend jeans, a denim skirt, or joggers.
Tbar Cold Shoulder Tee, $15, Cotton On
The cold shoulder tee, whose shoulder cutouts up the fashion ante of any basic top, will go great with leggings. Throw on a cardi if it's chilly out. The black top is a total classic with a loose fit and also mimics a tank. However, if you don't want to go to the Dark Side and rock black, there are plenty of other color options — there's a pink version, too!
Don't Mess With The Princess Tbar Cold Shoulder Tee, $15, Cotton On
If it's Princess Leia you love — and really, who doesn't?! — then this is the tee you need in your life.
Men's Novelty Socks, $10, Cotton On
You can totally crib these socks and wear them with a dress and sneakers or slides when the temps start to rise. Or you can gift them to any Star Wars fan person in your life. There are other styles, including R2-D2 designs, so feel free to stock up.
Vancouver Backpack, $50, Cotton On
Darth Vader has your back, quite literally, with this roomy book bag. It's great for school, traveling on the weekends, or whenever and wherever you are on the go, go, go.
The design is a bit more simple, but also displays your Star Wars fandom in an outward way.
Neoprene 13 Inch Laptop Case, $30, Cotton On
If you want to rock some stylish accessories, this padded laptop case will protect your computer. But you can't argue with Darth Vader's bad ass mug on the front, either.
Mesh Travel Case, $17, Cotton On
In the market for a new makeup bag? If that's the "case," then this mesh travel tote will serve all of your needs. You can use it to store eyeliner, mascara, and brushes. Or you can tuck all of your phone chargers and additional computer cables in it while hitting the road. It's good to have options.
Even though we are dangerously close to the holidays with limited shipping time left, that shouldn't deter you from shopping this capsule. They may arrive after the holidays but they are totally worth the wait. You can rock them long after The Last Jedi has left theaters.