Here's How To Shop Too Faced X Skinnydip London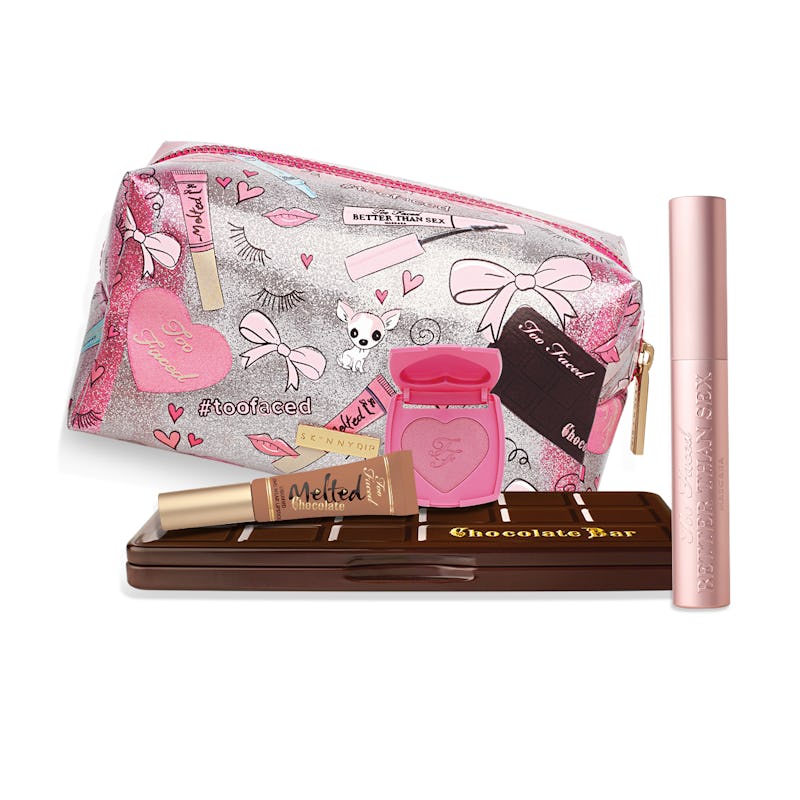 Courtesy Too Faced Cosmetics
What's better than chocolate for Valentine's Day? Chocolate-scented makeup. That's what. Too Faced is giving you the chance to shop the equivalent of roses, teddy bears and a box of chocolates in the form of beauty items just in time to celebrate the day of love. What's in Too Faced's Love, Lashes & Chocolate Set? Treat yourself to these perfect products!
Co-Founder and Chief Creative Officer Jerrod Blandino is the king of teasing Too Faced items well before their launch date. That's exactly what happened with the Too Faced X Skinnydip London makeup bag. But, after waiting for months, this clutch is finally available for purchase. It's a limited edition buying option, though, so you're going to have to act quickly to scoop it up! According to Allure, it will only be online until Feb. 9.
You'll find one of the Too Faced X Skinnydip bags in the Love, Lashes & Chocolate Set along with quite a few other beauty products. The collection retails for $72 (even though it's a $116 value, according to the Too Faced website) and contains the makeup bag, a Better Than Sex Mascara, a mini Love Flush Blush, a mini Melted lipstick and last, but not least, the brand's Chocolate Bar Eye Shadow Palette. Falling in love with this bundle? Can't say I blame you!
This adorable little tote could be yours very soon.
Love, Lashes & Chocolate Set, $72, Too Faced Cosmetics
The bundle has a lot to offer, so you really do need to get your hands on it as soon as possible!
You're going to want to carry the Too Faced X Skinnydip cuteness with you everywhere you go.
And this shopping option gives you all the items you'll need to have these clutches full to the brim of incredible makeup.
I mean, seriously. What's not to love about this range?
Collaborations like this don't come around often, and when they do, buying in bulk is practically a necessity.
You've still got some time to shop this limited edition set, so head over to the Too Faced website before it's gone! You deserve to treat yourself, after all!