Here's What's Leaving Netflix In February 2017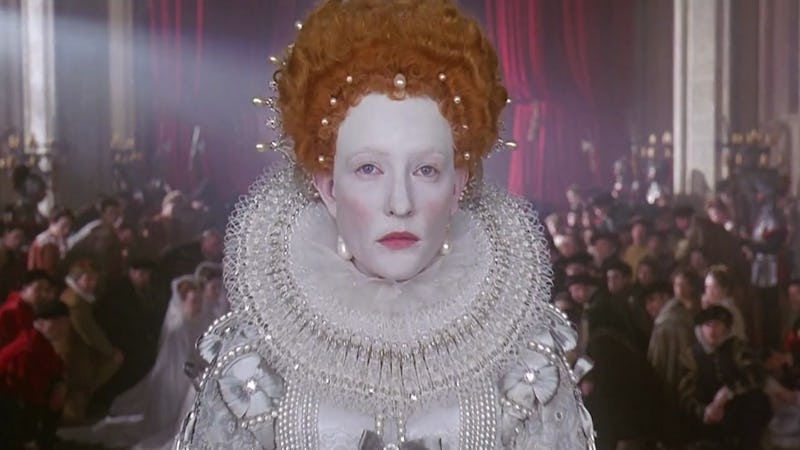 StudioCanal
With winter in full swing, it's time to snuggle up on the couch with a cup of hot chocolate and your Netflix queue — specifically so you can enjoy what's leaving Netflix in February 2017. You know, before it's too late. While the streaming service certainly has a whole new batch of things to watch next month, this is officially the last call for all of those movies and TV shows you'd like to watch one last time.
This month's list is a mixed bag filled with documentaries, rom-coms, teen flicks, biopics, and a couple of Sarah Jessica Parker movies that will make you forget about Carrie Bradshaw. Well, at least until next month. For those hooked on The Crown, there's a royal you may want to catch up with sooner rather than later. Not to mention, there's also a Leonardo DiCaprio classic that will have you feeling all kinds of nostalgic.
So don't start February with any regrets, and make some time to check these out.
1. Elizabeth
Bow down to Queen Cate Blanchett, who stars in this 1998 biopic that looks at Queen Elizabeth I of England rise to the throne after the death of her half-sister Mary I. Oh, by the way, that's the same half-sister who imprisoned her. And you thought you family had drama.
2. Failure To Launch
Get your Sarah Jessica Parker fix with this rom-com about a woman who is tasked with getting Matthew McConaughey out of his parents' house, but ends up falling into his arms.
3. Girls Just Wanna Have Fun
Make it an SJP double feature with this 1985 teen comedy about a girl who, yes, just wants to have fun. But her parents are making that very hard.
4. An Inconvenient Truth
Right now seems like a good time to re-watch this documentary that has former Vice President Al Gore teaching you about climate change. Watch it whether it's convenient or not.
5. A.C.O.D
That would be Adult Children of Divorce. This comedy looks at those children who have watched their parents marriages dissolve. Adam Scott specifically, who is now trying to understand the effects of his parents' divorce on him before his brother gets married. It's funnier than it sounds.
6. Save The Last Dance
Sara Johnson (Julia Stiles) gets to live her dreams of attending Juilliard in this dance drama that also tried to give some commentary on race relations. It was made in 1998 though, so, at this point, it's best to just watch it for the dancing.
7. What's Eating Gilbert Grape
Remember when Leonardo DiCaprio wasn't yet an Oscar winner, but was just an up and coming actor earning his first nomination? I don't either. So sit back and let this tearjerker remind you of just how good DiCaprio's always been.
8. Frida
This 2002 biopic takes a look at the life and loves of artist Frida Kahlo, played by Salma Hayek. It doesn't shy away from Frida's health issues, her bisexuality, or her art, giving us a surreal look at the Surrealist painter.
9. There Will Be Blood
Grab a milkshake and spend some quality time with Daniel Plainview as he attempts to build an oil empire.
10. Trainspotting
Watch Ewan McGregor try to kick heroin in this dark comedy that's the best anti-drug ad ever.
11. Somewhere
Watch this Sofia Coppola movie about a flailing actor (Stephen Dorff) and his young daughter (Elle Fanning) anywhere you want. Just make sure you do it before February 16.
12. Clueless
You're not going to watch this '90s teen classic before it leaves Netflix on February 28? As if.
What are you waiting for? Get to watching these movies and TV shows before the calendar changes.