Hollywood May Not Know What To Do With Tatiana Maslany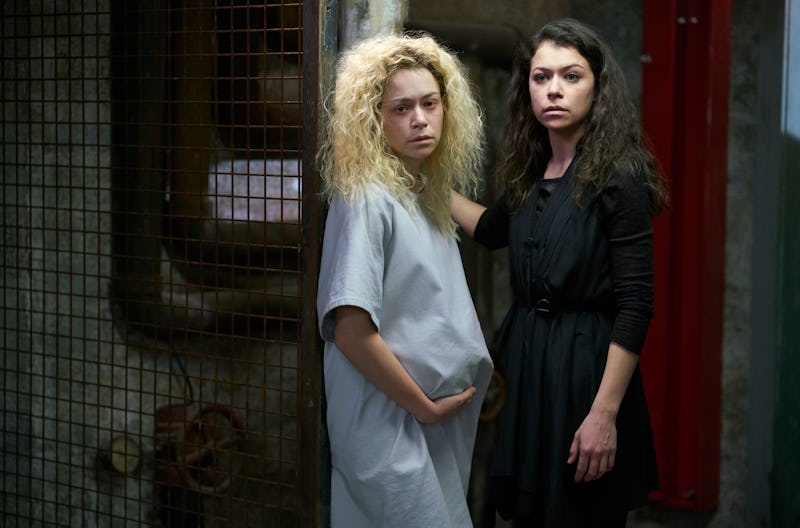 Ken Woroner/BBC AMERICA
Is it too personal to want nothing but the very best for Tatiana Maslany? Sure, I've never met the Canadian actor before, but ever since she has blown the collective minds of the viewers of Orphan Black by portraying an unfathomable amount of clones on the sci-fi show, I have become very protective of her as a performer. I would passionately use her as the selling point whenever encouraging someone to embark on the BBC America show, and I felt real outrage when she was continuously ignored by television award shows (although Maslany finally won an Emmy in 2016). So with the series coming to an end on Aug. 12, I fear that there will never be another role that showcases Tatiana Maslany like Orphan Black did. And that's not a criticism of her, but a direct call to action to Hollywood to create female-driven projects worthy of Maslany's formidable skills as a performer.
While Orphan Black as a series isn't flawless, Maslany's power as an actor has been continually lauded in the media and by fans for all five seasons. Even if sci-fi isn't really your thing, the performance at the center of Orphan Black made the show required viewing for TV lovers. Of course, the cast that surrounds and supports Maslany, particularly her acting double Kathryn Alexandre, contribute massively to its success as well. It's just that what Maslany is capable of doing is almost otherworldly. Every time she interacts with one of her clone "sestras," it's easy to forget that it's Maslany playing all those parts. Her ability to make every single clone a wholly believable individual is startling.
However, just because Maslany's depth of talent was unleashed on the world by her portraying multiple characters doesn't mean that's what she's destined to do forever. Because, realistically, she's probably never going to be in movie or TV series where she plays over 10 characters again. But will she ever find another project that allows her to be the veritable tour de force that she is? I'd venture that no role in the history of entertainment has ever required so much from an actor as Orphan Black demanded of Maslany. And could any other actor have taken it on so effortlessly? Rarely was there any sweat on her brow during the feats the actor pulled off and because of that, she has earned the best roles Hollywood can give her. But what if the best roles in Hollywood aren't good enough?
Although roles for women have been improving, particularly in television, it's hard not to be sad about Orphan Black ending because of its fabulous female characters. The Guardian called Orphan Black a "feminist utopia" and that is true even beyond Maslany's plethora of clones with Mrs. S, Dr. Virginia Coady, and Dr. Susan Duncan all being badass women — although not all always being on the side of good.
When it comes to women in film, the Center for the Study of Women in Television and Film at San Diego State University found that 29 percent of protagonists featured in the 100 top domestic grossing films of 2016 were female. This was a seven percent increase from 2015 and a recent historical high, but it still pales in comparison to male representation on screen — and the stats are far worse for women of color. Film executives should be tripping over themselves to cultivate rich female characters to offer to Maslany (and other female actors), but considering the uphill battle for women in the industry, even Maslany's inconceivable skills as an actor won't make a dent in the inequality. So does that mean after Orphan Black that she'll be stuck playing insubstantial supporting roles as the girlfriend or wife of the leading male character? Sarah, Cosima, Alison, Helena, and even Rachel would certainly not approve.
Nor does it seem would Maslany. Considering the trajectory of her career and things she has said, it seems doubtful that Maslany wouldn't seek out the most interesting projects post-Orphan Black. While she has taken on some more accessible fare in the past, like a small role in the Channing Tatum and Rachel McAdams romance The Vow and a small arc as a potential love interest for Aziz Ansari's Tom Haverford on Parks And Recreation, she has otherwise been known to make unique career choices beyond Orphan Black.
During her time on the show, Maslany miraculously made time to act in other projects, with a focus on indie films. She was in Cas and Dylan with Richard Dreyfuss, The Other Half with her partner Tom Cullen, and Two Lovers And A Bear with Dane DeHaan (the surreal romantic drama is currently available on Netflix). She also was in Woman In Gold, playing a younger version of Helen Mirren's character, which is notable for the fact that she spoke entirely in German in the film. (BuzzFeed reported that Maslany's mother is a translator, who taught her daughter German before she even learned English, so that's where she gets her incredible ear for accents and languages.)
Maslany's choices outside of the show that made her famous prove that she won't be pigeonholed. Yet, her next film may be an indication of bigger things to come in her career post-Orphan Black. In the upcoming film Stronger, based on a true story from the Boston Marathon bombing, she plays the runner girlfriend of Jake Gyllenhaal's character. Fortunately, the trailer hints that her character won't solely be defined by her relationship to the male character.
At times, Maslany has been critical of the term "strong female character" since as she noted to Rolling Stone, the term "strong male character" doesn't exist. Through her work on Orphan Black and in real life, she has been crushing the stereotypes and limitations that are often placed on female roles. In a 2013 interview for BBC America, she noted the roles that she is attracted to, making reference to one of TV's most notable male antiheroes. She said:
"Yeah, I try to get roles that challenge me in what I can do and who I think I can portray. For me it's about creating characters with really fascinating stories, because that's what I like to watch on TV. Deadwood keeps popping up in my head because I keep thinking about Al Swearengen (Ian McShane), and the cool complexity of that character. He's not a good guy. He's vile. And yet you can't stop watching him. There's something so compelling about the humanness [McShane] brings to that character. And there's so many actors that I look up to, and that I'm obsessed with their work because their level of humanity is so deep. As an actor you have to be a person first, and that, for me, is the focus."
Playing multiple people isn't a requirement to create an astounding performance. And Maslany's focus on character-driven parts bodes well for her future body of work. While Maslany may need to take a break from leading another TV series, TV does seem to be her best bet right now for a nuanced female character. Because why couldn't she play the next great antihero of television, like Deadwood's Al Swearengen or Breaking Bad's Walter White? Gender should not dictate the opportunities available to Maslany — or any other female actors, for that matter — because female characters, like real women, should be just as complex as their male counterparts.
Orphan Black is very much a once-in-a-lifetime role and Maslany may never get to show off her range so completely as she did on the series. But that doesn't mean that Maslany won't be able to shine her star power onto other projects worthy of her singular talent. And while I have the utmost faith in Maslany's abilities, it's the entertainment industry that I worry will let her — and her fans — down. After Orphan Black, it would be a travesty to waste Maslany on underdeveloped froth, and Hollywood must be continually held accountable for gender equality to provide Maslany and other talented women meaty parts.
So, Hollywood: don't screw this up. There's only one Tatiana Maslany, and she shouldn't be underestimated.