Here's What 'Queer Eye''s First Food Guy Is Up To Today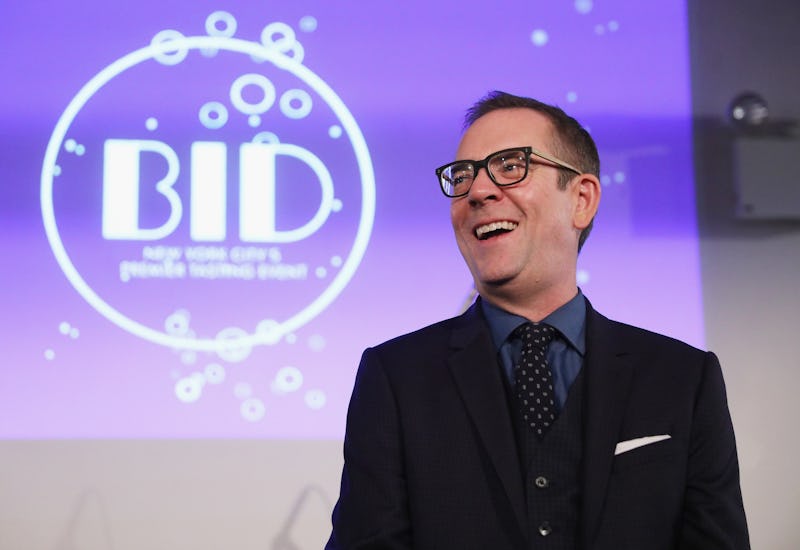 Ben Hider/Getty Images Entertainment/Getty Images
Sometimes when I see Ted Allen's face, I like to go back, back to the days when I watched Queer Eye For The Straight Guy on Bravo and listened to the famous foodie discuss in detail how to make a cheese plate. Those were the days. And as of Feb. 7, Queer Eye For The Straight Guy is back on Netflix, albeit without Allen and the rest of the original crew. So what has Ted Allen been up to since Queer Eye ended for the first time? He's basically the face of the Food Network. At this point, when I turn that channel on, it's him or Ina Garten (and I love them both equally).
Allen was the food guru for the original cast of Queer Eye, and along with Kyan Douglas (grooming); Jai Rodriguez (culture); Carson Cressley (fashion); and Thom Felicia (interior design); he made over not just the physical appearance of the straight men on the show - he made over their inner beings, too. You wouldn't think you would cry watching a fun makeover show like Queer Eye, but I certainly did — every time.
According to FoodNetwork.com, before he got his start on television, Allen was a writer and editor, first for Chicago magazine and then at Esquire. And per Allen's biography on his website, he is also the author of The Food You Want To Eat: 100 Smart, Simple Recipes and a co-author of Queer Eye For The Straight Guy: The Fab Five's Guide to Looking Better, Cooking Better, Dressing Better, Behaving Better, And Living Better. His most recent cookbook, In My Kitchen: 100 Recipes And Discoveries for Passionate Cooks, came out in 2012.
Following Queer Eye, Allen stayed within the Bravo network as a judge on the first four seasons of Top Chef before moving onto Food Network's Iron Chef America. Allen has stayed busy — as of 2018, he's helmed a variety of shows on the Food Network, from Chopped (which has won two James Beard Awards, basically the highest award you can get for a food-related thing) to All-Star Academy to Best Thing I Ever Ate. Allen is a man who knows food, and the world is better for having his knowledge out there.
Through all of this, he still cooks for himself, too. Allen told Eater.com, "I love to cook. I'm one of those people who gets uncomfortable if too many days go by that I haven't been allowed to cook… Ironically, when you consider where I work, I am very much a slow food person. I like to braise things and cook things that take forever. I don't even want a recipe that resolves itself quickly because I want to savor the experience."
Allen is a busy man, but he knows where he came from, and he spoke to Eater.com about the effect Queer Eye had on American culture. He said:
"I think the show was pretty brilliantly made for what it was... it also brought together two groups of people that just were never brought together. And over the subject matters of interior decorating, and food, and fashion, below that was burbling that sort of subtext. The best episodes were the ones in which the straight guy, as we called him affectionately, was visibly uncomfortable with us at the beginning and then warmed up. And they always warmed up, because it's a powerful thing to have five people who know something about those areas care about you and help set you up."
Queer Eye broke down borders and divisions because it enabled both straight subjects and viewers to look at the gay men in front of them and say, "Oh, you're just another human. Just like me." Though it's been about 15 years since Queer Eye premiered, teaching acceptance and tolerance is something that should never go out of style. The Queer Eye reboot is certainly welcome in 2018.