You May Want To Update Your Dating App Profile With One Of These Photos ASAP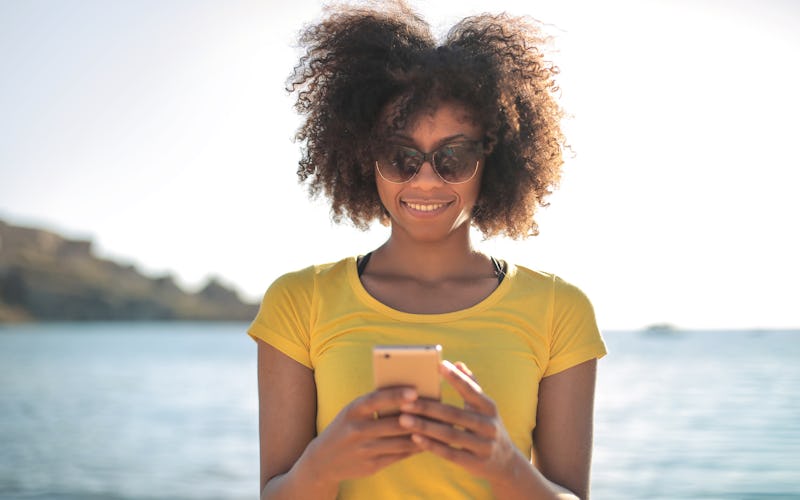 merla/Fotolia
As someone who loves to travel, finding a significant other who also loves to travel is important to me. As it turns out, unsurprisingly it seems that, as a whole, women are more attracted to men who travel. Hinge, the relationship app, recently completed an in-depth study determining if travel photos affected their members' dating experiences.
On Hinge, members are able to attach a location to any and all of their up to six profile photos. Hinge analyzed around 180,000 photos with the goal of discovering if travel photos received more likes, if men or women have more interest in finding someone who travels, and where members in dfferent cities travel to. If you're looking for an excuse to post more travel photos — the study's results will give you one. Hinge found that while only 3.4 percent of photos are of travel, those that were, received 30 percent more likes. While the spell cast by a travel photo affected men as well, women were 33 percent more likely than their male counterpart to start a conversation over a travel photo.
Taking advantage of the current high season for travel, Hinge looked to discover how it's members were connecting. "Since it's summer and people are busy traveling, we were curious to know if our Members connected more or less over travel photos," says Jean-Marie McGrath, Hinge's Director of Communications. "We found that travel photos were extremely rare but highly effective — confirming that our Members should share the awesome travel experiences they're having with their connections."
While all travel photos are good, Hinge took it one step further and discovered what the most liked domestic and international location posted by men and women were.
Women
Domestic
When women posted a picture of themselves in Maui it received 60 percent more likes.
International
Sticking with the beach vibe, women enjoying the beauty of Santorini received 93 percent more likes.
Men
Domestic
For men, the likes came in when they posted a slightly more rustic picture, with a snap in Portland giving them 56 percent more likes.
International
Watch out Paris — looks like Munich might be the actual city of love. Guys who had a profile picture here received a crazy 210 percent more likes.
If you're looking to attract a fellow traveler, consider using a photo in one of these or any spot you've visited. Not only will it be an easy conversation starter, but it showcases a cool, amazing thing you've done. Travel and date on.