These 3 Easy Ways To Clean Your Makeup Brushes Will Save You SO Much Time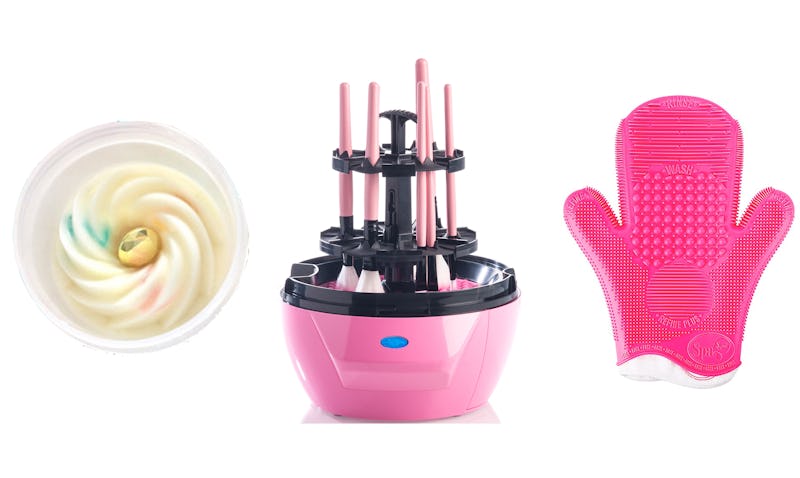 Swirl + Sparkle; Lilumia; Sigma Beauty
Makeup brushes are both a gift and a curse. They help blend your products into your face so seamlessly and feel amazing on your skin, but can breed bacteria and germs if left uncleaned for days at a time (which, lets face it, most of us are totally guilty of doing). If you are a bit negligent when it comes to cleaning your foundation and eyeshadow brushes, there are tons of simple and quick ways to clean your makeup brushes, no matter how lazy you are.
If you are still not convinced that you should be cleaning your makeup brushes often, let's review some disgusting facts that could gross you out so much, you might even feel compelled to toss your current brushes altogether and invest in some new ones. According to Julie Russak, M.D., FAAD, Board Certified Dermatologist and founder of Russak Dermatology Clinic and Russak+ Aesthetic Center in NYC, using dirty makeup brushes is one of the leading causes of acne in women. Beyond pimples, regular use of uncleaned brushes can even cause more serious infections. On the more extreme side of things, Seventeen reported that one woman contracted staph and nearly died most likely because she used a bacteria-laden eyebrow brush.
So, how often should you be cleaning your makeup brushes? A good rule of thumb to follow is once a week, at the very least. If you're using a lot of foundation or concealer, you might even want to disinfect your brushes after each use. Same goes for eyeshadow brushes, since you're using them so close to your eyes.
Another thing to remember: While it might look pretty to store your brushes in mason jars on your vanity, they can collect a lot of dust and dirt this way. Try keeping your brushes tucked away in a drawer, a sealed bag, or a box with a cover.
Now that you know why you should be cleaning your makeup brushes, here are three quick, easy, and effective brush-cleaning solutions that will ensure your Kabukis and contour brushes are as pristine and bacteria-free as possible.
1. Lilumia Paris
Lilumia 2 Paris, $99, Lilumia
What could be easier than putting your makeup brushes into a device, pressing a button, and then coming back to squeaky-clean tools? Lilumia does just that — it is a fully automated cleaning device that can wash up to 12 brushes (of various sizes) at one time. To see it in action, check out the brand's video here.
2. 2X Sigma Spa Brush Cleaning Glove
2X Sigma Spa Brush Cleaning Glove, $39, Sigma Beauty
Sigma Beauty's Cleaning Glove is made from silicone with different sized and shaped raised grooves to help you quickly massage all that grossness out of your brushes. It has two sides, one for your face brushes and one for your eye brushes. Arguably the best part, though, is that this glove will prevent your hands from getting prune-y from the water.
3. Origins Swirl + Sparkle All Natural Brush Cleaner
Originals Swirl + Sparkle Design Cleaner, $24.99, Etsy
This handy, compact jar holds an all-natural, cruelty-free solid makeup brush cleanser that melts makeup residue, dead skin, oils, and bacteria off of your brushes. To use, you can dip your brush into a cup of water or run it under the sink for a second, swirl it around in the solid cleanser, and rinse and repeat. If you've got a particularly dirty brush, the jar's lid has a tiny raised jewel that you can use to help loosen any stubborn product.
Want more beauty tips? Submit your questions and tune in to Please Help! on Bustle's beauty Instagram account, @please every week.