The #OneInFour Campaign Has An Incredibly Powerful Message About Abortion Rights & SCOTUS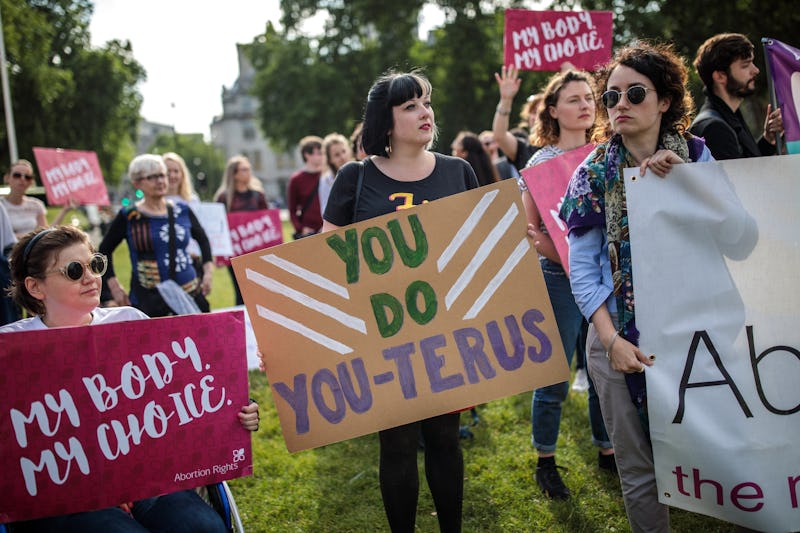 Jack Taylor/Getty Images News/Getty Images
Nearly one in four American women will have an abortion by the time they're 45, according to the Guttmacher Institute, which researches reproductive health and rights. Some of the biggest reproductive rights advocacy organizations have seized on that statistic, and together the pro-choice advocates launched the One in Four campaign to support legal abortion access ahead of President Trump's Supreme Court nomination announcement on Monday night.
The advocacy groups behind the campaign include Planned Parenthood, We Testify, NARAL Pro-Choice America, Advocates for Youth, #VOTEPROCHOICE, and Shout Your Abortion.
After Justice Anthony Kennedy announced his retirement in June, advocates for safe and legal abortion access worried their longtime fears about the future of Roe v. Wade — the court case which cemented the constitutional right to abortion — were about to come true. Kennedy was seen as a swing vote as a Supreme Court justice.
The One in Four campaign aims to put political pressure on senators as Trump's nominee will face questioning from the Senate Judiciary Committee. The campaign aims to help normalize abortion, which is popular among Americans but remains heavily stigmatized.
"The intent of the campaign is not just political pressure: It is to make visible the vast numbers of women of all demographic backgrounds who rely on the right to safe and legal abortion," the coalition wrote in press release for the campaign.
The One in Four campaign asks social media users to share graphics and #OneInFour to show their support for safe and legal abortion access as well as tag their senators in the social media posts. "A Trump Supreme Court nominee would gut Roe v. Wade, criminalize abortion, and punish the one in four women of reproductive age that access this essential care in this country," Kaylie Hanson Long, NARAL Pro-Choice America national communications director, said in a statement. "The stories of these brave women remind us that we can't forget how important it is for abortion to be legal in this country. Let's be clear about what the stakes are: women's lives, futures, health, and ability to be equal in this country."
As the Monday night SCOTUS announcement drew closer, women of all walks of life had shared #OneInFour, including notable names Monica Lewinsky, former Glamour and Self editor-in-chief Cindi Leive, Anne-Marie Slaughter (the State Department official who wrote the viral Atlantic piece "Why Women Still Can't Have it All").
When Executive Vice President of the Planned Parenthood Federation of America Dawn Laguens shared her One in Four story on Twitter, Laguens said, "I am one of the #oneinfour, and I will fight forever to make sure every person can make their own personal health care decisions."
Laguens said there are still too many obstacles to accessing abortion. "Most women today have only known a country where they have the right to access abortion, even as too many still face barriers that keep them from accessing that right," Laguens said in a statement. "These stories remind us what's at stake, how many people stand to get hurt and what Trump is threatening to take away."
The New York Times reported on Monday morning that Trump was deciding between Thomas M. Hardiman and Brett M. Kavanaugh.
Kavanaugh's stance on abortion isn't clear as he hasn't come out for or against Roe v. Wade — but he was involved in the case of a migrant teenager in Texas seeking an abortion.
According to The Los Angeles Times, the case was a dispute over whether the teenager should be released from custody for an abortion. A federal judge allowed it, but then Kavanaugh wrote the 2-1 decision agreeing with the Trump administration to block the procedure for up to 10 days. The full appeals court overturned his ruling.
Women like the migrant teenager seeking an abortion are who the campaign is fighting for, said Heidi Sieck, co-founder of #VOTEPROCHOICE. "We cannot return to a time of shame, backroom abortions, mangled bodies, and sometimes, death," Sieck said in a statement. "We are a prochoice nation. We will stand strong, own our power and refuse to go back."