Here's Everything 'Bachelor' Fans NEED To Know About Ashley I. & Jared's Recent Engagement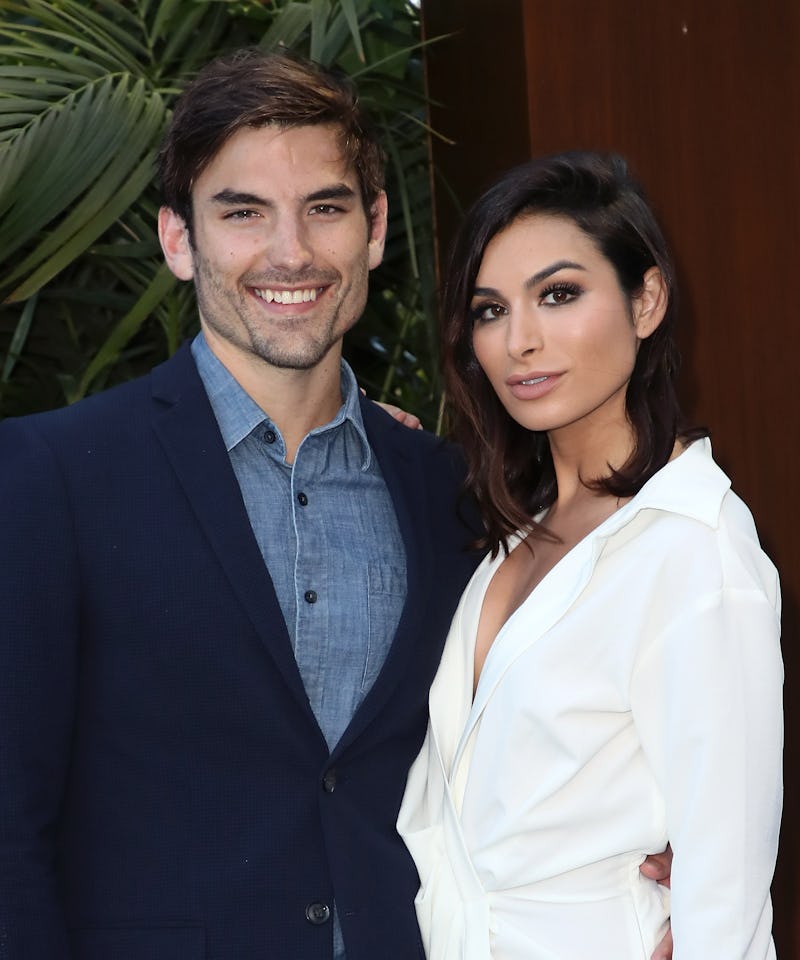 David Livingston/Getty Images Entertainment/Getty Images
Just weeks after Jared Haibon and Ashley Iaconetti told the world they're finally dating, this Bachelor Nation couple is already taking the next step in their relationship. On Monday, news broke of Jared and Ashley's engagement — yes, already — so it sounds like they'll be taking a trip down the aisle soon." But when are Jared and Ashley I. getting married? If their relationship so far is any indication, it seems like a wedding could be happening very soon.
The good news came via an announcement in People. According to the site, Jared asked Ashley to marry him in Mexico, where they were visiting for the filming of Bachelor in Paradise Season 5 — the show where their long history together began. Unfortunately, neither half of this couple has shared any information about their engagement or their plans for the future, so it's hard to say exactly when their wedding will take place. But if they plan on tying the knot on ABC, wouldn't it be totally appropriate if they decided to get married on BIP next summer? That would give them a year to plan and enjoy being engaged, all before making things official with Chris Harrison presiding. Sounds great, right?
And no matter what they're planning, their engagement photo couldn't be more perfect:
Knowing how emotional Ashley gets, it's hard to imagine the tears that must have happened after this photo was taken. And the grin on Jared's face is just too much. If you ever doubted how much these two truly love each other, this photo will kill that doubt for sure.
Even though their engagement just happened, so far, the newlyweds-to-be have remained silent on social media, which is out of character for both of them. But maybe this could mean a big announcement is on the way? After all, when Jared and Ashley decided to take their relationship public, they did it with a 45-minute-long video for Ashley's The Story Of Us web series, giving fans the play by play of exactly how they came to be dating. With an announcement like that about their relationship, doesn't it seem likely that they've got big plans for filling their fans in on their engagement, too?
Unfortunately, it seems like we'll have to wait for details, especially when it comes to their wedding date. But in all likelihood, it wouldn't be surprising if Ashley and Jared decided to get married sooner rather than later. After all, they've gotten very serious about each other very quickly, and it makes sense. They've known each other and been close friends for so long that they didn't have to get any of that initial dating stuff out of the way before their relationship was in full force. Plus, for some people, knowing that they want to spend the rest of their life with someone happens fast, and maybe Ashley and Jared know that this is the real deal. Why waste any time?
And for now, knowing that they got engaged in paradise (and likely as part of an episode in the upcoming season) is enough. So much of their relationship has played out on BiP over the years, from their first meeting to the many times things went wrong between them. At this point, their love story is a true Bachelor fairytale, so there's no better place to ask that all-important question than on the beach where it all began.
Hopefully, Ashley and Jared will share more information (and more pictures) soon. After years of seeing their friendship grow and eventually turn into the kind of love that lasts forever — despite its rocky start — it's awesome to see them get their happily ever after.