Here's How Long You Have To Prepare For Meghan & Harry's Wedding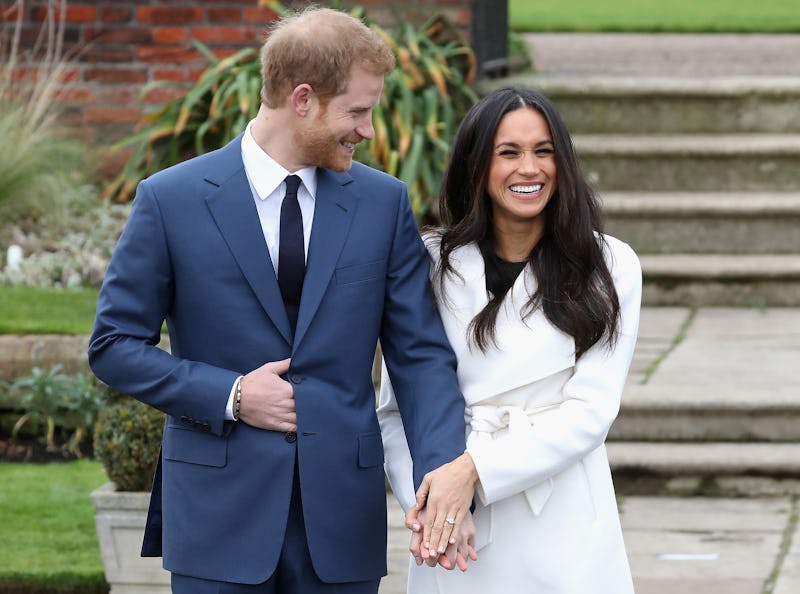 Chris Jackson/Getty Images Entertainment/Getty Images
Even though they just announced their engagement this morning, Prince Harry and Meghan Markle know when they will get married. They didn't specify the exact date, but their official engagement announcement says, "The wedding will take place in Spring 2018. Further details about the wedding day will be announced in due course."
Spring 2018 will be a very busy season for the royal family since Kate Middleton and Prince William will be born. In October 2017, E! News cited an announcement from Kensington Palace which revealed that Middleton's due date is in April 2018. How will that factor into the wedding date selection?
Update: On Tuesday, Kensington Palace announced that Prince Harry and Meghan Markle would be married in May 2018 at St. George's Chapel at Windsor Castle, according to the BBC UK.
Earlier: It would be royal chaos if the birth of the new baby happened to overlap with the wedding festivities. When it comes to royal family events, everyone tends to get their time in the spotlight. Unfortunately, it's tough to predict the exact date a baby will be born. Depending on when in April the baby is born (if the baby even ends up being born in April), this could rule out April for the wedding. Plus, a lot of mothers take maternity leave and some even go on bed rest during the final weeks of their pregnancies, so if Middleton is to be at the wedding and that is taken into account, March could also be out of the question for the big day.
Looking at Middleton's appearances in relation to her first two pregnancies, could help narrow down the date possibilities for Prince Harry and Meghan Markle's wedding. In 2013 when Middleton was pregnant with Prince George, she appeared at her last official engagement for the royal family on June 15, 2013 when the baby was due in July, according to Us Weekly. After giving birth to George on July 21, Middleton made her first official appearance on September 12, 2013 according to Hello! Magazine. Princess Charlotte was born on May 2, 2015 and Middleton made her first post-birth appearance on September 15, 2015, according to Time. Those are pretty big gaps, but, of course, if the event is important enough — and her brother-in-law's wedding definitely is — that could all change.
Unfortunately, all of this speculation is just that: speculation. It does make a lot of sense to avoid April when picking a wedding date or any time that could be too close to the birth since that on it's own will be such a big to-do. If they try to plan the wedding after Middleton and William's third child is born, they will have all of May and some of June. It's also possible that they could get married while Middleton is still pregnant, which would mean that she would most likely set some wildly popular trends for maternity wedding apparel.
The nice thing for anyone who loves to follow the royal family is that they are all about official announcements. This is a very different situation from celebrities who keep their wedding ceremonies under wraps to avoid paparazzi and other intrusions. This wedding will definitely be a very public affair, and the date will be announced, officially, eventually.
It is also very likely that the two will get married in a televised ceremony just like Harry's big brother William did when he and Middleton tied the knot. Harry and William's parents, Princess Diana and Princess Charles, also got married in a televised ceremony and at this point it is just expected that the big day will be televised. If this is the case, it means that there will be a date announced well in advance so everyone can set some time aside to tune in.
It's a little bit of a cliff hanger to get this big news and not know all of the details, but this is the royal family and people just need to be patient and know that the Spring 2018 wedding date will be announced in due time.