Storybook's Bullseye Brushes Are Up Next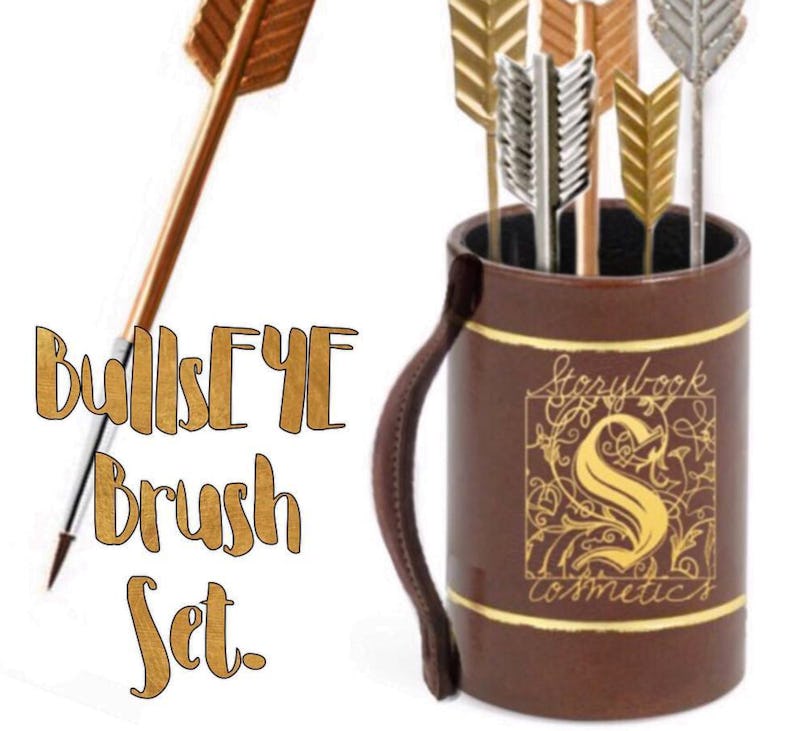 Makeup brushes can be magic wands when it comes to their functions and weapon-like in regards to their design. Case in point: Kat Von D's Lock-it brush range, which have black, glossy handles that are sharpened to a stiletto-like point. They also apply product like a dream! Now, Storybook Cosmetics is launching its Bullseye Brush Set, featuring makeup tools shaped like arrows. But you needn't be skilled in the practice of archery in order to use these effectively! Judging from a pic the new and fantastical brand responsible for the Harry Potter-inspired makeup brushes posted on its official Instagram, the Bullseye Brush Set is comprised of silver, gold, and rose gold brushes. They will add some additional panache to your vanity, that's for sure. When is the Storybook Cosmetics Bullseye Brush set out?
The brand is working on a full slate of products for 2017, including these brushes! They didn't post an exact release date and only confirmed that the brushes are coming next year.
According to its site, Storybook Cosmetics has additional plans for eyeshadow book palettes, liquid eyeliners, lipsticks, and even more brushes inspired by works of literature. That means Storybook Cosmetics is a brand to watch next year.
Are you ready to observe the Storybook Cosmetics Bullseye Brush set? I think you can handle it, so allow your eyes to drift south.
They are amazing! I love the whole idea of wielding makeup brushes like weapons and tools of the trade.
Here is the screen grab of the caption from the Bullseye sneak peek post.
Here's another sneak peek of the brand's Storybook Wand Brush set. The brushes are works of art.
Check out the quill-like eyeliner pen.
It's a prototype and it's still totally awesome.
If you are a lit buff and a makeup junkie, you are no doubt in love with Storybook Cosmetics and its wares.
You should take a hot second to throw Storybook Cosmetics a follow on IG. This is clearly a brand that is doing amazing things and mixing makeup with the art of storytelling.
Images: Storybook Cosmetics/Instagram (3)