Zara Is Launching A Makeup Line & The First Product Looks Seriously Cool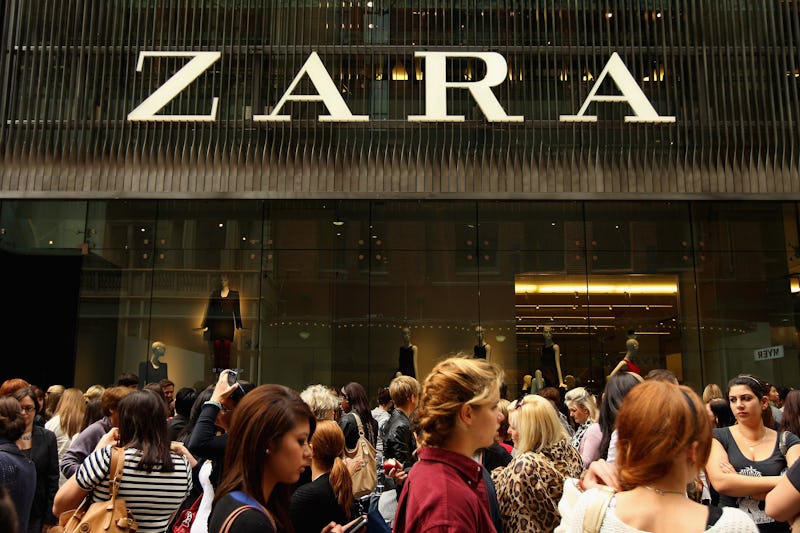 Cameron Spencer/Getty Images Entertainment/Getty Images
Fashion and beauty pretty much go hand-in-hand. Can you even imagine one without the other. Apparently, a fashion fave retailer named Zara couldn't. Just when you thought you were done giving all your money to them, Zara announces it's launching a makeup line. Cue exasperated sigh because it's coming sooner than you can put away any savings.
According to Cosmo UK, the brand derives the makeup line's inspo from "the behind the scenes magic in every new season campaign" and is breaking into the beauty biz with a range of lip products. And to kick off the beginning of some serious lip game, the brand gives fans its first "Ultimatte" lipsticks in a selection of 12 shades with a velvet-like texture to glide on when applying. It basically will give you the color payoff and a couple swipes with a super matte finish.
It's expected that this is going to be a dope lippie launch, especially since they're also made in France. Not to mention, the photos look like some bold wearable fall colors, which makes total sense for Zara's minimalist, but bold color palette for its apparel.
The highly pigmented lipsticks will be available for $12.75 each, so there's really no argument for why you shouldn't pickup one. Well, maybe just a couple more than one.
The line doesn't stop at your everyday matte bullet lipsticks by the way. Thankfully, Zara will also be releasing eight shades of liquid lipsticks that are pigmented enough to fill your lips in one quick sweep of a wand. If yourself in one of your Zara hauls, you'll be sure to add one (or five) of these to your shopping cart.
As if you weren't tempted enough, the fashion brand is doing you an even bigger favor. Zara will also be launching a separate limited edition 'Ultimatte Trio Set' featuring lipstick shades from it's AW18 women campaign. It'll include both a bullet lipstick, a liquid lipstick, and a lip liner all packaged into one Zara clutch.
The brand is branching out into this new sector of makeup to bring affordable, but quality makeup to its fashion fans.
And if you think lipsticks are all the store has to offer in its new beauty collection, you better think again. Zara mentioned that this is only the brand's initial launch, which hopefully is an indication more makeup goodies are in the works and on the way to fruition.
On the other hand, in-store shoppers will be sad to know that Zara is only making the lipstick line available exclusively on its online store. But then again, that's one less beauty babe you have to combat for your lip shade.
The full collection of lip products will be available online starting Dec. 5, so it'll ship to you or your secret Santa before the holidays arrive. While you wait for these new cool lip shades to drop, you'll probably spend your time looking through Zara jackets. What else would you even match to your new Ultimatte lipstick?