Justin Bieber & Hailey Baldwin's Relationship Actually Goes Back Longer Than You Think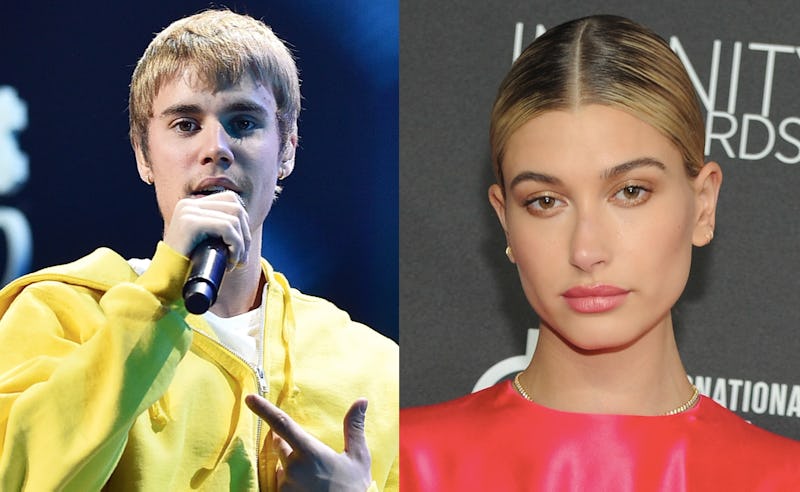 Mike Windle/Getty Images Entertainment/Getty Images; Craig Barritt/Getty Images Entertainment/Getty Images
Buzz over Justin Bieber and Hailey Baldwin's on-again, off-again romance kicked up about a month ago, when reports claiming the two were back together again first started to circulate. The rumblings picked up speed on Sunday, July 8, when TMZ reported that Justin Bieber and Hailey Baldwin are reportedly engaged. Given the rumored engagement news, people are wondering — when did Justin Bieber and Hailey Baldwin start dating in the first place? (Bustle has reached to Bieber and Baldwin's representatives for comment on the rumors, but did not hear back by the time of publication.)
UPDATE: On Monday afternoon, Bieber confirmed his engagement to Baldwin with a lengthy Instagram caption. He also shared two black-and-white photos of the pair together, writing, in part:
"Was gonna wait a while to say anything but word travels fast, listen plain and simple Hailey I am soooo in love with everything about you! So committed to spending my life getting to know every single part of you loving you patiently and kindLY."
EARLIER: The couple's relationship timeline is a little hazy, and as a result, it seems that some fans are currently thinking, "Man, this feels like it happened so fast." However, Bieber and Baldwin's relationship goes back further than you may expect, even though their current romance is relatively new.
That being said, the fact that the specifics of Bieber and Baldwin's relationship remain somewhat murky (from the public's perspective, at least) shouldn't come as much of a surprise. As fans of the pair know already, both Bieber and Baldwin have certainly done their part to keep people guessing as far as the status of their relationship is concerned. In fact, even now — after Bieber's dad might've confirmed his son's rumored engagement to Baldwin via a vague Instagram post Sunday, July 8 — neither Bieber nor Baldwin has yet to officially confirm the existence of their current relationship at all.
But the proof is in the pudding, it would seem. At least, it certainly looks like that idiom rings true for Bieber and Baldwin, whose PDA these last few weeks seems to be all the evidence the internet needs to corroborate the revitalized Bieber-Baldwin relationship buzz.
So, before we dive into the latest Bieber-Baldwin romance saga, let's backtrack to the original. That's right, all the way back to 2014, just about a month after Bieber and Selena Gomez broke up for the first time. In the aftermath of their calamitous split, rumors of a potential romance between Bieber and Baldwin made headlines, starting with a November 2014 report by Hollywood Life that claimed Baldwin was Bieber's "new muse." At the time, both Baldwin and Bieber denied the romance rumors, insisting they were just friends. Fast forward to New Year's Eve 2016, when Bieber and Baldwin finally gave fans a more concrete (ish) glimpse into their cryptic romance with an Instagram post that seemed to say it all.
A month later, in February 2016, Bieber spoke pretty candidly about his relationship with Baldwin during an interview with GQ. "[She's] someone I really love," he told the magazine, adding, "We spend a lot of time together." But, as he continued, Bieber also mentioned those elements of the relationship that worried him. He said,
"What if Hailey ends up being the girl I'm gonna marry, right? If I rush into anything, if I damage her, then it's always gonna be damaged … I just don't want to hurt her."
Later that month, reports surfaced claiming Bieber and Baldwin had broken up. Jelena kicked into high gear once again not too long after that, and they remained pretty serious until this past March, when Bieber and Gomez reportedly ended their relationship for good.
Which brings us to this latest iteration of Bieber and Baldwin's romance, which seems to have started up somewhere around June 11 — A.K.A. a little less than a month ago. That's when E! News published a report claiming the two were "inseparable" during a weekend trip to Miami, stirring up whispers that the two might once again be an item. The report also claimed that Bieber and Baldwin were seen together at a Miami club that same weekend and "seem[ed] very close and comfortable together," per some comments from an unidentified source who spoke to the outlet.
Now, the two have been friends for quite a while (as Baldwin explained during an interview with The Times U.K. back in May), so the standalone fact that they'd been hanging out a lot didn't necessarily have to mean anything romantic was at play. But in the weeks that followed, the pair was spotted engaging in some overtly couple-y behavior on several occasions, including, but not limited to, what looks like a pretty passionate kiss (video footage of which was reportedly acquired and later published by TMZ) at a Brooklyn park on June 17. Their increasingly mushy public displays of affection managed to outlast the month of June, careening into July with some newly-minted canoodling snapshots, published by TMZ.
And that pretty much brings us back to the present day. According to TMZ's latest report, Bieber supposedly proposed to Baldwin Saturday night, July 7, at the sun-kissed Caribbean resort where they've been staying. Not only that, but, per the testimonies of two women who reportedly told TMZ they witnessed the engagement in real time, it sounds like Bieber might've proposed before a room full of people.
So, are we all caught up? While fans might still be a little in the dark as to the details of Bieber and Baldwin's relationship timeline, one thing seems pretty clear: regardless of exactly when their relationship began, the current iteration of Bieber and Baldwin's romance has been quite a few years in the making. If the reports do end up being true, here's to hoping it turns out to be every bit worth the wait.