Katie Holmes & Jamie Foxx Might Finally Be Public & It's Too Much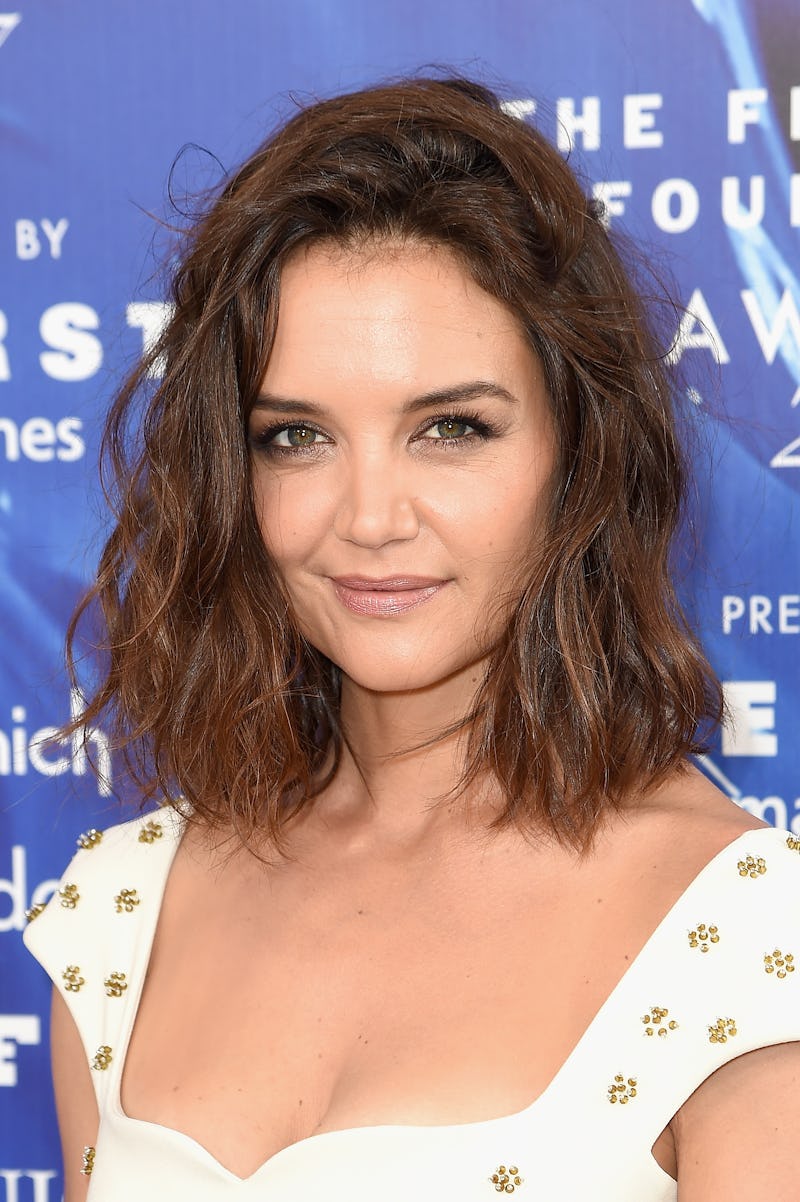 Nicholas Hunt/Getty Images Entertainment/Getty Images
While most people were busing grilling and raising a glass to toast to the unofficial end of summer this past weekend, Jamie Foxx and Katie Holmes were packing on the PDA, seeming to confirm one of Hollywood's longest "are they or aren't they" dating rumors of all time. The unconfirmed couple has remained famously private about their supposed relationship, and there have only been a few glimpses of them together throughout their rumored time together. This is the very first outright display of public affection from the couple despite having a romantic timeline goes back almost four years. (Bustle has reached out to reps for Holmes and Foxx on the dating rumors and the new photos, but has not yet received a response.)
This past weekend, the long-rumored couple donned matching fedoras and sunglasses and kept it casual for their beach walk; Foxx sporting sweats and a tee and Holmes wearing a flowy, printed blue dress. The pair was seen walking along the shore together, holding hands, and enjoying each other's company while playing in the water.
According to E! News, they spent the holiday weekend together, hanging out at a mutual friend's southern California home and then made their way to the beaches of Malibu. Despite the slew of photos released from this weekend, so far Foxx and Holmes have both remained silent in regards to the snapshots.
Whisperings of the pairing first began way back in 2013 when they were photographed dancing together at a charity function and the rumors haven't stopped since — despite the fact that there have been multiple denials, especially from Foxx.
Foxx sat down for an interview with Entertainment Tonight shortly after the infamous dancing session and said, "[The rumors] are one hundred percent not true. In fact, it's quite hilarious because we simply danced at a charity event along with a lot of other people." The Oscar-winner also laughed off the rumors of the relationship when speaking to ABC News he jokingly said, "I had Colin Powell on stage dancing [too], so they could have said me and Colin Powell were dating."
According to TMZ, Foxx once again explicitly denied their relationship when talking with a paparazzi back in March 2015. "Oh come on, you guys have been trying to make that stick for three years...we're just friends," he said.
Despite the multiple denials, the rumor mill continued to churn into 2016 when the speculated couple made headlines again when Holmes was spotted with a ring on that finger. Foxx's rep quickly shot down the engagement rumor as well saying, the ring wasn't from him. The couple continued to keep the rumored romance alive by being spotted together a few times, like at a Barbara Streisand concert and Holmes' 38th birthday, through the end of 2016.
Then in April 2017, the pair were spotted eating dinner together in New York City and again in May when Holmes was seen visiting Foxx in Paris on the set of his new Robin Hood reboot.
This brings us to the most recent and convincing sign that there actually is some sort of relationship — the PDA-filled, beach frolicking that took place on the beaches of Malibu this past Labor Day weekend. There is speculation that the couple decided to go public with their relationship now because of the alleged end of a rumored clause in her 2012 divorce from Tom Cruise, which, according to the Daily Mail, allegedly banned Holmes having a public relationship for five years. (Bustle reached out to reps for Holmes and Cruise for comment on this claim, but did not receive a response at the time of publication.)
Foxx and Holmes haven't verbally confirmed that they're in a relationship themselves — or if they are, how long it's been going on for — but a picture is worth a thousand words and these photos seem to scream the validation that fans have been waiting for since 2013.