Sofia Richie Just Made It Very Clear She & Scott Disick Are Still Together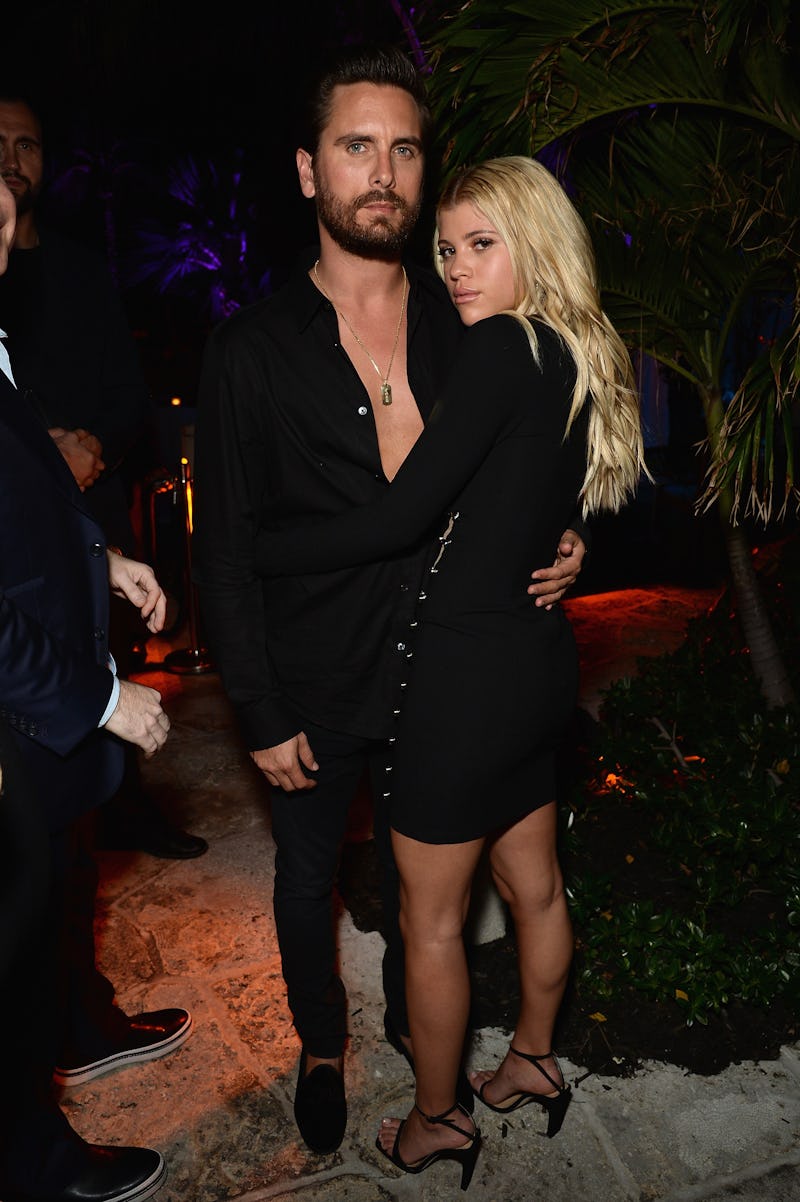 Andrew Toth/Getty Images Entertainment/Getty Images
To all the fans who've spent the better part of this week harping on the details of Sofia Richie and Scott Disick's rumored split, Richie has some advice: Don't believe everything you read on the internet. That makes sense, since the confusing back-and-forth reports on the (apparently, false) breakup news seem to have bred more questions about the status of their relationship than answers. Like, when did Sofia Richie and Scott Disick start dating? Their respective responses to the split rumors pretty clearly suggest they're still going strong. But when did the romance kick off in the first place?
Well, the short answer is: Richie and Disick made it official last September, after Disick posted a photo to his Instagram story of himself and Richie during a trip to Miami. According to a September 24 report by People, Richie followed suit with a similarly affectionate photo, posted to her own Instagram story soon after. But Richie and Disick had been hanging out for a couple of months prior to that, ever since they were spotted cuddling aboard a yacht in Cannes in May 2017. (Though at the time, according to People's report, Richie insisted that she and Scott were "just homies," per a tweet that has since been deleted.)
Now that we've cleared that up, let's fast forward. Over the weekend, reports that Richie and Disick had split up after almost a year of dating began to circulate. The reports were a little all over the place, and mostly relied on conflicting testimonies from unidentified sources supposedly privy to the goings-on of their relationship. "Sofia broke it off," one source told E! News Saturday, June 2, compounding an earlier report by Us Weekly that claimed Richie had broken up with Disick in response to her boyfriend allegedly cheating on her. (Bustle reached out to Disick regarding the cheating rumors, but did not receive a response at the time of publication.)
Disick denied the breakup rumors, per an exceedingly clear message posted to his Instagram story on Monday, June 4. Richie, on the other hand, stayed silent until Tuesday, when she took to Instagram to share her own response to the rumors with two back-to-back snapshots that provided inquiring fans with pretty much everything they needed to know. Per Entertainment Weekly, whose report includes screenshots from Richie's Instagram story, it looks like the 19-year-old star couldn't have been clearer.
"Whole [heart emoji]," Richie wrote, overlaying a pic of herself and Disick sharing a particularly cuddly embrace while aboard what looks like a private plane. And, as if that alone didn't already answer fans' questions as to the status of their relationship, Richie followed up with another photo captioned, "Never believe the internet."
Disick was even more explicit in his denial, posting a screenshot of a TMZ article titled "Sofia Richie & Scott Disick Still Together" to his Instagram story Monday alongside the caption, "We had no idea we even broke up but thanks for thinking of us."
The breakup rumors trailed a series of reports last week alleging that Disick had cheated on Richie during a trip to Miami earlier this month. There was also some buzz over a report by TMZ that popped up last Thursday, which claimed Disick was getting "more than friendly" with an unidentified woman during Kanye West's album listening party in Wyoming.
Rumors aside, it sounds like the most important takeaway here is that Richie and Disick want to be together. Perhaps we can all take a note from Richie's warning not to believe everything we hear online — after all, she and Disick are the only ones who really know what's going on in their relationship.