Here's When Black Friday Deals Will Start This Year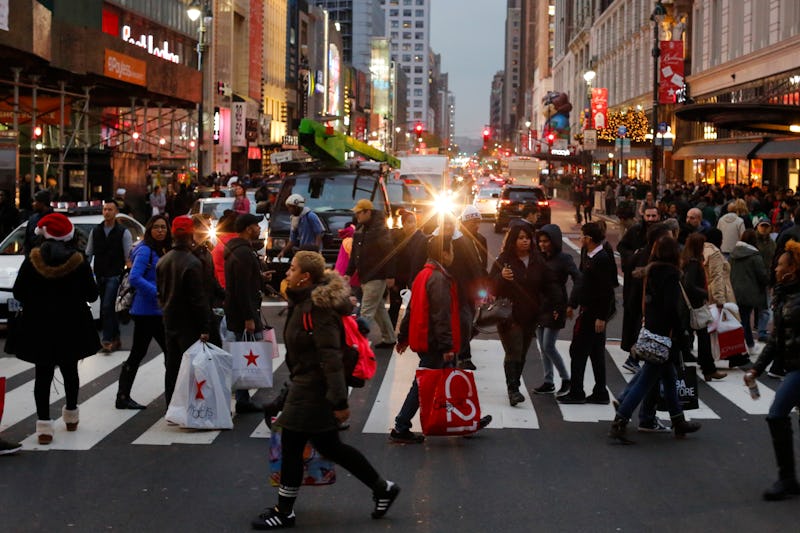 Eduardo Munoz Alvarez/Getty Images News/Getty Images
For many folks around the country, the end of November brings to mind not one, but two very distinct holidays: Thanksgiving and Black Friday. Make no mistake, Black Friday is a holiday — and more importantly, it's fast approaching. So, you may be wondered, when do Black Friday 2017 deals start? It's a fair question: the formerly one-day-only celebration of consumerism has outgrown its 24 hour window, that's for sure.
Though the origins of the term "Black Friday" are debatable, its basic premise — that the Friday after Thanksgiving marks the beginning of the holiday shopping season and is thus rung in with massive sales — has remained the same for over 50 years. The first print mention of "Black Friday" came in 1951, according to Snopes, in an article detailing "Friday-after-Thanksgiving-itis." At the time, it was standard to only give paid leave on Thanksgiving Day. Employees were expected to report to work the Wednesday before and the Friday after. Perhaps unsurprisingly, a significant portion of the workforce would call out sick the day after Thanksgiving in an attempt to gain an unofficial four-day weekend. In the trade magazine Factory Management and Maintenance, editor M.J. Murphy referenced "Black Friday" (which was already a colloquial term) and suggested that bosses consider giving workers an extra day of vacation.
The years passed, and Thanksgiving increasingly began to mean the start of a four-day vacation. As this occurred, stores began cooking up grander, more dramatic sales in an effort to snag shoppers enjoying their post-holiday holiday. It marked the day Santa Claus took his seat in malls around America, when decor switched from autumnal leaves to straight up candy canes, and when you could find really, really good deals on, like, televisions.
Today, the identity of Black Friday as a fierce, Hunger Games-esque free-for-all hasn't changed all that much — in fact, it's probably only grown stronger. More than 154 million shoppers hit stores in 2016, according to the National Retailers Federation, nearly half of the country's entire population. That number has steadily been growing over the past few years, thanks to two key factors: online shopping and the millennial consumerist force. Eight in 10 millennials reported shopping either on Black Friday or the following Saturday and Sunday, with 62 percent shopping online and spending an average of $289.19. Which, uh, absolutely makes sense.
This brings us to the big question: when do Black Friday sales actually start? Unfortunately, the question is easier to ask than it is to answer, because the answer is two-fold: For many major retailers, including Amazon, Best Buy, Old Navy, and Wal-Mart, Black Friday is a Friday in name only. Beginning as early as the Monday before Thanksgiving (though, more commonly, the Wednesday before Thanksgiving — Nov. 22 for 2017) stores begin opening up their digital storefronts with early bird deals on everything from sweaters to televisions. Even Wal-Mart, which in 2014 saw more shoppers in their stores on Thanksgiving Day than Disney World saw all year (close to 22 million), has joined the ranks of online sale offerers. Some stores even begin their Black Friday sales in store early too.
Deals will only increase over the course of the week, with the best steals hitting shelves — both online and in brick and mortar stores — Thursday evening, which just so happens to be right when Thanksgiving dinner will have ended for most families. Yep, that's right, national chains including Walmart, Kmart, Kohl's, Target, ULTA, Toys 'R' Us, JCPenney, Game Stop and Macy's will all be opening their doors around 6 p.m. on Thanksgiving Day and remaining open until at least midnight to help customers score epic deals.
Now, if you'll excuse me, I have some shopping to do.