Why 'Ballers' Season 5 Could Be Its Most Dramatic Story Yet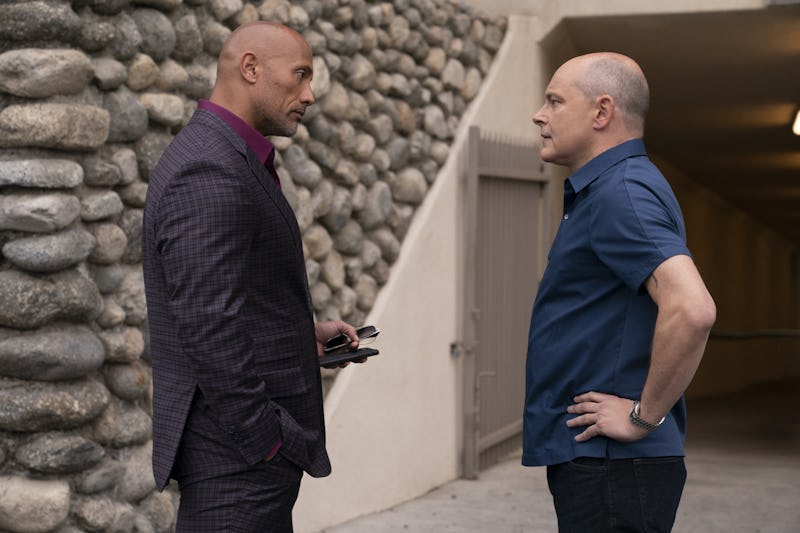 Jeff Daly/courtesy of HBO
Ball is life, especially for Spencer Strasmore (Dwayne Johnson) — the retired athlete who works as a financial manager for NFL players on Ballers. The HBO sports dramedy closes its fourth season on Sunday, Oct. 7, at 10 p.m. ET. However, fans will be happy to know that Ballers has been renewed for Season 5, so there won't be any of that anxious waiting to see if Spencer's story will continue.
After HBO announced the season renewal in September, Johnson celebrated the news on Instagram, writing in part,
"THANK YOU FANS worldwide for rockin' with us and being the driving force behind our success. Besides us being HBO's highest rated show - I also feel my character's ambition, drive & demons is an extension of our loyal fans who watch - and we'll continue to go hard and rock this motherf*cker til' the wheels fall off. Our next season will be our best yet. Let's roll."
Cleary, he's raring to get to work.
As of now, though, it's unclear when exactly Ballers Season 5 will premiere. IMDb has it airing sometime in 2019, but Johnson — who executive produces alongside Mark Wahlberg — is a busy man. Not only did he star in two movies in 2018 — Rampage and Skyscraper — but he's on the books for four next year, per IMDb. Still, the show's previous seasons have been released during the summer for four years straight, so fans can reasonably assume Ballers Season 5 to come out the summer of 2019.
As for what to expect, that will depend on the finale. This season has so far followed Spencer and his team as they butted heads with Lance Klians (Russell Brand) and his extreme sports agency, SportsX. They eventually acquired the company and fired Lance; however, he offered to buy it back at 50 cents on the dollar. Spencer and his coworker Joe (Rob Corddry) told him to stick it where the sun don't shine and proceeded to go around, Jerry Maguire-style, trying to convince Lance's old clients to stay with SportsX.
Ricky (John David Washington), meanwhile, moved to the West Coast and attempted to get back into shape after retirement. And then there was Quincy (Eli Goree) — a talented high school quarterback trying to decide between USC and Ohio State. Spencer had a good rapport going with Q's mom, Jayda (Joy Bryant). That is, before the NCAA announced that her son was ineligible. Audiences learned that Johnson's character had beef with the NCAA, which he never forgave for his brother's suicide following an injury. Jayda was, understandably, not happy with how Spencer screwed her son over — but that should have been obvious as soon as she threw that pie onto his windshield.
Sunday night's finale promises to be an exciting culmination of the high-stakes drama that's been brewing all season. In Episode 8, Q asked Spencer what he plans to do next. "F*ck it all," the financial manager responded. "I'm going to take the NCAA down, brick-by-brick." If he succeeds, Ballers will have an exciting Season 5 ahead of it.