'Gavin & Stacey's Pam & Rudi Are *Unrecognisable* In This New BBC Drama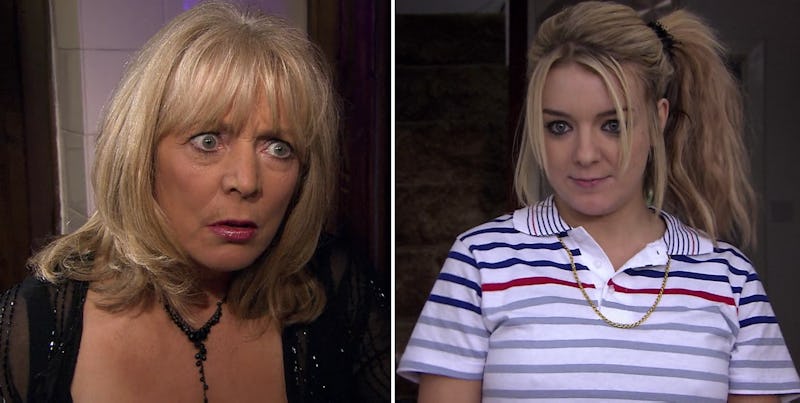 Gavin and Stacey
Every day in Britain, there's enough drama to rival the Bodyguard finale, you just don't get to see it. Most of us anyway. The eldest and the frailest are sometimes cast away, but the BBC are spotlighting the love and the drama that goes into caring for them in a new BBC One drama. Starring Gavin and Stacey's Sheridan Smith and Alison Steadman, the 90 minute, one-off show follows Mary, a widow who suffers from dementia, and her daughter, Jenny, and the ways in which the women care for one another. But when does Care start on BBC One?
As the Daily Mail reports, Care is due to air sometime "later this year", and although that's pretty vague, I'm currently waiting on a rep from the BBC to confirm a specific date. Stay tuned. It's definitely one to keep checking up on though, not least because you'll get to see two Gavin and Stacey actresses like you've never seen them before. While Rudi and Pam were quite the sorts back on Gavs and Stace, on Care, they're more likely to grab your hearts than your laughs. Smith plays Jenny, a struggling mum of two who's helped by her mum Mary, who's played by Steadman.
When Mary suffers from a devastating stroke, Jenny's one lifeline is ripped away from her. It'll probably feel pretty real to anyone who's found themselves in a caregiving or taking situation — the question of how much you can sacrifice for someone else. That's what Jenny wrestles with when her mum develops dementia.
Piers Wenger, BBC chief of drama has called it a "truly remarkable story of one woman's battle to get the best care for her mother," the Daily Mail reports. Wenger worked on the show alongside its writer Jimmy McGovern, who you might know as the brains behind The Street and Cracker.
"It's always an honour to work with Jimmy McGovern, here joining forces with Gillian Juckes on her first script for a television drama," BT quotes Wenger as saying at a recent conference. And he assured, that while the show deals with very sensitive subject matter, the cast have portrayed "this poignant story with the warmth and gravitas it deserves."
According to What's On TV, the show will be extra moving since it's inspired by first time writer Juckes' real life experiences. Filming began earlier on this year in Liverpool, as Good Housekeeping reported, and joining Smith and Steadman in the cast will be Irish actress Sinead Keenan, who you might have seen as Addams in Doctor Who, or Nina in Being Human.
From the sounds of it, you might want to stock up on those Kleenex ahead of time. Since that air date hasn't been confirmed yet, you'll definitely want to make sure you're prepared for when the show does roll around. This one is set to go into the "all of the feels" category. Inspired by a true story, Care might be some of the most deeply human TV you watch this winter.