Here's When 'Chicago P.D.' Is Coming Back From Hiatus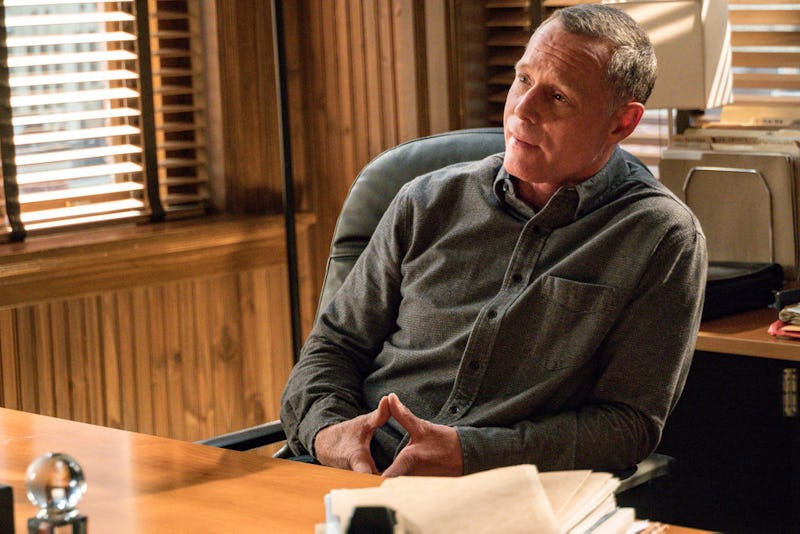 Matt Dinerstein/NBC
The fall finale of Chicago P.D. comes at a strange time for the cop drama — its star, Jason Beghe recently found himself at the center of accusations regarding his alleged "inappropriate" and "angry" behavior, according to Vulture, and it's the first season of the show to be without its female lead, Sophia Bush. All of this aside, it's still managed to reel in a big audience, with Deadline reporting 6.4 million viewers for a recent mid-November episode. And, those viewers will want to know when Season 5 of Chicago P.D. comes back from hiatus.
CinemaBlend reports that the drama will return on Wednesday, Jan. 3, at 10 p.m. ET. That is, of course, assuming that the Beghe situation doesn't delay production, though there's no reason to believe that's the case so far. Also, it's likely that some or all of the back half of Season 5 has already been filmed and wouldn't be delayed anyway. As far as the details of the situation, an anonymous source claimed to Variety that "people felt disrespected, [Beghe] yelled a tremendous amount, he had a quick fuse and when it was set off it was unpleasant for everyone around him. Variety also reported that Beghe since entered treatment with a coach to help manage his anger, that treatment was still ongoing at the time of their Nov. 21 article, and that no one had filed any further complaints in the past six months.
In a statement to Variety, both NBC and Wolf Entertainment — also behind hits like Chicago Fire and the Law & Order franchise — reps said the situation is being handled.
"When it was brought to our attention that there were concerns about inappropriate behavior on set, we promptly began an investigation in partnership with Human Resources and all parties involve. As a result of the investigation, we have already taken action, and it is a situation we continue to monitor very closely to ensure all of our employees feel safe and supported."
In a statement to Variety in the same article, Beghe apologized and claimed that he's working on things.
"I am deeply sorry for my behavior, which I know has been hurtful to my friends and colleagues. I have struggled with anger issues for some time, and over the past year, I have been working with a coach to help me learn how to mitigate my temper. It's an ongoing process, and it has been a humbling one. It is a source of great pride for me to be part of Chicago P.D.'s incredible cast and crew. I have personally apologized to anyone who I have upset, and I am committed to doing what is necessary to make up any damage that I may have caused."
This all comes on the heels of Sophia Bush's exit from Chicago P.D. after four seasons as a series lead, prompting some fans to wonder if Beghe's alleged behavior was one of the factors that caused her to leave the show. The cast and crew has been relatively tight-lipped about the Bush's departure, though an anonymous source claimed to Variety in the same article that she had allegedly been trying to "get out of the show for a long time" and that Beghe's behavior allegedly contributed to that decision.
Though she hasn't come forward with an official statement, Bush seems to want to dispel the notion that anything other than her own desire was a factor. "Took me a long time and a lot of hard work to get out of that show," she reportedly wrote in an Instagram comment, according to Deadline. "Please don't demean my capabilities by degrading my position. I left because I wanted to. End of story." (Beghe and Bush have not yet returned Bustle's request for further comment. NBC declined to add anything else.)
As for the content of the show itself, the plot could go anywhere this season when the show returns in early January. But, for now, at least fans have a concrete date of when to expect more episodes, and they will likely be keeping an eye on the cast and crew to see if anything else of note transpires in the meantime.