British Spy Drama 'Deep State' Will Be Trekking The Globe When It Returns For Season 2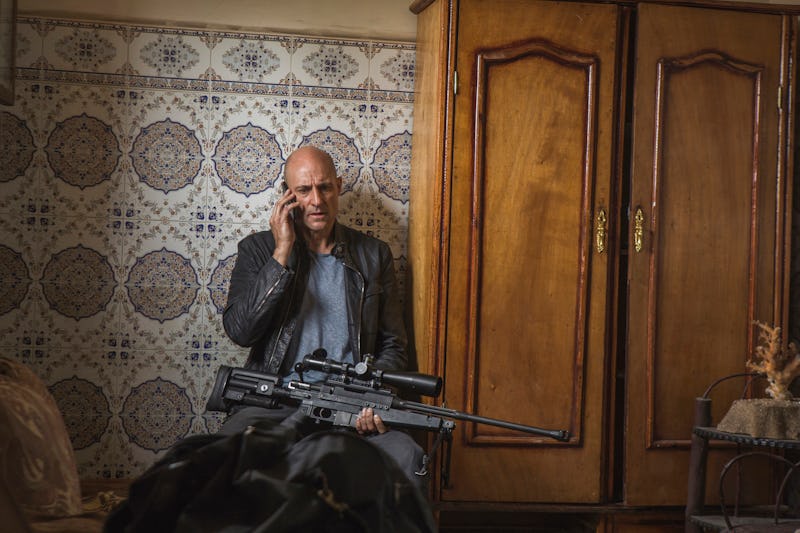 Epix
Stories about ex-spies and assassins coming out of retirement for one "final" mission have to be packed with action. And the spy thriller series Deep State puts a British spin on this familiar storyline with Max Easton (Mark Strong), a family man living a quiet new chapter of his life in the Pyrenees until he's call for duty again by George White (Alistair Petrie), the head of a secret MI6 team called "The Section." Max's older son's (Joe Dempsie) murder prompts him to dive back into his former occupation to seek vengeance. Predictably, Max becomes wrapped up in a complicated international intelligence battle where he has to constantly question whom he can trust. Season 1 will wrap up on Aug. 5 and, fortunately, Deadline has confirmed that Deep State will return for Season 2. Neither an official date nor number of episodes for next season has been determined at this time, but the show will likely return in 2019.
According to the report, the series originally aired on Fox's U.K. channel in April 2018 and scored a second season before the first episode made its debut. A deal was commissioned to bring Deep State to US audiences on Epix for the foreseeable future. Deep State's UK Twitter page recently celebrated the renewal with a simple tweet saying "Watch out…#DeepState Season 2 is coming" along with a photo of Easton wearing a leather jacket. He's wielding a very large gun and zeroing in on an unseen target. So, fans can get ready for more action, gunfire, and espionage drama as they continue to follow Easton's incredibly complicated life.
Actor Mark Strong's career has aptly prepared him to take on the complex protagonist. He's known for villainous and spy roles in movies like Sherlock Holmes, Kingsman: The Secret Service, and Sharpe's Mission, and admitted to Vanity Fair that he likes to portray characters with moral issues. "The parts that I'm drawn to are the most conflicted ones," said Strong. "Heroes often have problems thrown at them but tend to not be conflicted with themselves."
He believes Easton shows the difficult internal conflict between complying with the MI6 organization and doing what feels right in his heart. Easton is a dad and a husband but he also does some horrifically violent things in the name of getting answers. And, his interaction with influential organizations making corrupt decisions ties perfectly into the show's name. According to The New York Times, "deep state" is a political term to describe these governmental elements and top-level power players who allegedly govern the United States. It's an extreme take on a parent's work-life balance with ample amounts of fighting, torture, and organizational betrayal.
There's no word about Season 2's storyline, but showrunner/creator Matthew Parkhill revealed a sneak peek at a location. He posted a picture on Twitter of him in Sahara Desert and said he was actively scouting locations for the upcoming episodes. The show took viewers to several locations for lots of action this season, so they can probably expect more jet-setting and even higher stakes when Deep State returns for Season 2.