Why 'Fear The Walking Dead' Will Wrap Up So Many Loose Ends In The Season 3 Finale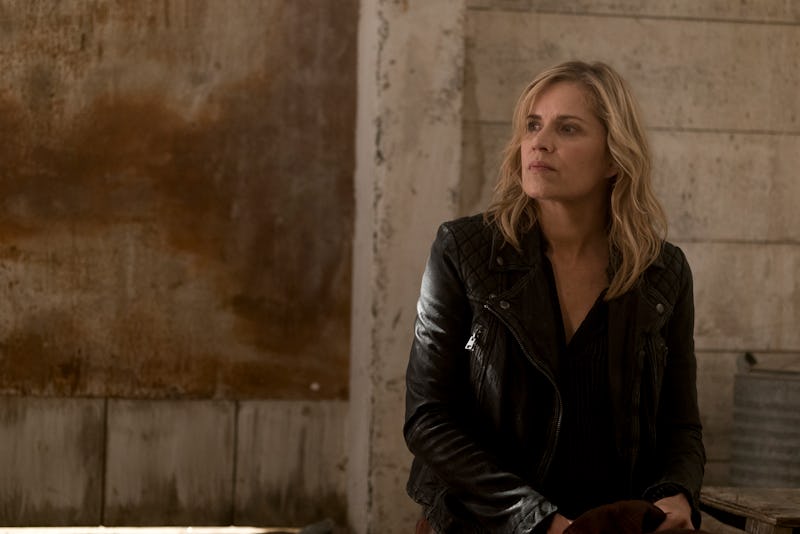 AMC
Fear The Walking Dead is ending its third season on Oct. 15, but the post-apocalyptic series is not leaving the West Coast any time soon. The survivors are in the thick of it now. When does Fear The Walking Dead Season 4 premiere?
The series was renewed for a fourth season in April. According to Variety, Andrew Chambliss and Ian Goldberg from Once Upon A Time will take over as co-showrunners. "We are thrilled to be joining Fear The Walking Dead and couldn't be more excited to work alongside the wonderful team at AMC on this show," they said in a statment. "We love this universe and are truly honored to have the chance to contribute to it."
AMC has, for the past two seasons of the spin-off, split Fear The Walking Dead into two miniature arcs that aired first in spring and completed in the fall — thus bookending the original series The Walking Dead and keeping your year filled with zombie action.
Season 2 aired from April to May and then August to October in 2016. Season 3 started later, running from June to July and then September to October 2017. Based on that logic, Season 4 will likely premiere around graduation season in 2018, and cap off right in time for Halloween.
What's in store for Fear The Walking Dead Season 4? At New York Comic-Con, Robert Kirkman revealed that some kind of crossover will occur on either Fear The Walking Dead or The Walking Dead involving one character. As Season 8 of TWD is still filming, and Fear Season 4 is in development, that could be in the works on either show.
However, it's likely the crossover will have something to do with Rosita, Eugene, and/or Abraham — who in Fear The Walking Dead's timeline might be heading out on their journey from Texas to Georgia about this time. This is a strong and possible theory, and may give fans a clue as to where the show is headed in its fourth year.
As for the upcoming finale, expect the post-apocalyptic world as you know it to come crashing down in the last two episodes. In an interview with TVLine, the Season 3 showrunner David Erikson teased that "everything is going to come to an end. We're going to see some acts of violence and some confrontations that have been a long time coming, and we're going some very bloody and explosive reversals that I don't think anyone's going to see coming."
A traditional cliff-hanger is not in the works, according to Erikson, for some pretty tantalizing reasons. "It's going to feel a little bit more open-ended," he said. "There are a number of reasons for that, and some of them have to do with the direction that Ian, Andy, and Scott are going to take the show in Season 4, but I think we'll have a healthy conversation when those episodes air."
The Clark family is truly separated for the first time ever. This is going to test Madison in the finale. "At the end of the day," said Erikson in the same interview, "the season is going to come down to her reconciling the choices she's made, the costs of those choices, and ultimately, what it does to her children. Has she done more damage to her kids in the name of protecting them? So, to do that, it was important to get to a place where she was on her own."
Sounds like fans will definitely be left wanting more. With the return of The Walking Dead coming right on the heels of this finale, the wait for Fear Season 4 won't be that bad at all.