When Does Hillary Clinton's Book Come Out?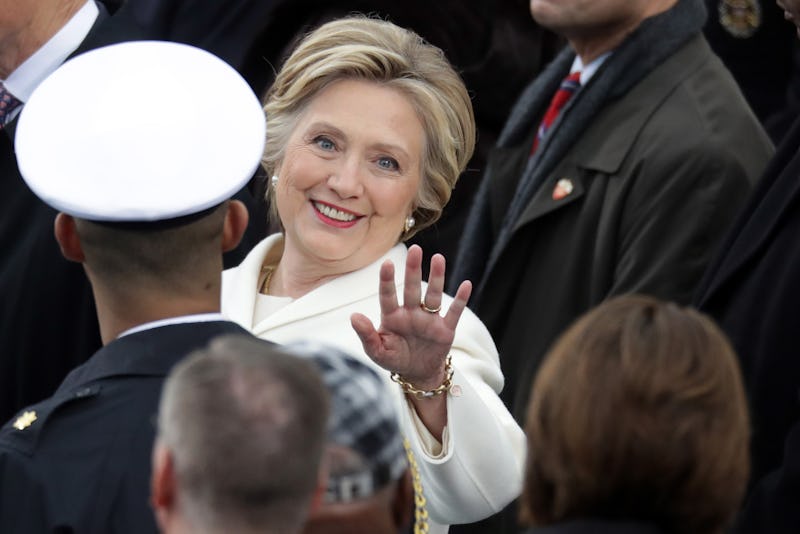 Chip Somodevilla/Getty Images News/Getty Images
On Wednesday morning, The Associated Press reported that Hillary Clinton would write an as-yet-untitled book about her road to the 2016 general election. But when does Hillary Clinton's book come out, and what can we expect to find inside? There's no firm release date yet, but you should be able to pick up Clinton's new book at your favorite bookstore later this year.
What Happened, $18, Amazon
Clinton is the author of several books for children and adults, beginning with 1996's It Takes a Village. As FLOTUS, she published two children's titles: Dear Buddy and An Invitation to the White House. A few years later, the then-Senator Clinton (D-NY) wrote an autobiography titled Living History, the first-week sales of which came in second only to Harry Potter and the Goblet of Fire. In 2014, Clinton published another memoir, Hard Choices, about her tenure as President Obama's Secretary of State.
It Takes a Village, $14, Amazon | Dear Socks, Dear Buddy, $6, Amazon | An Invitation to the White House, $34, Amazon | Living History, $11, Amazon | Hard Choices: A Memoir, $22, Amazon
Her last book was the campaign primer Stronger Together, which she co-wrote with her running mate, Sen. Tim Kaine (D-VA). A thin volume explaining the Clinton-Kaine position on every issue of the day, Stronger Together was a dry work that underperformed at the cash register, mostly because it had nothing to offer hardline voters on either side, and couldn't hold anyone else's attention.
Stronger Together, $9, Amazon
Hillary Clinton's new book won't disappoint, however. Both of her memoirs have been lauded bestsellers, and this latest offering, an essay collection about the 2016 campaign and election — in which she won the popular vote, but lost the Electoral College — will be no different. Look for Hillary Clinton's book to hit store shelves in Fall 2017, alongside a reissued version of It Takes a Village for young readers.