'Homeland' Season 8 Will Bring Some MAJOR Changes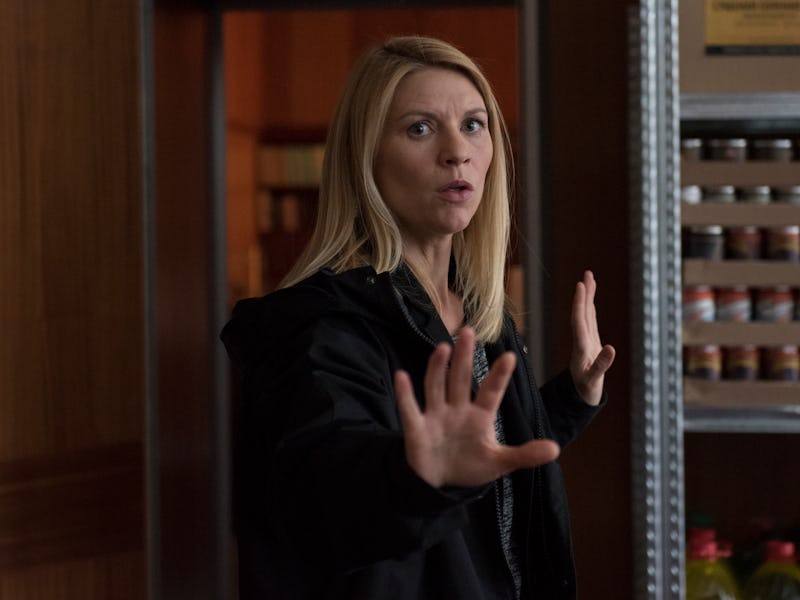 Kata Vermes/Showtime
A controversial president, alleged Russian interference, fake news… But enough about the real world, we're here to talk about Homeland. Showtime's once outlandish-seeming spy thriller is virtually indistinguishable from real life these days, as it hurtles towards its Season 7 finale. When is Homeland Season 8? With the Emmy-winning series more relevant than ever, fans will likely to be curious and eager to see what the writers cook up next for Carrie Mathison and her frequent misadventures in espionage. Unfortunately, Carrie's next mission may also be her last.
While Showtime hasn't yet announced when Season 8 will premiere, it's possible to make a guess. The drama debuted in October of 2011, and it remained a staple of the fall television season for its first five seasons, starting in either late September or early October each year. But when the show underwent a creative overhaul between Seasons 5 and 6 — when Homeland moved back to the homeland after spending two seasons abroad in Afghanistan and Germany — the new batch of episodes was delayed several months, pushing the sixth season premiere back to mid-January of 2017. The current seventh season began even later in the year, bowing in mid-February and running through the spring.
So will Homeland return to a fall premiere next season, or are fans looking at another long wait? As nice as it would be to see the series return to its fall roots for its likely final season (more on that in a moment), the reality is that the timetable of writing and filming and editing a television show simply prohibits such a fast turnaround between seasons. It's likely that fans are looking at a Winter 2019 debut for Season 8 — maybe in late January if they're lucky, more likely sometime in February or maybe even early March.
Whenever it comes, fans should make sure to enjoy and savor every moment of the eighth season, because it's very possible that it will be the show's last — at least in its current incarnation. In September of 2016, four months before Season 6 premiered, showrunner Alex Gansa told Deadline that he was "writing an ending to the series in Season 8." Showtime has yet to issue a statement confirming or denying that their flagship show will end after one more season — but just earlier this month, star Claire Danes seemed to confirm Gansa's claim. When asked live on air by Howard Stern if Season 8 would be the last, she said simply, "Yeah, that's it."
Since Showtime curiously has yet to back up the statements of Homeland's creator or star, some have wondered whether the show will somehow continue on in some fashion after Season 8: either with a Season 9 centered around a different lead character, or in a few years with a soft "reboot" featuring a whole new team in front of and behind the camera.
Regardless of the network's plans for Homeland post-Season 8 — and regardless of when exactly the new season premieres — the show is going to look very different next year. April 29's episode, "Paean To The People," will be "a proper finale for the story we've been telling" about President Keane over the past two seasons, according to Gansa in a recent interview with Entertainment Weekly. "We're going to start fresh in Season 8 and probably do a fairly big time jump between 7 and 8 and put any Trump parallels behind us. We'll tell a very contained story, hopefully in Israel," which Gansa says he hopes will allow them to "get to the emotional heart of things" for their (presumably) final season.
Will Carrie survive her final mission? Tune in next year to find out…