The Wait For More 'Homeland' Is Going To Be Intense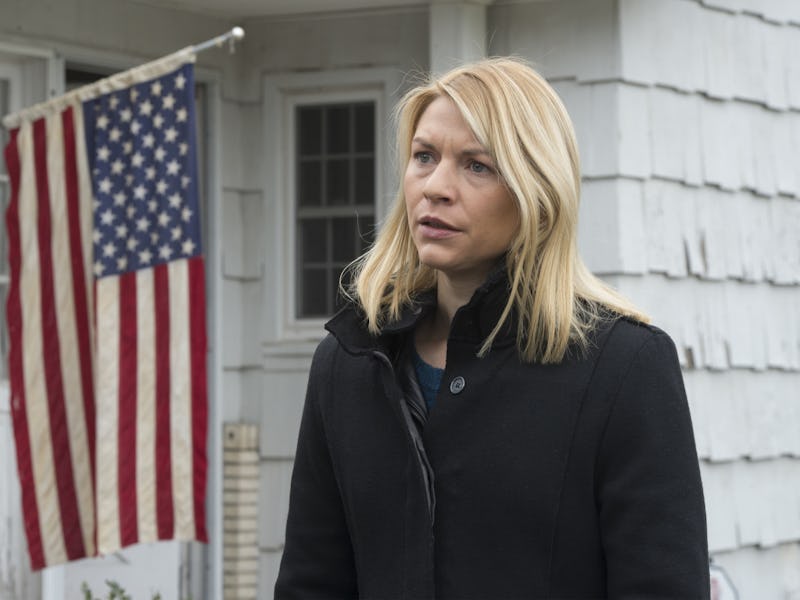 JoJo Whilden/SHOWTIME
Oh, the places she'll go. First, Carrie Mathison saved our nation's capital from terrorists. Then she saved the Middle East. Then she saved Germany. Now, she's saving the Big Apple. Where will she go next? We'll find out when Homeland returns for Season 7. Will the Showtime series finally stay put in the same setting for multiple seasons for the first time since the Nicholas Brody arc of Seasons 1-3? Or will Carrie once again have relocated to a new, exotic city or country when the next season starts up again? We may get some clues when the Season 6 finale airs this weekend.
But while we wait for clues about the location and plot of Season 7, fans will probably be hankering to know when they can expect to see the new batch of episodes. And actually, for the first time in Homeland history, that question is actually fairly difficult to answer. At least we know for a fact that Season 7 will be happening; Homeland was officially renewed way back in August of last year, a full five months before Season 6 premiered. And this was no regular renewal, either — Showtime actually picked up the show for two additional seasons, guaranteeing that Homeland will last through Season 8.
But the question of when exactly fans can expect Season 7 is a little trickier. For the show's first five years, the premieres came pretty regularly: a new season every fall, starting in either late September or early October. But that pattern changed recently, when the show failed to air any new episodes in Fall 2016. Instead, Homeland Season 6 was delayed until January 2017, a request which IndieWire reported came directly from the writing staff itself. "Time does really help," executive producer Howard Gordon told the site. "It's getting the composure for whatever reinvention needs to be done. Bridging what happened and what's going to happen on the show, it requires sometimes taking wrong turns before it comes together."
It seems unlikely that Homeland will return to its autumnal stomping grounds for the seventh season, since the turn-around between the Season 6 finale in April and the Season 7 premiere in September would simply be too tight. But the question is, will Showtime stick with a winter debut for Season 7… or are we in for another delay? Between the Season 5 finale in December 2015 and the Season 6 premiere in January 2017, 13 months had elapsed. If another wait like that is in store, we won't be seeing any new episodes until May 2018.
Such prolonged waits between seasons are becoming more and more common, as Game Of Thrones is currently making fans wait an extra three months for Season 7, and Westworld is taking a whole year off between seasons, waiting until 2018 to debut Season 2. How long viewers will have to wait for Homeland Season 7 probably depends on how much "reinvention" needs to be done, like Season 6's shift from Europe back to the States.
Whether Season 7 ends up premiering in January or May or some other month next year, the wait for more is going to be difficult regardless — especially knowing that the show is nearing its endgame: shortly after the news that the series had been renewed for two more seasons came the revelation that the showrunners were planning to end Homeland with Season 8. With only two seasons to go, it's clear that Carrie's life is about to get a lot more challenging… as if it hasn't been challenging enough already.