The Future Of 'House Of Cards' Season 6 Is Uncertain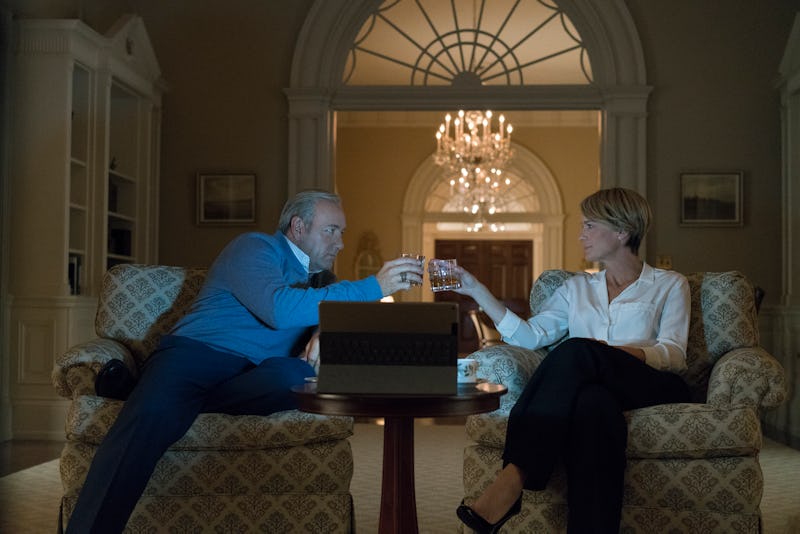 David Giesbrecht/Netflix
As the Underwoods have shown over the years, they believe greed and ambition should know no limits. In following with their teachings, it's only fair that fans of Frank and Claire are already wondering when House of Cards Season 6 will be. It was announced on the day of the real-life 2017 presidential inauguration that Season 5 is coming to Netflix on Tuesday, May 30. Yet, once you've devoured those 13 episodes, you're going to want more, so when will Season 6 of House of Cards premiere? Unfortunately, there's no way to know for sure right now since House of Cards hasn't been renewed yet for Season 6. That means once you've finished Season 5, there will be even more uncertainty about what the future holds for Frank and Claire Underwood than usual.
UPDATE, August 7, 2018: According to Netflix, Season 6 of House of Cards will premiere on November 2, 2018.
Before Season 5, each season of the Kevin Spacey and Robin Wright series came to Netflix in the winter months with the first three seasons premiering in February and Season 4 premiering in early March. Although House of Cards was renewed for Season 5 even before Season 4 premiered, the world had to wait longer for Season 5 to arrive. SlashGear reported that the Season 5 delay wasn't because of creator and showrunner Beau Willimon leaving the series, but rather it had to do with Netflix's operating margins. As Netflix's original programming has grown significantly since House of Cards first premiered, the show's release date has had to be adjusted.
Yet, even with knowing that Netflix may need to shift when House of Cards premieres next due to its plethora of other programming, the streaming company hasn't officially announced that the show has been renewed for a sixth season. While you were able to embark on Season 4 knowing that a Season 5 was definitely in the works, fans haven't been afforded that luxury this time around. But before you worry too much that the series won't be renewed, take solace in the fact that Claire Underwood herself has already been speaking about the next season. During Variety and Kering's Women in Motion talk at the Cannes Film Festival, Wright mentioned House of Cards Season 6 in an amusing way. When asked if Donald Trump's presidency has impacted the Netflix series, Wright said, "Trump has stolen all of our ideas for Season 6."
She also teased that Claire could be president in Season 6 when asked if she thinks that the U.S. will ever see a female president.
As Wright is not only a star of House of Cards, but also a director and producer of the series, her talking about Season 6 — even in a joking way — should give you confidence that the show will be renewed. (Unless, of course, she's channeling her character and misleading the public.) But as has been shown by the politics on House of Cards and the politics in the real world, life in Washington, D.C. is full of the unexpected. And so predicting when House of Cards Season 6 will premiere before it's renewed feels like a futile task. But let's hope that even though next year isn't a presidential election year, that House of Cards fans will be given more of the Underwoods in 2018.