The 'House of Cards' Season 6 Time Jump, Explained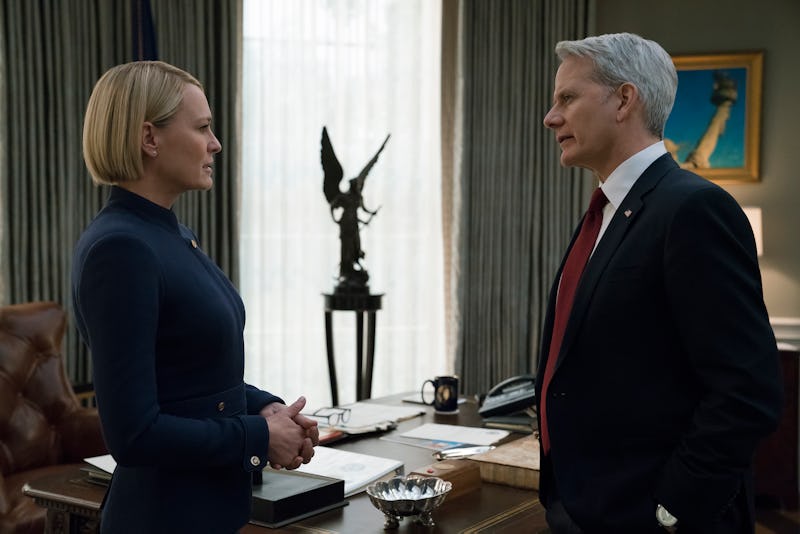 David Giesbrecht/Netflix
Spoilers ahead for House of Cards Season 6, Episode 1 Mr. President is dead. Long live Madame President. Netflix's first big get in original programming is finally drawing to a close with a sixth and final chapter. However, the opening of House of Cards Season 6 is a bit jarring, especially given the fact that President Frank Underwood (Kevin Spacey) has died. Audiences don't immediately know why, but what is clear is that Claire Underwood (Robin Wright) is making moves to make the White House her own as the current Commander-in-Chief, getting out of her late husband's shadow. But when does House of Cards Season 6 take place, exactly, and what has happened during that time?
Much like everything that's happened in the series so far, a lot has occurred behind the scenes, too. Audiences will recall that House of Cards Season 5 premiered on May 30, 2017, and on October 29, 2017, actor Anthony Rapp told Buzzfeed that Kevin Spacey allegedly made sexual advances on him in 1986, when Rapp was just 14 years old. The House of Cards actor denied this allegation in a Twitter post, and 14 other men accused Spacey of inappropriate sexual conduct, per USA Today. Then, on November 3, 2017, Netflix fired Spacey from House of Cards, according to The Verge. Bustle's request for comment from Spacey's representatives was not immediately returned. But all that means the political drama had a year and a half-long interim period, and while there's definitely some plot changes in Season 6, sans Frank, the end of Season 5 actually set up the reign of Claire quite nicely.
Audiences will recall that Claire had just become the first female president in the Season 5 finale, and she'd begun severing ties with her husband. Frank had wanted her to pardon both himself and Doug, and while she said she would, Madame Pres. ultimately told the camera in one of her rare fourth-wall breaks, "My turn." However, a considerable amount of time has passed between now and then, as is evidenced by Season 6 opening with Claire sitting at her desk in the Oval Office. A member of her security is recounting graphic death threats on her life while she listens very stoically.
After all, this is Claire Underwood we're talking about, and she takes it all in stride — even when she learns she's receiving exponentially more threats than Frank ever did. "There are roughly four times as many threats on any given day since you took office," her Vice President, Mark Usher (Campbell Scott), says. "Now it's twice that since Francis died." Here is the first confirmation of what viewers already knew from the teasers — that former president Frank Underwood has died. Claire has told people that he died next to her in bed, but that seems a little too convenient, doesn't it?
However, it isn't until halfway through the episode that audiences learn exactly how long it's been since the Season 5 finale. "My first 100 days as president have been difficult," Claire says during a speech at a military base. "I lost my husband. We were about to celebrate 30 years together. But I know what he would want: For me to stop mourning and carry on." It's July 4th, and Claire wants to send a message to the troops, who she has ordered to attack Syria.
Later on, Claire discovers that someone has placed Frank's ring in her room (which, how?), and she places it calmly on her middle finger. "I know," she tells the camera. "You want to know what really happened to him. A man like Francis doesn't just die. That would be — what's the word? Convenient." And that's all she says, because of course viewers aren't going to learn how Frank Underwood died in the first episode. She does, however, give the middle finger, Frank's ring gleaming on her hand, and looks, dead-eyed, into the camera. It's been a considerable amount of time since Frank's death, and it's Claire's turn, indeed.
If you or someone you know has been sexually assaulted, call the National Sexual Assault Telephone Hotline at 800-656-HOPE (4673) or visit online.rainn.org.