Here's When 'HTGAWM' Will Return From Its Winter Break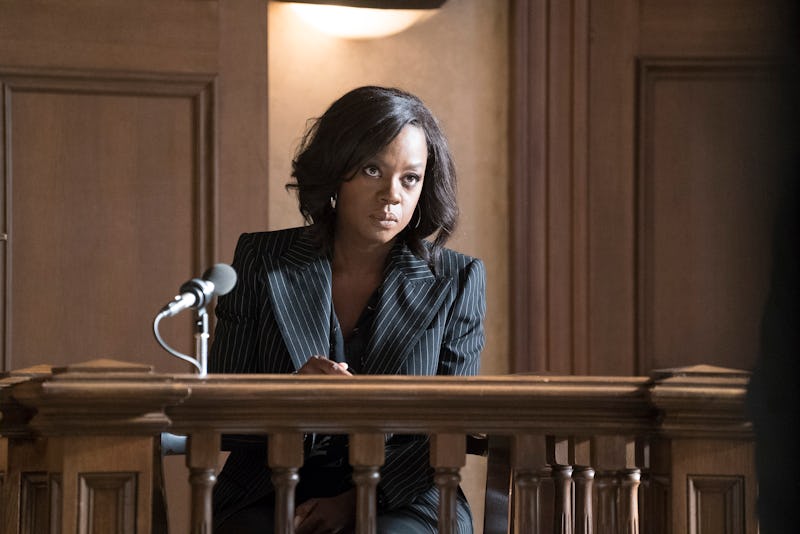 Kelsey McNeal/ABC
There's nothing quite like the holiday season. Families are brought together. Eggnog becomes an acceptable dinner drink again. And stockings get hung by the chimney with care. However, despite these many indulgences, this time of year also means your favorite TV shows go on a winter hiatus, and ABC's How To Get Away With Murder is no exception, unfortunately. So when does HTGAWM Season 5 come back from its holiday break? Given how most of the show's winter finales have gone, this Thursday's episode is bound to leave things on a major cliffhanger.
Thanks to a series of flash-forwards — something that has become a HTGAWM staple since its very first season — viewers know that someone is going meet an untimely fate at Oliver and Connor's wedding, though the identify of this person has yet to be revealed. The promo for Thursday's finale promises to finally answer that question when the two timelines merge. But even when one mystery is solved, another one is sure to crop up in its place. (Hey, it's not called How To Get Away With Murder for nothing.) So odds are there's going to be a major twist that happens by the end of the hour, leaving many viewers anxious to see what happens next. But how long will they have to wait for Season 5 to return and find out what happens?
At this point, ABC has yet to announce its midseason schedule, making it impossible to know with absolute certainty when all of the network's shows will come back from their winter hiatuses. That being said, it is fairly easy to make a prediction based on what's happened in the past. Take, for example, last season's lineup: Season 4's winter finale took place on Nov. 16 and didn't pick back up again until Jan. 18, 2018. Similarly, Season 3's winter finale aired on Nov. 17 and returned on Jan. 26, 2017. If that same pattern continues, then odds are Season 5 will be brought back some time in late January 2019, meaning we'll be without Annalise Keating and Co. for a little over two months. That's a lot of Thursdays.
Sure, it's unfortunate to have to go so long without a weekly dose of the Keating Four, and depending on what the cliffhanger ends up being, it could actually feel a lot longer than that, but hey, that's the price you pay during the holiday season. But while we all are able to enjoy holiday celebrations, Connor and Oliver's wedding guests won't be so lucky. Someone's number is about to be up for good, which is bound to launch a new chain of events that will carry us through the second part of the season. And we probably still won't know who Gabriel Maddox is or what he wants,
Viewers will have to tune in on Thursday, Nov. 15 at 10 p.m. ET on ABC to see how it all plays out and where this is all going, but until then, let the wild theories commence and mark your calendars for its return.