Nuri & Yasir's Relationship Will Get Even More Complicated When 'Love Is_' Returns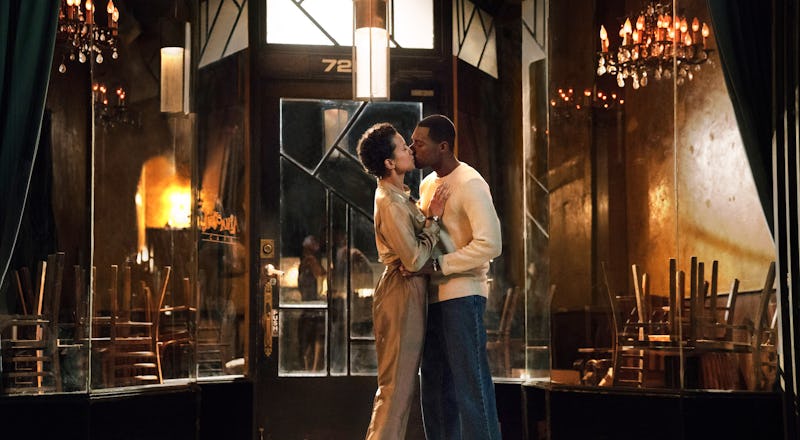 Michael Desmond © 2018 Warner Bros. Entertainment Inc. / Courtesy of OWN
Summer is the perfect season for a heartfelt TV show about love and romance. And OWN's Love Is_ details the story of Nuri (Michele Weaver) and Yasir (Will Catlett), a '90s couple working in creative industries and building what will eventually become a decades-long romance. The Love Is_ Season 1 finale airs on Aug. 21, but there is a lot left to explore in this budding partnership. The romantic drama is told from the couple's present-day perspective and is actually based on the real-life relationship of its creators and executive producing team of Mara Brock Akil and Salim Akil, per Variety. The Akils met on the set of Moesha and have produced popular TV shows like Being Mary Jane and Black Lightning. And, it looks like they have another hit series because Love Is_ will return for Season 2, as Deadline reported.
Right now, there is no official word on when Season 2 will drop, but it likely won't be until sometime in 2019. According to the Deadline report, Love Is_ struck a chord with OWN viewers with 1.2 million people watching the June 19 debut episode. The ratings continued to increase and led to Love Is_ becoming the number one show on cable in its time slot.
It's totally understandable why fans have fallen for this realistic portrayal of a love story. Love Is _ explores the inevitable ups and downs of a real-life relationship and intertwines '90s Black culture, social issues, career struggles, and the lessons that people learn while trying to maintain connection through it all. Love can include some fairytale moments, but it can get a little complicated and messy when the past flames pop up and other people get in a couple's business.
Salim Akil revealed in the Variety interview that he wasn't initially on board with revealing details about his relationship with Mara, but he respected her right to create the show. "I wasn't ready to do it, [but] Mara was," said Salim. "I think part of the theme of 'Love Is_' is realizing you can't allow another person to do anything. If they respect you enough to ask your opinion, you can give your opinion but she's a grown woman independent of me. So, as an artist, she should be able to do what she wants to do…" Now, that's true love!
In the same interview, Mara admitted that Love Is _ is factual about their relationship in some ways, but that there are a few dramatized aspects as well. "It is an 'inspired by' story and it needs to be so that the story can stay compelling and intentional for what the show is," said Mara. "The pilot sort of nails a lot, but as the season of courtship goes on, we manipulate some of the facts so that Nuri and Yasir can be ambassadors for this idea that love is achievable if you define it for yourself."
Mara's statement perfectly defines why there is a blank in the show's title. People have to fill in the blank with their own unique definition for love because it means different things for different people. Once a person figures it out, then they are free to go and seek what will make them happy.
Love Is _ will return with more intimacy, levity, confusion, and all the other feels that come with loving another person. Nuri and Yasir's tale of finding personal and professional success together is inspiring (and entertaining) for anyone who wants to find their soulmate. It sounds a little cliché, but this couple is totally "relationship goals."