That Meghan Markle Book Everyone Is Talking About Probably Won't Come Out Before The Wedding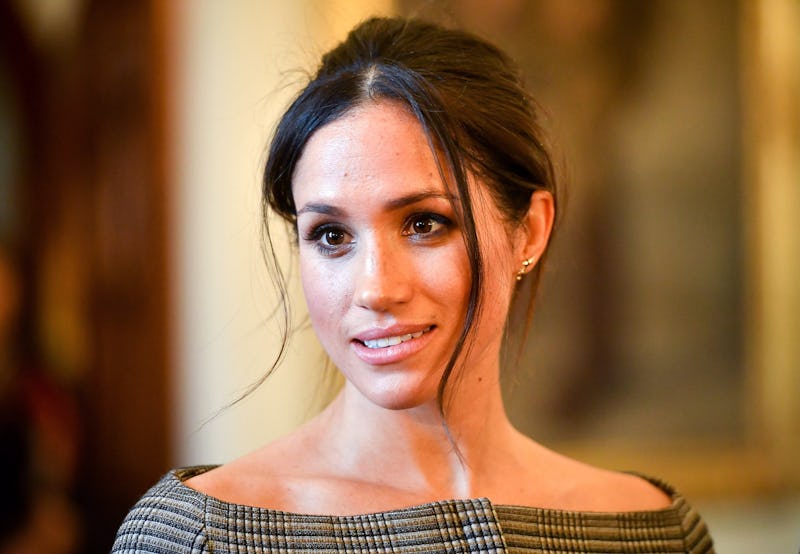 WPA Pool/Getty Images Entertainment/Getty Images
Michael Wolff's scandalous White House tell-all has been dominating the news cycle this year, but now, there is another exposé making headlines: Samantha Grant's upcoming memoir, The Diary of Princess Pushy's Sister. So when does Meghan Markle's sister's book come out? The family tell-all doesn't have a release date yet, but it is already one of the most talked about memoirs of the year.
When their relationship was made public, it seemed everyone was happy for Suits star Meghan Markle and her new love, Prince Harry. Shortly after the announcement, her half-sister, Samantha Grant (also known as Samantha Markle), began making headlines for a memoir that addresses her famous sister. Markle and Grant, who are 16 years apart, share a father, Thomas Markle, but it's been reported that the two are not close. According to some sources, the two half sisters haven't even spoken in the last decade. That hasn't stopped Grant from sharing her opinions about Markle and Prince Harry with the public, however.
Even before the announcement of their engagement, Grant made some less-than-flattering comments about Markle in which she called the actress and activist a "shallow social climber" who has a "soft spot for gingers." She also publicly criticized her half sister for not have the behavior "befitting of a royal family member," and implied Markle's romance with Prince Harry was part of her plan to become a princess.
In April 2017, Grant took it a step further when she announced plans to write a tell-all book that promises to spill all the secrets of the Markle family, and, presumably, Meghan Markle and her royal romance specifically. Grant is calling it — and you might want to be sitting on the ground for this one, lest you laugh your ass right off your chair — The Diary of Princess Pushy's Sister. (And to think, she came up with it even before the couple announced their engagement in November.)
While it is still unclear exactly what will be in the book and how much will focus on Meghan Markle, the title certainly implies the memoir will, at least in part, discuss the princess-to-be. Grant has said that her book will include details of their family life and drama, but many have already questioned how much of Markle's life Grant really knows about. Although the wannabe author claims to have raised Meghan for over a decade when they lived in California together, many close to the Markles dispute her story. One source even told E! News that Meghan Markle was raised as an only child, away from Grant except when the two would see each other at family functions.
"My book deals with my bi-racial family in a candid, warm, personal and socially important way," Grant said in an interview with The Daily Star. "Maybe when Meghan is more mature and reads the book she'll understand. Some of it she won't like, some of it she might."
Aside from her upcoming book, Grant has also announced plans to star in her own reality show, which certainly doesn't help her argument that the book is not just a shortcut to money and fame. For many, it seems like Grant is just jealous of Markle's successful career and newly found romance, and her attempt to make money off her family's story is a move she herself has criticized others for making.
"All these lowlifes are trying to get their fame on Meghan and all I was doing is writing a book about that honours her," she told The Sun Online.