It's Possible That 'Mr. Robot' Season 4 May Be The Show's Last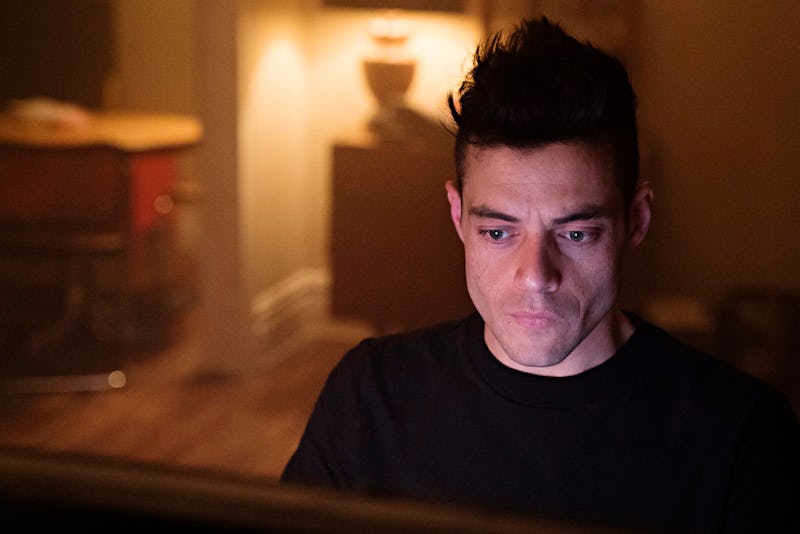 Michael Parmelee/USA Network
Season 3 of USA's trippy hacker drama is drawing to a close on Dec. 13, and it's looking likely that not everyone will make it out alive. But the greatest casualty of the season might be fans' patience, given that the wait for more is bound to be excruciating. When is Mr. Robot Season 4? The answer to that question is as impossible to divine as Whiterose's true intentions. But the good news is that USA announced on the day of the season finale that Mr. Robot is renewed for Season 4, per Variety. But a premiere date is yet to be announced.
So the series will go on, but it could be that the story is approaching its endgame sooner than fans think. Creator Sam Esmail has always been clear about the fact that he has a definite — emphasis on finite — plan for Mr. Robot. In fact, he had originally conceived of the story as a feature film… and only when his screenplay got too long did he consider shopping it to television networks instead. "When I saw it as a movie I knew where I was going," Esmail told Forbes in an interview in advance of the Season 1 premiere. "I knew the ending. It was either I had just gotten too longwinded or the story just asked for more characters or more storylines to develop. When I got to page 90 and I was still halfway through Act 1 that's when I decided, 'OK. This can be a television show.'"
The creator claimed to Forbes that not much of his plan changed when the story shifted mediums. "I'm still driving towards that same ending that I originally envisioned when I started writing the feature," he said three years ago. "In fact, the ending of Season 1 is really what would have been the ending of Act 1 of my feature."
Given that most screenplays are still written in traditional three-act structures, it's already something of a surprise that Mr. Robot will last longer than three seasons. But it won't last forever. When speaking to Variety last year, Esmail announced his intention that the show would run "probably about four or five seasons. I like to know where we're going and where we're heading. I think it's tougher if it's open ended, my brain doesn't work like that. But hats off to those who do!"
So is it four seasons or is it five? That's the difference between whether the next batch of episodes is the swan song of the penultimate act. Season 4 of Mr. Robot is happening, but it could be that its fourth season will also be announced to be its last. It seems as though that call has not been made yet, however.
Regardless of whether Season 4 is the last one or not, when will it arrive on fans' TV screens? While Season 1 of the show premiered in late June and Season 2 got started in early July, the network made viewers wait until October for Season 3 this year. It seems unlikely that the show will return to a summer debut, given how rushed that would make production (and how complicated production on Mr. Robot must be, based on some of Esmail's fancier notions like that ambitious "single-take" episode). Therefore, Fall 2018 is a good guess for Mr. Robot Season 4… but it's possible, if Esmail's ambitions continue to grow and he takes as long between Seasons 3 and 4 as he did between Seasons 2 and 3, that the next batch of episodes won't arrive until January 2019.
Whenever Season 4 arrives, it's certain that it will have been worth the wait. And hopefully fans will finally get some answers about those pesky parallel universes.