All The Burning Questions 'New Amsterdam' NEEDS To Answer When It Comes Back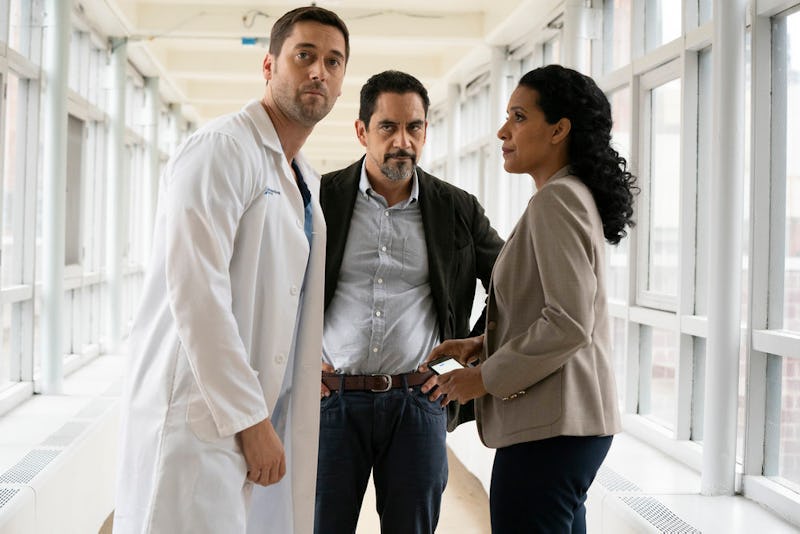 Virginia Sherwood/NBC
Television is filled with medical dramas, but New Amsterdam quickly found its legs. It's not quite the sexy workplace soap that Grey's Anatomy is, but it's not as cerebral as, let's say, The Good Doctor. It strikes a balance between heart and soul. Unfortunately for fans, New Amsterdam is about to go away for a little while. But don't worry, it's just a quiet winter's nap - New Amsterdam Season 1 will be back before you know it.
There's no official word on when Season 1 of New Amsterdam will return for the back half of the season, but according to The Hollywood Reporter, it has been picked up for a full season, which bodes well for the freshman show. Of the pickup, NBC co-presidents Lisa Katz and Tracey Pakosta said in a statement, "It's thrilling to come out of the gate this season with a series that has resonated so well with audiences. The show hits the sweet spot of the NBC brand — positivity, emotion and incredible storytelling."
And it's that storytelling that will keep viewers hooked through the end of Season 1 — and maybe into Season 2 and Season 3 (a gal can dream). So much has happened in only the first eight or so episodes that New Amsterdam has plenty of questions to answer when it comes back from winter hiatus. Here are a few of the biggest lingering points.
Max's Cancer
Max Goodwin has cancer, and he can't decide how to treat it, if at all. He wants chemo, he doesn't want chemo. He wants radiation, he doesn't want radiation. Max has a big job and a baby on the way, so it would behoove him to tackle this cancer head-on. Except, as he's made abundantly clear, he doesn't want to be a patient. What he ultimately decides to do will shape the rest of the season in terms of how he runs the hospital.
Lauren's Pill Problem
Look up "adrenaline junkie" in the fictional dictionary, and there's probably a picture of Dr. Lauren Bloom next to the definition. She loves doctoring and hates feelings, so she doesn't sleep and instead takes a lot of Adderall in order to stay awake. This isn't good for Lauren, and it's not good for her patients — eventually, she's going to make a mistake and kill someone. One of the other doctors at New Amsterdam needs to step in, stat, or something will go horribly wrong.
Kapoor's Relationship With His Son
Vijay Kapoor is a brilliant doctor with a bad home life — sounds like every other show, right? But his now-sober adult son is back in his life, and there's something about this storyline that makes me want to cry and hug someone at the same time. Kapoor is hesitant to reconnect, but you can tell he really wants to. It's an emotional tug of war that is really compelling to watch.
New Amsterdam will bring the drama into 2019 — let's hope multiple seasons follow after!