Here Are The Clues That 'Outlander' Fans Are Looking At Another Lengthy Droughtlander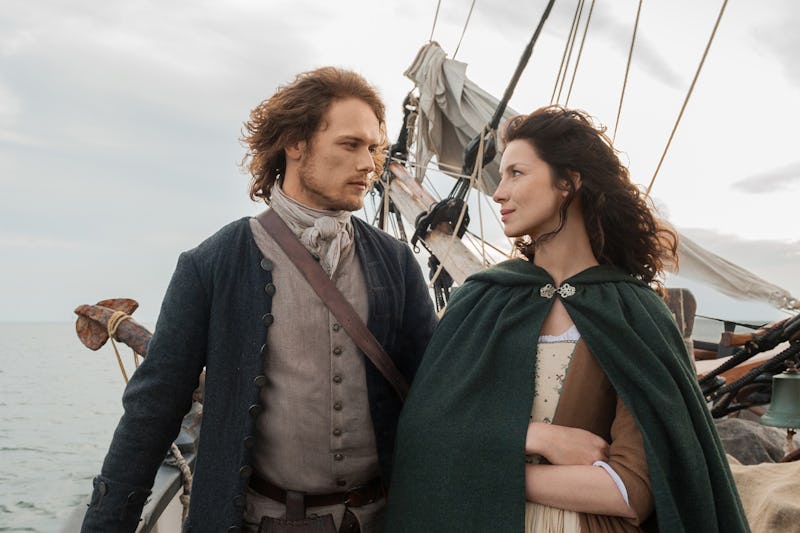 Starz
Every voyage must come to an end — and so on Sunday, Dec. 10, the swashbuckling Season 3 of Outlander will air its finale, leaving its devoted fans to wallow in misery while waiting with bated breath for the next batch of episodes. But when is Outlander Season 4? It would be so much easier to make it through the hiatus if there was an end date in sight; a light at the end of the tunnel, if you will. Unfortunately, Starz has yet to set an official date for the fourth season's premiere… but that doesn't mean an educated guess can't be made, or that there aren't other details to tide fans over in the interim.
UPDATE: Starz announced in May, according to The Hollywood Reporter, that Outlander Season 4 will premiere in November 2018. In August, Starz announced that the first episode of the season would air on Nov. 4.
EARLIER: Season 1 of Outlander had its premiere way back in August 2014. (Such an innocent time…) Divided in two halves, the second portion of that season unfurled in April 2015. Season 2, based on the second novel in Diana Gabaldon's series, Dragonfly In Amber, debuted a year later, in April of 2016, wrapping in July. And Season 3, based on the third novel, Voyager, started its run a whopping 14 months later, in September of this year.
So, will Season 4 premiere in September again next year, like Season 3? Or will fans have to wait another 14 months after December's finale, with the next season not arriving until February 2019?
I'm obviously not psychic, but if I had to hazard a guess, I would say that Starz won't make fans wait that long again. Given that the fourth novel in Gabaldon's series is titled Drums Of Autumn, it seems only right that the network would give the season it's based on a fall premiere. September seems like the perfect time to dive into a new chapter in the adventures of Claire and Jamie — and that timing would prevent 2018 from becoming a year without either Game Of Thrones OR Outlander (god forbid).
So what can fans expect when Season 4 does finally premiere, whenever that may be? For those who haven't read Gabaldon's novels, you can expect the new episodes to (spoiler alert!) take a decidedly more American bent, since Drums Of Autumn seems the Frasers relocating from Jamaica to the New World, building a new lives for themselves in the colony of North Carolina. Of course, they'll be arriving just in time to get embroiled in the political intrigue of yet another uprising against the British: this time, the American Revolution. (Will there be a crossover with AMC's recently departed TURN? Stay tuned.)
As short-lived as their newfound peace may be, Claire and Jamie's new lease on life gives Season 4 its theme: "home," according to producer Matthew B. Roberts. "Over the last three seasons, Jamie and Claire didn't know where they are going to live," Roberts told Entertainment Weekly about the upcoming season. "They never plant their feet. Now they're getting to that place that they can call home. But the meaning of home is different for people. That's what we will dig into in season 4."
Other Outlander Season 4 details that are already known include a couple bits of exciting casting news. First, Maria Doyle Kennedy (Orphan Black's Mrs. S) will be joining the show as Jocasta, whom book readers will know as the steely sister of Colum and Dougal MacKenzie — and therefore Jamie's aunt — who is introduced in Drums. Another new character, the charming Irish pirate Stephen Bonnet, will be played by Downton Abbey alum Ed Speleers (aka handsome footman Jimmy).
In case that's not enough to tide you over, Starz has also cast the canine actors who will portray Rollo, the wolf pup that Ian adopts in Drums:
Ghost who? Jon Snow's pet officially has some serious competition for cutest doggo on television — especially considering the fact that he didn't appear once in Season 7. (I'm not bitter.) Get ready for Rollo to melt your heart when Outlander Season 4 premieres, hopefully next fall.