Sephora Is Having A Major Sale On All Its Products — But It Won't Last Long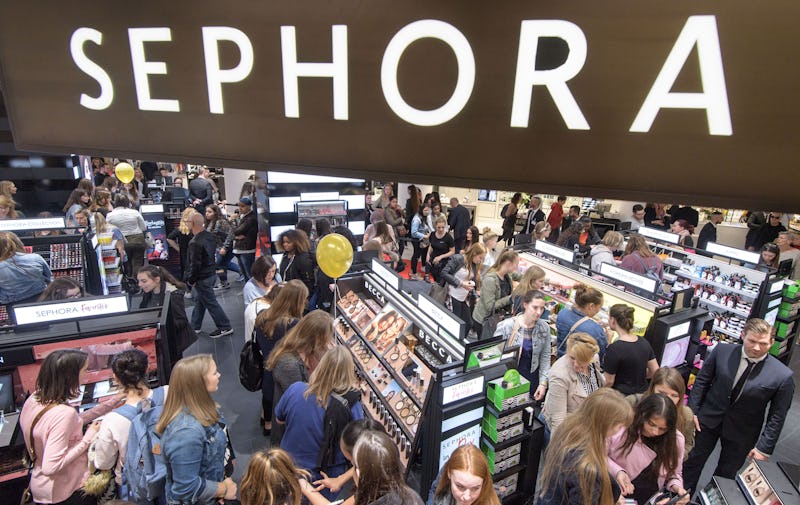 Thomas Lohnes/Getty Images
The Sephora VIB sale is causing seismic waves within the beauty community at the moment, where the annual whole-store sale is offering anywhere between 10 to 15 percent off for shoppers. But when does Sephora's Spring 2018 Beauty Insider Sale end? You don't have much more time left to take advantage of the savings.
The annual sale is beginning this Friday, Apr. 20, but there is a catch when it comes to the discounted shopping spree — the sale access is only available to the retailer's Beauty Insider loyalty program members.
Depending on how much money you spend at Sephora in a calendar year, you land in a certain tier in the Beauty Insider loyalty program. Different tiers are going to receive different benefits and discounts during this epic sale.
Those with VIB Rouge status are the top tier members who have spent at least $1000, and they get 15 percent off both in-store and online. Their sale also began on April 13 — a weekend ahead of everyone else — allowing them a week longer to shop than the rest of the loyalty members. They also received the bonus of getting a bag of samples and a branded card case with a purchase, as well as the option of extending their 15 percent off discount to a friend on Apr. 13. The friend had to be enrolled in the Beauty Insider program to join in, but for that one day they got to experience life as a top-tier member (receiving a sample goody bag and all!)
The second tier members are the VIBs, and they have spent at least $350 in the year. In the sale they will receive 15 percent off. The last tier — the Beauty Insiders — have spent $349 or less in the year, and will receive a 10 percent discounts.
Both of these tiers will have their sales start on Apr. 20, but they don't have much long to browse and mule over items. It's a short sale!
The sale is for one weekend only, starting on Friday, Apr. 20 and ending Monday, Apr. 23. Which means that you don't have much time to dawdle when it comes to restocking old favorites at a discount, or trying out luxurious products that were a little too expensive at full price.
If you're wondering why the sale has been split into two weekends, it's so the store could treat its highest spenders properly. Since the VIB Rouge members spend over $1000 a year, Sephora wants to thank them by not only giving them early access, but also first dibs on some of the most popular products that might sell out in a flash once all members get access to them.
Some VIB Rouge members have been leaving reviews on the experience of the early access sale, and it seems to have matched expectations. "Great in-store experience today! I shopped around, and the store was just busy enough to be fun and jumpin' but not crowded," one top-tier member wrote. "The SAs were nice, and even gave me a couple extra samples which was fabulous! I got the card case and the 7 free samples as advertised. Check-out was a breeze and the SA was great."
And even if things didn't go exactly according to plan, stores were still able to accommodate their VIP members. "My store didn't receive the sample bag that was supposed to go with the card case, so they put together their own for us, which was really sweet and wonderful! Also, the card case is adorable, feels very high quality, and is absolutely one of my favorite rouge gifts to date," another reviewer shared.
But that's not to say it's not still an amazing opportunity for the lower spenders. And another great perk about this sale is that you can pop into it as many times as you want this weekend. Meaning, if you forgot to buy something your first time around, or a certain item caught your eye on Instagram after your shopping spree, you can still go back and use your coupon code again or snag it in person.
With the sale just around the corner, start creating your wish-list today!