'Supernatural' Will Be Back So Soon & Will Probably Be On Forever, TBH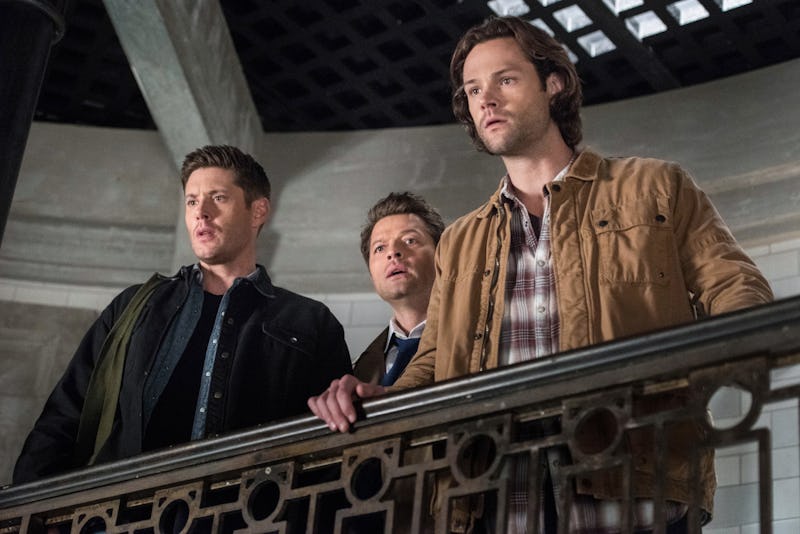 Dean Buscher/The CW
If you're not already watching Supernatural, you still have time to get in on the action. Per Variety, The CW renewed Supernatural for Season 14 in April of this year. The CW confirmed during its 2018 upfront presentation that you can expect to reunite with the Winchester brothers on Thursdays this coming fall, as usual. The network hasn't confirmed a set airdate yet, but the series usually comes back from hiatus in early October.
UPDATE: Per The Wrap, Supernatural Season 14 will premiere on Oct. 11.
EARLIER: But with long-running series like Modern Family and The Big Bang Theory toying with winding down for good, is Supernatural in danger of coming to an end? It's probably not time to worry about that just yet. While 14 years is a staggeringly long time to keep a primetime drama alive, Supernatural is hardly the first show to make it this far. The series is in good company, nearly joining the ranks of Grey's Anatomy going into Season 15 and ER, which ended after Season 15. The Simpsons is now the longest-running scripted series ever, with a whopping 29 seasons and counting.
In an interview with Deadline, CW president Mark Pedowitz indicated that he has no desire to take Supernatural off the schedule in the near future. "That show will go on as long as it keeps going, [stars Jared Padalecki and Jensen Ackles] keep doing it," he said, "and the ratings keep holding."
And the ratings do seem to be holding. According to TVSeriesFinale.com, Season 13 has only dropped to a .55 rating in the 18 – 49 demographic, down from .6 in Season 12. The show might be down in its target demo, but it's actually up in overall viewership by 7 percent, which is not too shabby for a show old enough to be going into ninth grade.
Back in September 2016, before Season 14 was a lock, Ackles (Dean) told Entertainment Weekly that he still had a lot left to give when it came to fighting demons. He said:
"I feel like if I ever show up to set and I feel like I don't care, or if I feel like [Jared Padalecki] doesn't care, then that's the canary leaving the mine. To this day, I have not really ever sensed that from myself or him… They're paying us to bring that little bit of magic to what they wrote, and I still feel that magic today. The day that I don't feel that magic will be a very sad day, and I hope that day never comes. I'd like to get to 300 before that day comes."
Ackles is going to get his wish, as Season 14 will officially bring the series up to and beyond the milestone 300th episode mark.
In the same interview with EW, Jared Padalecki, who plays Sam, was slightly more hesitant to continue the show ad infinitum, but still indicated that there's plenty of substance left to make it to that huge milestone. "I want to tell that story as well as possible as long as possible," he said, "but I don't want it to get too long in the tooth."
But Padelecki walked back those comments a bit ahead of the show's most recent Paleyfest panel, per TV Line. "I think maybe when I said 300 [episodes would be enough], I just didn't know if we'd keep the quality up, but the quality is higher than it's ever been," he told the outlet. "I love the storyline, I love what's going on with the brothers, with the friends, with the family. So I love being a part of telling the story, and as long as they're willing to keep picking us up, then count me in." So whether Season 14 turns out to be the end of the line, or the brothers manage to keep fighting off evil for another decade, rest assured that everyone behind the scenes will continue to keep giving it their all.
With a mentality like that guiding every season, it's not really a surprise that Supernatural has been able to maintain consistent ratings and draw in new viewers over its lengthy run. It's now a mainstay property of the CW and, according to TVSeriesFinale.com, still one of their most-viewed shows. Does it have what it takes to make it to 400 episodes? As long as the actors and writers stay motivated, the network will likely keep it alive as long as it possibly can.