When 'Teen Wolf' Returns, Stydia Could Get Closure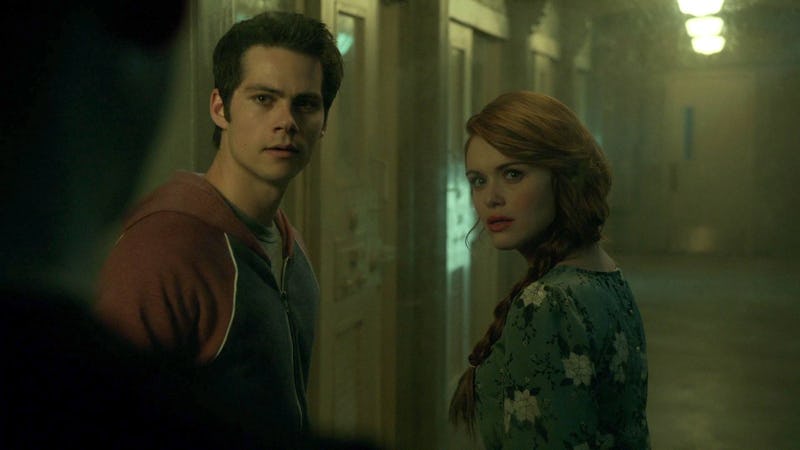 MTV
It's been a long road for Stiles and Lydia (or, as they're commonly known to us, "Stydia") and we've waited long enough to see if their romance would finally come to fruition. But, since this is the last season of Teen Wolf, creator Jeff Davis is finally giving 'shippers what they want. Maybe. Teen Wolf's midseason finale airs tonight, which also means that season 6A wraps this week. And that means that we're only a few episodes away from the end of Teen Wolf entirely. More tears! Of course, we all want to know when Teen Wolf will return for the rest of Season 6.
It's too early for an official return date, but I can make an educated guess. Typically, the show takes a six-month hiatus. And, for the last few seasons, it's debuted it's second half of the season later in the month. So, I can figure that we're probably looking at a late June 2017 premiere date for 6B.
Now that we have that settled, let's look at what else can we look forward to in Season 6B? TV Line reported that we can expect the return of Papa McCall, which is exciting, but there's a bigger question fans are mulling over: Will Stiles survive the season? I mean, can you imagine the end of Teen Wolf without one of the series' most popular (not to mention good-looking) characters? (Don't worry, the Internet can't, either). At first, fans were thrilled when Stiles appeared in 6A, because we knew he was confirmed to be a part of the show's ending. But, then there was that recent (since-deleted) Instagram that was rumored to mean he was done filming well before the series finale. Uh... what?! Say it ain't so!
But, the plot thickens! Davis gave a recent interview with TVLine previewing the midseason finale and the Stiles/Lydia romance, teasing that "maybe they're stumbling towards romantic love, or maybe it blows up in their face after the first month and they say, 'Screw it. Let's just be friends.'" Now, come on. If their romance goes places, how can we resolve that if Stiles isn't there for the next half of the season? I'm just saying.
Given where this season has ended up — with Lydia finally remembering her love for Stiles right before he was taken by the Ghost Riders AND remembering he said he loved her — Davis is either setting us up for a terrible emotional heartbreak, or we're getting luckier than we thought.
It would be wise of Teen Wolf to take a page out of another series ending its long run this year: CW's The Vampire Diaries, which has already announced it's bringing back some of its main characters who departed the cast via deaths or otherwise over the run of the series.
It's tough to know that after tonight's inevitable emotional episode of Teen Wolf, we're likely going to have to wait six months to see the gang again, but fans are used to it. And maybe this is a good thing. After all, absence makes the heart grow fonder.