Here's When The iPhone Xs Will Officially Be Available For Purchase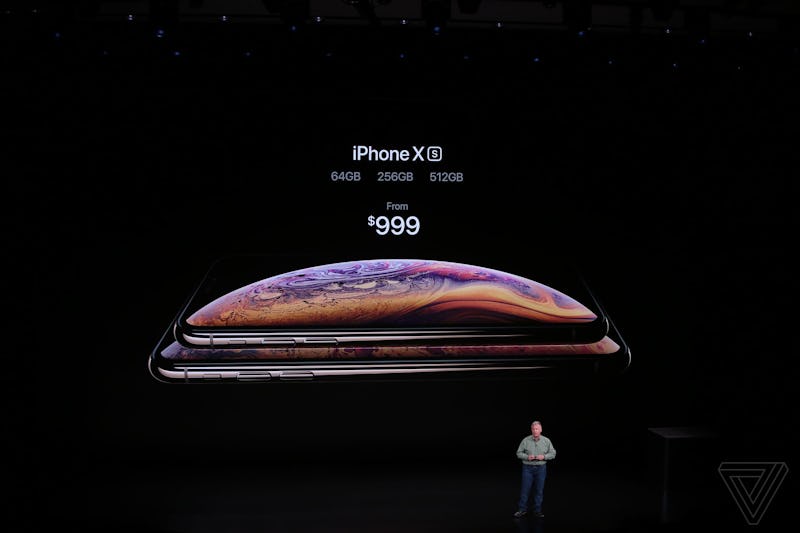 Apple
In Sept. 12's Apple Keynote event, Apple announced some long-anticipated news, confirming that there is not only an iPhone Xs, but an iPhone Xs Max on the way. But all of the cool new features aside, many are wondering: when does the iPhone Xs come out? If you're looking ahead for holiday shopping, put this at the top of your list — according to Apple, the iPhone Xs and iPhone Xs Max will be available to purchase for preorder Friday, Sept. 17, to ship out on Sept. 21, and will sell for $999 and $1099, respectively.
If you're wondering whether or not it's worth the swap, the Apple Keynote also went into detail about other features the new iPhones will debut as well. The iPhone Xs, which will be available to purchase in gold, silver, and space gray, will be much harder to break than its predecessors — Apple boasts that it is made with "surgical grade stainless steel," and features "the most durable glass in a smart phone". This version, while not waterproof, will also be able to withstand more potential water damage than previous iPhones, with Apple saying it tested dropping it into everything from saltwater to beer.
The super retina display of the Xs, which features rounded edges to the full corners of the phone, is 5.8 inches, whereas the Xs Max is 6.5 inches, the largest retinal display yet. The new chips in the iPhone Xs feature 512GB capacity, and the battery will last up to an hour and a half longer than previous models. In the U.S., the Xs will also support Dual Sim, allowing you to connect it to two different phone numbers; you can now have a home line and a work line, and answer calls and dial out from either one. They will also feature wider stereo sound, and a 60 percent greater dynamic range for color, according to Apple.
The cameras, too, will feature a more dynamic range of options, including a new depth function that allows users to edit the background and foreground to change the appearance of depth after the photo is taken. The larger screens will also enable easier editing for photos in general, and according to Apple, are also optimum for gaming and streaming videos.
Apple also announced the iPhone XR, a lower cost version of the new iPhone, which will retail starting at $749; that model, however, will not be available until Oct. 19 for preorder, with an Oct. 26 release. It will come in six different finishes, including white, black, blue, yellow, coral and (PRODUCT)RED, according to Apple's press release.
"The new iPhone XR has a gorgeous new aerospace-grade aluminum and glass enclosure that has IP67 protection from liquids and dust, long all-day battery life and comes in six beautiful finishes," said Philip Schiller, Apple's senior vice president of Worldwide Marketing, in a press release. "iPhone XR makes it possible for even more people to have the great experience of the latest iPhone X technology, in beautiful new designs, at a more affordable price."
No matter which model you're intending to snap up this year, make sure to mark those dates on your calendar now — the early bird gets the iPhone!