Here's When You Should Expect The New Nokia 3310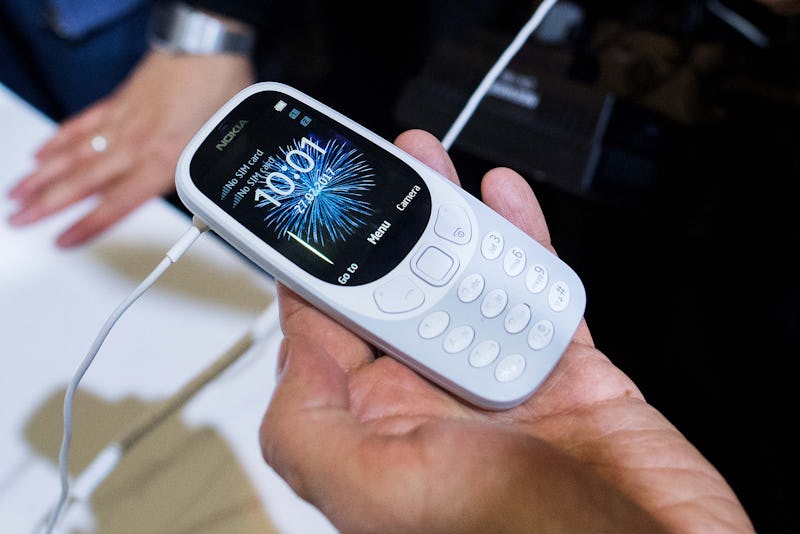 David Ramos/Getty Images News/Getty Images
Here's some big news that's not related to Donald Trump or the Oscars: The brand-new Nokia 3310 phone was just announced at the Mobile World Congress conference on Feb. 26, which means everyone's favorite mobile phone from the 2000s is coming back! For those of you who are dying to get your hands on one, it's worth finding out exactly when the new Nokia 3310 comes out. After being such a huge hit with kids who grew up in the '90s (including me!), the fact that the Nokia 3310 is making a comeback makes me want to do a happy jig. There is one catch about who can actually use it, however. Read on.
There are many similarities between the new Nokia 3310 and its predecessor besides its name. To give you an idea, the phone has basic features like voice calls, text messages, and a web browser. There is no App Store, of course, so you can't download any mobile applications. Also, it does not have a touch screen like most smartphones do these days, so you'll have to use an old-school keyboard for you to make calls and type out texts with.
I know, I know: It's hard to believe that smartphones didn't exist once upon a time. Indeed, the original Nokia 3310 first made its debut way back in September 2000, which seems like eons ago. Luckily, 17 years later, we'll most likely get the new phones well before fall. The exact release date is unknown, but reports say that the reboot classic will become available sometime during the second quarter of 2017, so we're talking about anytime between April and June 2017.
Back by popular demand, the new Nokia 3310 is estimated to cost about $52, making it an inexpensive (and retro) alternative to the modern-day smartphone. Another feature that makes it incredibly similar to the old model is that the Nokia 3310 has a super long battery life. You could talk on the phone for 22 hours straight if you really wanted to, and the battery can be on standby for up to a month, according to HMD Global, the parent company of Nokia. Owners can charge the phone using a micro USB cable. Yep, that's right: No more squabbling over power outlets in the mall with other people.
For those who like different choices, you'll get to pick from four different colors and finishes, including glossy warm-toned red, yellow, matte dark blue, and gray. The reboot has about 32 gigabytes of storage, an MP3 player for music, SIM card slots, Bluetooth, and a 2-megapixel camera. Not too shabby, eh? Plus (and here's what I think is the most exciting part), the new Nokia 3310 also comes with a classic mobile phone game: Snake! You'll get to play this iconic game on an all-color screen, featuring cute pixelated snakes.
Here's a comparison between the Nokia 3310 as we knew it 17 years ago, and what it looks like now:
OK, now that I've gotten all the exciting stuff out of the way, here's the downside: Unfortunately, the expected release date of Q2 applies mostly to people living in India, Africa, the Middle East, Europe, and Asia. The Nokia 3310 relies on a 2G network, which means it probably won't operate in countries like the United States and Canada, along with Central America and South America. So technically you could buy it online, but once you get the phone, you might not be able to receive any crucial information like, er, phone calls.
In case you're one of the lucky people who live in regions where the Nokia 3310 will definitely work, head on over to Nokia's website and sign up for email updates. That way, you'll be the first to know once the phone is finally available for purchase.
Yes, the 2G network catch is a major bummer that will probably leave at least a few people disappointed, especially those who were huge fans of the original Nokia 3310. Still, I think it's pretty awesome that the Nokia 3310 is making a comeback at all. It's not everyday that companies listen to their customers about bringing back products that basically made up our entire childhood. Besides, who's to say that if you got a Nokia 3310, you'd actually use it instead of making a '90s shrine?
Need I say more? Started from the bottom, and now we're here!