This '90s Tech Staple Might Be Coming Back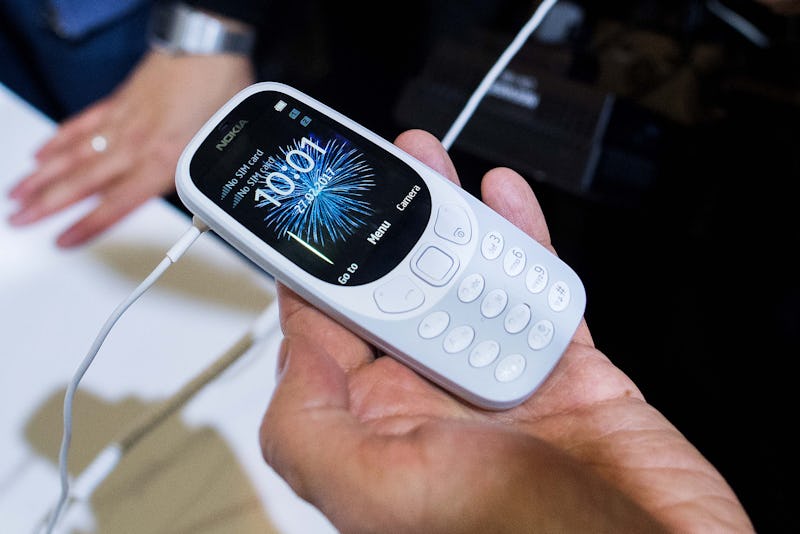 David Ramos/Getty Images News/Getty Images
Before Siri and Instagram, there was the Nokia 3310 — a childhood staple so many of us remember fondly. And I've got good news for the '90s kids who never totally grew up: The Nokia 3310 phone might be coming back in a new and updated form soon. Pop your collar and grab some milky pens — we're taking it way back.
First, though, you might want to reign your excitement in a little bit: At this point, the news is just a rumor. VentureBeat's Evan Blass reported on Monday that an "homage" to the device is expected to be announced during the Mobile World Congress later in February, but HMD Global (the Finnish company that makes Nokia phones after buying the rights to the name last year) has not confirmed the report; additionally, Business Insider reported that a spokesperson for HMD Global "declined to comment on 'rumors or speculation.'" (Bustle has also reached out to HMD Global for comment but received no response by press time.) So, right now, we can't yet confirm for sure that the Nokia 3310 is making its comeback.
It's an exciting possibility all the same, though. As opposed to a complete relaunch of the iconic turn-of-the-millenium phone, the rumored re-release (if, again, it's actually happening) is believed to be a riff on the almost brick-sized device so many of us fell in love with all those years ago. There are not yet any details regarding whether the phone will closely resemble its original functionality or will have a more modern-day update, although an old-school version would certainly bring a smile to this writer's face. While it's rumored to be priced at around $63 in Europe, we don't yet know if it'll launch elsewhere.
The reveal is expected to happen at the Mobile World Congress on Feb. 26 in Barcelona, so you'd better believe I'll be keeping myself glued to a computer that day.
Many of us fell in love with the Nokia model, originally released in 2000, partly due to its impressive battery life and indestructible design. This sleek piece of technology had all the features of the Nokia 3210 — its predecessor — which included SMS messaging and a fully internal antenna. (SO COOL.) It was smaller and smoother, and the price was just right; accordingly, people went bananas for it. It's considered by some to be one of the most successful mobile phones ever, having sold around 126 million units of just this model alone.
It still has fans to this day, too. 49-year-old Dave Mitchell recently told The Sun that he still uses his Nokia 3310, saying that it's been through the wash, on a tour of duty in Iraq, and dropped on the floor and in curry sauce. And yet, it still only needs a charge "every couple of weeks."
Eventually, the Nokia 3310 took a back seat to Motorola's 2004 RAZR, which was shiny and vibrant and so futuristic looking. As the years wore on, technology advanced with robust smartphones capable of so much that the Nokia 3310 (and many others) became obsolete.
Regardless of today's smartphone capabilities, it goes without saying that a Nokia 3310 comeback would warm the heart of '90s kids around the planet. Here's hoping the rumors turn out to be true!
Image: Getty Images