'Our Girl' Finished On A MAJOR Cliff Hanger So Here's When It Returns With Answers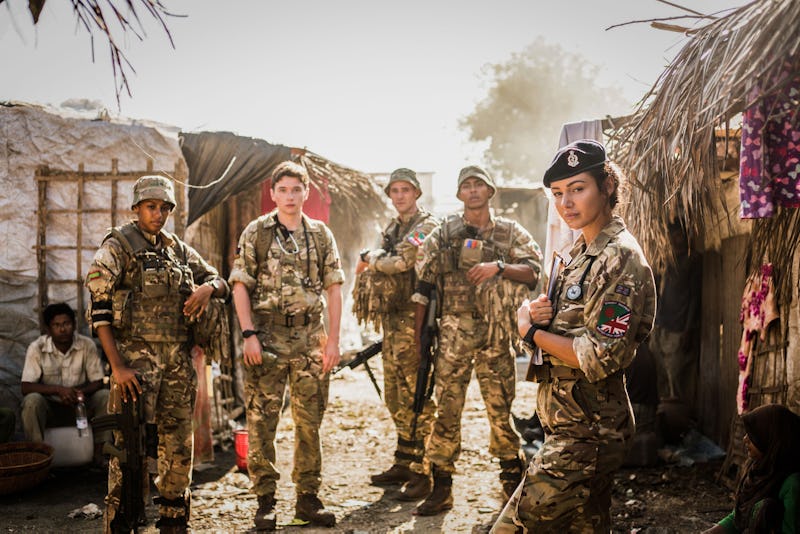 BBC/J Redza
Our Girl Series 3 left viewers on a cliffhanger. Literally. After running for their lives and being hunted down by a terrifying gang of armed gunmen, 2 Section were faced with a choice; they could either jump off the edge of a very steep cliff and into a river, or they could risk being shot by the enemy. On the orders of Captain James, they took their chances on the river — but will they all actually survive the plunge? And if so, when does the next series of Our Girl start because I need answers.
As of yet, there is no official word from BBC bosses as to what is happening exactly with regards to the next series. I contacted the show to find out if there was anything, even the teeniest of details, that they could share with us at this moment in time. Unfortunately, a spokesperson tells me that after checking in with the production team, nothing could be confirmed right now.
However, word on the street is that another series is happening. So my only question now is when? Well, if history is anything to go by, fans should perhaps expect Michelle Keegan and the gang to be back on our screens this autumn.
Our Girl Season 2 (the first series to star Keegan) premiered in September 2016. Meanwhile, Our Girl Series 3 started on BBC One in October 2017. However, this season was particularly long and so was divided into two parts. The first six episodes were aired last autumn, while the remaining six were then broadcast from June onwards, with the final taking place on Tuesday, July 24. This could mean that Season 4 (if there definitely is one on the horizon) may start later than usual.
The last episode of Series 3 has left wondering who out of 2 Section will survive after they were forced to risk their lives by jumping off of a cliff and into a very rocky river. Fans will certainly be hoping that Captain James (Ben Aldridge) and Corporal Georgie Lane (Keegan) survive the plunge as their unexpected love story continues to unfold.
Earlier on in the series, Captain James revealed that his wife Molly Dawes (Lacey Turner) had decided it was time they ended their marriage — a choice he very much agreed with. At that point, he had already confessed his love to Georgie (who was engaged to his now dead best friend Elvis Harte). After revealing he was now separated from his wife, he told Georgie it was her decision as to whether or not they pursued a romantic relationship.
At first Georgie was hesitant but in the Season 3 finale, she finally admitted that she just couldn't fight her feelings any longer. Then, one thing led to another, and now, she and Captain James pretty much look like they are officially an item. After sleeping together, some fans are now speculating that Georgie could be pregnant in the new series of Our Girl (less than a year after poor Elvis was killed in action).
However, while it would be an exciting plot twist, what would this mean for the show? Georgie might find it a little tricky saving soldiers in war zones if she is heavily pregnant. So would this mean that she would potentially have to take time out from 2 Section to take maternity leave?
Well, as lovely as it would be to see Georgie and Captain James end up together, I'm not so sure I could cope without her on the battlefield just yet. So, be careful what you wish for.