This 'Saved By The Bell' Makeup Line Will Awaken Your Inner Kelly Kapowski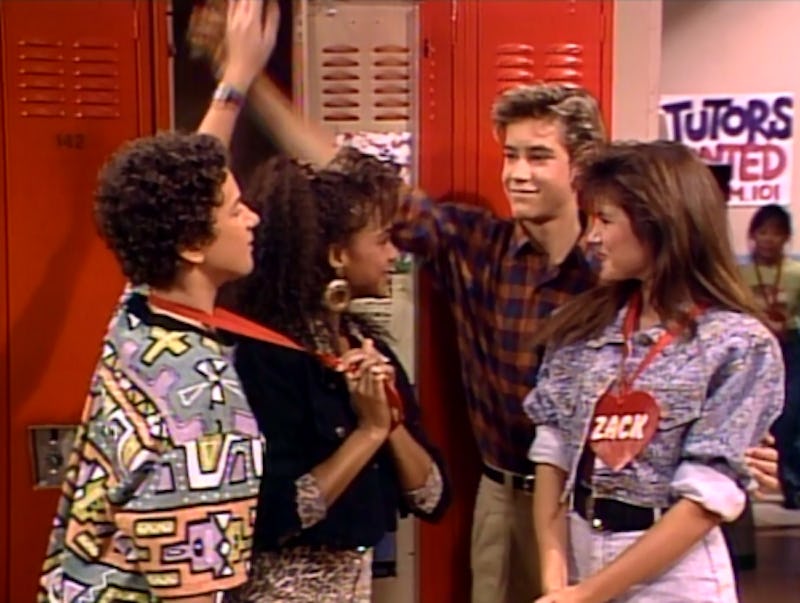 NBC
Are you a Kelly Kapowski? Perhaps you are more of a Jessie Spano? Or maybe you relate most to Lisa Turtle? Well, if you are a Saved by the Bell fan, then your inner '90s kid is about to get shook. Indie makeup brand Sola Look is launching a Saved by the Bell makeup collab on Feb. 3, and beauty lovers who are fans of the show are already lining up for further info.
UPDATE: Sola Look revealed via an Instagram post that its Saved by the Bell makeup collection is actually a liquid metallic lipstick trio. The lippies were co-created by influencer and online MUA Depechegurl.
While the brand initially posted a generic graphic tease with the date on its Instagram, one could assume that the collab would include an eyeshadow or multi-product palette of some sort given the brand's history of similar collabs.
Nostalgic palettes have become this awesome indie brand's thing. Sola Look issued a four-pan Flashdance eye palette back in 2016 and a Dirty Dancing palette, complete with more colors and a hot pink, matte liquid lipstick that smelled like ooey gooey vanilla cupcakes just out of the oven, in 2017. It wouldn't be far-fetched to think that another palette taking inspo from Saved by the Bell's leading ladies is on deck.
Yes, the colors and products pay homage to the trio of beloved TV women. Kelly, Jessie, and Lisa inspired their own shades. The metallic sheen is so '90s, too.
Here are the shimmery, metallic shades!
Check out the swatches on a lighter skin tone...
... and on a darker one! The pigmentation slays.
The post above is all that we have to go on for now. However, the brand did post an image of Zack and Kelly a year ago without any context, so perhaps it was foreshadowing what was coming down the pike.
Bustle reached out to SolaLook PR for further details about its Saved by the Bell partnership.
The early buzz is loud! Fellow makeup brand Storybook Cosmetics, which creates palettes and products based on works of literature and pop culture, is beyond stoked about this good news.
Both Sola Look's Flashdance and Dirty Dancing palettes are in my makeup rotation, so I can attest to the quality of the eyeshadows, which are velvety smooth and prettily pigmented.
While we wait for more intel, we decided too "ooh and aah" over some of our fave GIFs of Kelly, Jessie, Lisa, and their thoroughly late '80s and early '90s looks.
We all loved Kelly's bangs, Jessie's curls, and Lisa's waves. Each character had her own unique and beautiful teenage look and we cannot wait to see how it translates into modern makeup.
Let's pause to gawk over those brows!
Or these. Brow game strong.
Miss Jessie Spano was the queen of scrunchies, which are also making a comeback in 2018.
So. Many. Scrunchies.
Even when giving the side eye, Lisa Turtle was a head-turner with a penchant for pulling off matchy-matchy accessories.
The ladies of Saved by the Bell rocked looks that were emblematic of the era. It's going to be amazing to see how Sola Look transforms the show's aesthetic into modern makeup.