These Disney Princess Shoes Are SO Much Comfier Than A Pair Of Glass Slippers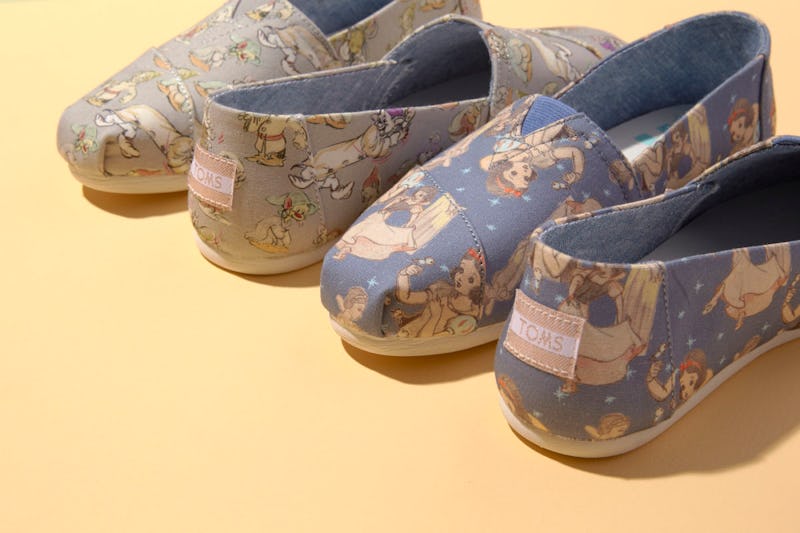 Courtesy of Disney
Forget flip flops. Screw slides. Eschew espadrilles. While summer is prime pedicure season and the essential time to show off freshly pedicured toes, you are so going to want to step into these shoes that don't show off any sort of toe cleavage. The TOMS x Disney Princess shoe collection is on deck and these comfy, cozy slip-ons feature some of your fave characters of all time. But they are presented in a totally new and unexpected way.
Footwear News reports that the 30-piece capsule collection will feature styles for women and children. The shoe brand dipped deep into the Walt Disney archives to source the designs, which boast never-before-scene sketches from Cinderella, Snow White, and Sleeping Beauty. These sketches were created in the mid-'30s through 1959 by female artists and animators who were infusing color into the films.
These are basically the shoes you will be living in all summer and deep into the fall.
Glasses — both shades and opticals — are also a part of this collection because you can never have enough Disney Princess-inspired accessories in your life and on your person.
The TOMS x Disney Princess range will be available in staggered fashion, with the initial drop slated for June 21. The Cinderella collection comes first and also features her mice pals Gus and Jaq.
The Sleeping Beauty assortment will arrive on Thursday, July 19 and will also boast imagery of her Fairy Godmothers. Snow White's range lands on Aug. 23 and will of course include The Seven Dwarfs. How could it not?!
Lastly, a holiday collection featuring six pairs will be available as of Oct. 18 so you can shop for the Disney obsessive in your life.
The shoes start at $64.95 and go up to $75 for women. The kids' collection is priced from $49 to $59.
Women's eyewear will cost from $170 to $190, while the children's glasses are $90.
The color palette for these easy shoes is soft and refined. You could veritably get away with wearing them on casual Fridays at the office through the summer.
Besides the super cute styles and nostalgia inherent in the TOMS x Disney Princess collection, the shoes also make a statement of a different sort. Footwear News notes that TOM's described these shoes as something that will "empower women and girls in the pursuit of their dreams. [It's] for those who break glass ceilings, not glass slippers."
That applies to the the ladies who created the sketches over 60 years ago to those who wear the finished product in modern times. It's a subtle way for your feet to be feminist.
The Twitterverse has reacted with sheer joy over the news of this collab.
This user was so stoked that their tweet had a typo. But we get it — the excitement was overwhelming.
It's a #ByeMoney moment.
It's also shoe sorcery!
The collection really does hit on two things people love — adorable and relaxed shoes and enduring Disney characters. Let's not forget that TOMs is a charity brand that donates to people in need with each product it sells.
This user makes a critically important point. Yes, there have been plenty of Disney-inspired and Disney-adjacent fashion collections through the years. Minnie Mouse x New Balance sneakers arrived at the top of the year, too. This collection is special since it makes use of long-lost, archival designs and celebrates empowered and impactful women. TOMs didn't just source stock, standard, and familiar imagery. It opted for unique, unseen graphics. That makes these shoes ace.
A lot of fans are pledging to drop loot cakes on several pairs. Who needs standby sandals when you can rock TOMs loafers with Disney designs?