'Trollhunters' Fans Have A Lot More To Look Forward To Than Just Season 3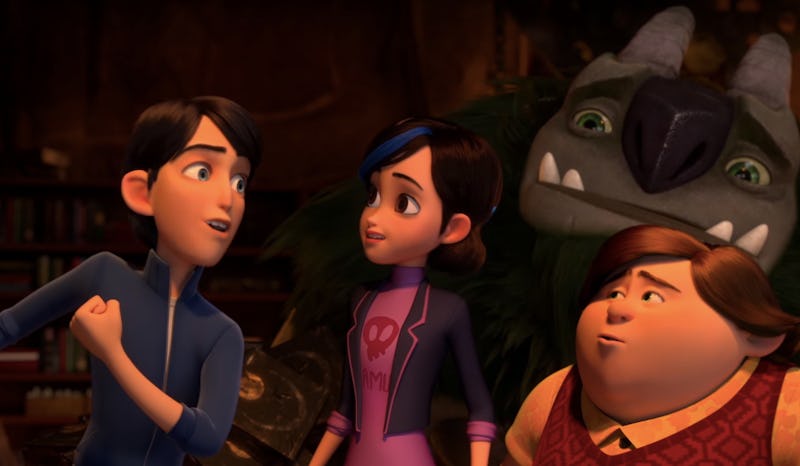 Netflix
Trollhunters, the rather fantastical Netflix animated series by acclaimed director Guillermo del Toro is releasing its second season on Dec. 15. But when will Season 3 of Trollhunters air? Fans will be happy to learn that Season 3 of the series has already been confirmed by Netflix, set to release sometime in 2018, according to Den of Geek. Its renewal isn't much of a surprise, since Season 1 of the show received rave reviews and more 2017 Daytime Emmys (6) than any other show.
Before del Toro or the network even had a chance to confirm Season 2, writers Kevin and Dan Hageman said in an interview with Collider that Trollhunters was majorly successful. Though Netflix does not release viewing statistics, the writers claimed that Trollhunters was the most watched Netflix original show to date that was targeted at a young audience.
Not only was the series heavily viewed, but it was lovingly created. Del Toro said in an interview with The Observer that, of all of the films and shows he's worked on, including Pan's Labyrinth, Pacific Rim, Crimson Peak, and others, there's something special about Trollhunters. In speaking about Season 1, he said the animated series "has been, without a doubt, one of the best creative experiences I've ever had. Maybe the best creative experience I've ever had."
With all of the awards, reviews, and viewers, it seemed a foregone conclusion that Netflix would eventually confirm a Season 3. Season 2 was originally confirmed by del Toro to Entertainment Weekly in February, and each season has debuted in December. With the confirmation of a third season of Trollhunters coming out in 2018, it would stand to reason that Season 3 will drop in December as well, an early Christmas present to fans. Fans of Trollhunters have much more to be excited about than an announcement of a third season, though.
Besides extending the series for another season, del Toro announced at a preview screening for Season 2 of Trollhunters that its world would be expanding into a trilogy of series franchises, per Cartoon Brew. Along with the flagship series, two more series titled Wizards and 3 Below, will also be produced. 3 Below will appear first, slated for release in 2018. Those who want to see Wizards will have a noticeably longer wait, as it is not scheduled for release until 2019. The trilogy series will be called The Tales of Arcadia, after the name of the town where Trollhunters takes place.
Along with that announcement came a trailer that teased both of these future series. While it is pretty obvious from the nameWizards, that that series will feature wizards, witches, and magic (not that unrelated from the magic already seen in Trollhunters), 3 Below is a much more mysterious title. However, the trailer reveals that this series will deal with the existence of aliens. Although details about these new series are sparse, as they appear to deal with future storylines of the original series, Netflix did issue a press release sharing a bit about what fans can expect, at least, in 3 Below. It reads:
"Following Trollhunters, DreamWorks 3 Below will focus on two royal teenage aliens and their bodyguard who flee a surprise takeover of their home planet by an evil dictator and crash land in Arcadia. Now on the run from intergalactic bounty hunters, they struggle to blend in and adapt to the bizarre world of high school all the while attempting to repair their ship so they can return and defend their home planet."
Whether it's Season 3 of Trollhunters, 3 Below, or Wizards, for fans of del Toro, there's a lot to be excited about.