When Will The "Women's Strike" Take Place?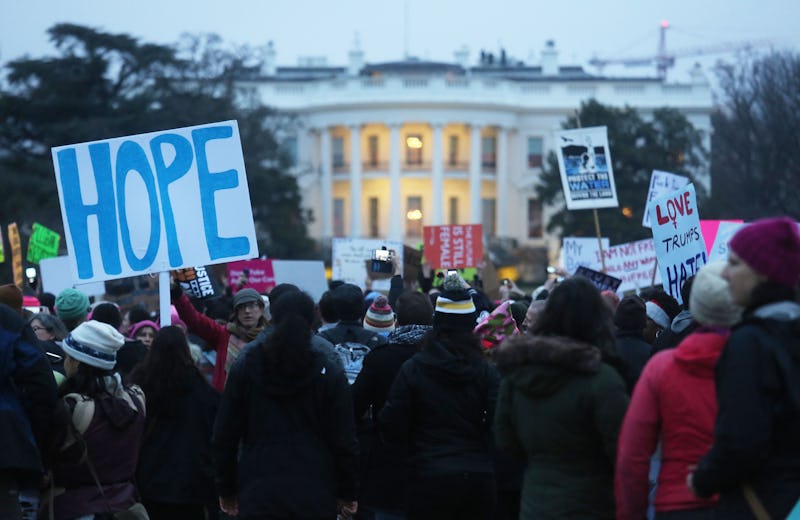 Mario Tama/Getty Images News/Getty Images
On Monday, the organizers of the Women's March announced a general strike called "A Day Without A Woman." When is "A Day Without A Woman"? So far, there's a lot we don't know about the women's strike — including when it will be held — but if it can build as much steam as the marches in January, which brought millions to the streets in solidarity all over the world, the strike could be a powerful next-step for a movement that promotes equal rights and opportunities for everyone. Bustle has reached out to the Women's March for more information and will update upon reply.
On Monday, the Women's March posted a graphic on its Facebook, Instagram, and Twitter pages with the words: "General Strike: A Day Without A Woman." The graphic was accompanied by the message, "The will of the people will stand." The announcement did not give specifics about the strike, saying that a date would be announced some time in the future.
"A Day Without A Woman" will not be alone in using striking as a form of nonviolent protest. After Trump signed his executive order barring entry to refugees and travelers from seven Muslim-majority countries, New York taxi drivers at JFK airport went on strike for one hour in protest. Last Thursday, as many as a thousand Yemeni-owned bodegas in New York City closed in protest of the travel ban; Yemen is one of the seven nations named in the executive order. The group Strike4Democracy has organized a nationwide general strike to take place on February 17. The organization states that during the F17 strike, "we will not go to work (unless absolutely necessary). We will not go to school (unless necessary). We will not spend any money (unless necessary)." Instead, Strike4Democracy recommends that participants get involved with local gatherings to protest Trump's policies or volunteer in their local communities.
When participants gathered for the Women's March in Washington and in sister marches around the world on January 21, they smashed even generous crowd expectations, with some experts claiming that the marches were the largest demonstrations in U.S. history. Since then, however, there has been much debate about whether the marches will ultimately be regarded as a single moment or the beginning of an ongoing movement. "A Day Without A Woman" represents the next big step for the Women's March. It will demonstrate whether the huge momentum built up in January has the power to create lasting engagement and real social change.