Here's Why I'll Never Buy An Economy Light Plane Ticket Again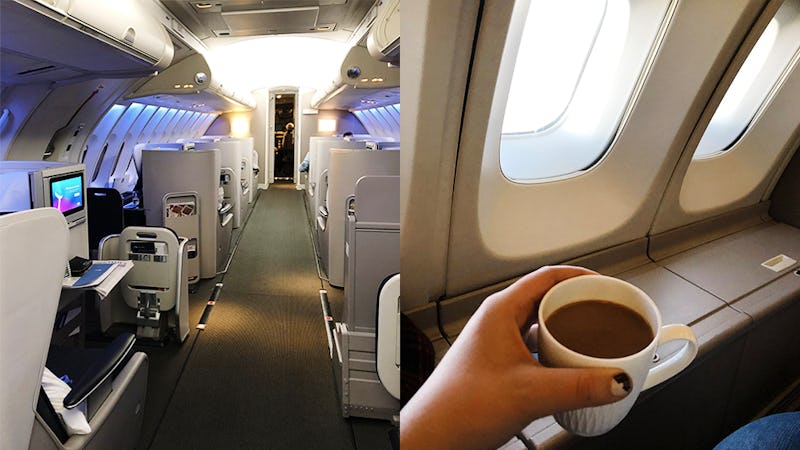 Tanya Ghahremani/Bustle
I'm someone who always gravitates toward the cheapest ticket available when I travel, even if it comes with a 20+ hour overnight layover — but I will admit that, when it comes to long-haul flights where you are often checking bags or trying to sleep during the journey, I have often wondered if there's something to be said about paying a little more for added comfort and the included extras. More specifically: When is the more expensive plane ticket worth it?
Recently, I had a flying experience that, not to be dramatic, was the worst flying experience of any flying experience ever in the history of the world. It was on a budget airline where I was wedged into the corner of a window seat for an eight-hour flight in a row that had less legroom than I've ever seen on a plane. The air conditioner on the plane did not work. When we landed, trinkets I'd picked up during my travels didn't end up being the only souvenir I brought back home: I also developed a nasty pinched nerve in my left thigh that, weeks later, is still causing me a considerable amount of pain. At the time, I remember emerging from that flight more exhausted than I'd ever been before, nerve pain in my thigh and a cramp in my neck from trying to sleep in the fetal position while sitting upright. But it didn't matter, because hell, I got a good deal.
But did I, even? Weeks later, I'm still mulling this question over, probably because my leg is still cramping up every time I sit down anywhere which is unfortunate because sitting is one of my favorite activities.
How bad can a flight experience be before even the cheapo ticket is no longer considered "a good deal"? Are we all fooling ourselves into thinking that we're saving money by going for the airfare tickets labeled "supersaver," and "basic economy" when, in reality, we're just paying for hours of discomfort, sleep deprivation, and dissatisfaction? Not to mention, those reduced fares often don't include things that are usually free with higher tiered tickets, like carry-on baggage, checked baggage, seat selection, and a boarding group that isn't dead last — amenities like these only result in you accruing more charges, and ultimately leave you having spent more than you would have if you'd just got the more expensive ticket option. Is it worth it to just pay more and get those perks?
I recently had the opportunity to test this theory thanks to British Airways. As part of promotion for its 100th anniversary, the airline offered me the opportunity to experience their business class cabin, Club World, for a flight between JFK airport in NYC and Heathrow airport in London. These flights usually cost around $900, versus $400 for basic economy — so it's pricier than I'm used to. I'm never one to turn down the opportunity to travel to London or the opportunity to do so in a seat that converts into a lay-flat bed, though, so I jumped at the invite.
Unsurprisingly, it was the best flying experience of my life, due to all of the added features that are standard when you purchase a more expensive ticket: i.e., included checked baggage, priority boarding, priority security lines, included meals, and a more comfortable seat. Turns out, flying doesn't have to be a miserable experience!