ColourPop's Nectar Collection Is So Peachy Keen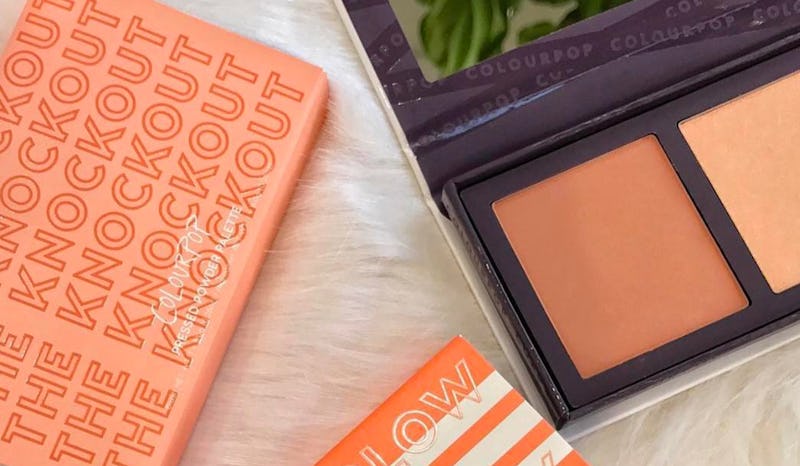 ColourPop does not mess around. Seriously. The brand continues to introduce new collections and products on a near-weekly basis. The latest? Oh, the Nectar Collection and peach-toned Knockout and Blow Me Away Pressed Powder Palettes, which are Phase 1 for Spring 2017. When are these new ColourPop palettes coming out?
Well, according to a post on the official ColourPop Instagram, you will be getting your shop on soon. The Nectar Collection pressed powder palettes are launching on Friday, Mar. 10 at 1 p.m. ET/10 a.m. PT. They arrive just as we are preparing for Daylight Savings Time and losing that extra hour of sleep. That's probably not an accident. It's a new season and you need new products to wake up your face!
Now is the perfect time for you to whip out that smart phone and make a note to shop ColourPop on Friday and to push the clocks ahead this Saturday.
ColourPop can always be counted on for super on-trend, affordable, and high quality products and this range looks to follow in that hard-earned tradition of this beloved, L.A.-based indie brand.
ColourPop really does keep up with the big, prestige brands like Urban Decay and Too Faced in terms of continuously dropping new products and keeping fans excited and reaching for their credit cards. CP surely inspires brand loyalty by making trends super accessible to makeup obsessives.
This sneak peek and CP's rep are enough to get you excited. Are you #SprungOnColourPop? You will be this Friday. You can shop knowing that you won't be going into massive debt, since ColourPop prices are as attractive as the product shades themselves.
You are about to be afflicted by #NectarVibes. The days are getting longer, the weather is breaking, and spring will soon be in the air. Your color scheme with your makeup needs to reflect that. AmIrightoramIright?
This screen grab comes from the brand's email blast teasing the Nectar collection and Spring 2017 trends.
Images: ColourPop/Instagram (2); Courtesy of ColourPop (1)