The Next 'Jersey Shore' Baby Will Be Joining The Squad So Soon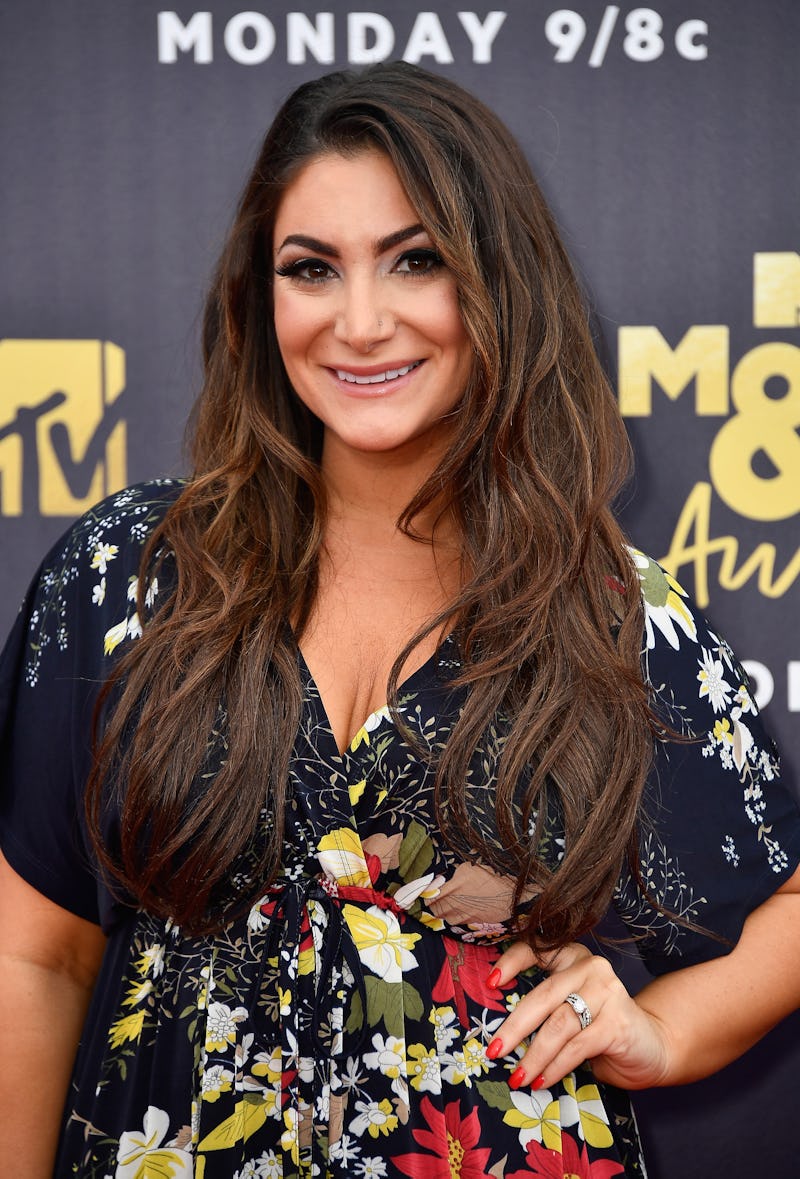 Frazer Harrison/Getty Images Entertainment/Getty Images
It seems like just yesterday Deena Nicole Cortese was captured gushing over the idea of starting a family one day on Jersey Shore: Family Vacation. After all, her fellow Guidettes, Jenni "JWOWW" Farley, and Nicole "Snooki" Polizzi, are experienced moms at this point, and they spent a lot of time in the Miami sun missing their little ones. Now, another of the crew will be joining the mom squad, as Deena announced her pregnancy on Instagram last month. In the caption, she mentioned that she had made it "safely" into her second trimester with a baby boy. So when Deena is due to bring her son into the world?
According to the same Instagram post, baby Christopher John is expected to arrive in December 2018. That means Deena's about 20 weeks along in her pregnancy (full-term is usually 40 weeks), so she and baby CJ, as she has called him on Instagram, are already halfway to the finish line.
She posted a 20 week progress update (AKA "bumpdate") on Aug. 16 in comparison to her earlier bump pics. Marveling at how fast time has gone, she shared with her followers that so far, her journey has been full of mixed emotions.
"Although the first trimester was rough and we hit a little bump at the beginning of our second.. this experience is amazing and I wouldn't change it for the world," she wrote. "And in a little more then 4 months it'll all be well worth it ... Feeling him move everyday is an emotion I can't even describe .. he's already my best friend ... baby's the size of a banana ... Mommy is craving oranges..peaches..ice pops and feeling great. Daddy is being amazing and handling Mommys mood swings like a champ."
She and her husband, Chris Buckner, are elated to be welcoming a son into their lives. Deena shared a video that was captured at their gender reveal party on Instagram, and their reactions were priceless. "The moment we found out we were having a son," she wrote. "Chris' reaction was everything!!"
Since then, the trailer for the upcoming premiere of Jersey Shore: Family Vacation Season 2 has released, featuring Deena revealing her pregnancy to the fam. So it's going to be interesting to see how she keeps up with them in Vegas. Regardless, all of them already have endless love for the baby meatball, as Paul "Pauly D" DelVecchio calls him already, per his Instagram comments on Deena's posts.
On Aug. 7, Deena shared a boomerang of Snooki and JWOWW showing her bump some love, and appropriately captioned it with the word "family." Snooki shared the same post and is obviously very excited to meet the newest member of the family, calling the baby her nephew in the caption.
Deena said in her pregnancy announcement that baby Christopher is going to be "the most spoiled little boy ever," and well, considering the number of aunts and uncles he's about to have, she's not wrong. If the Jersey Shore crew is known for two things, it's partying hard, and always taking care of their family.