This Is When Flu Season Will Be At Its Worst This Year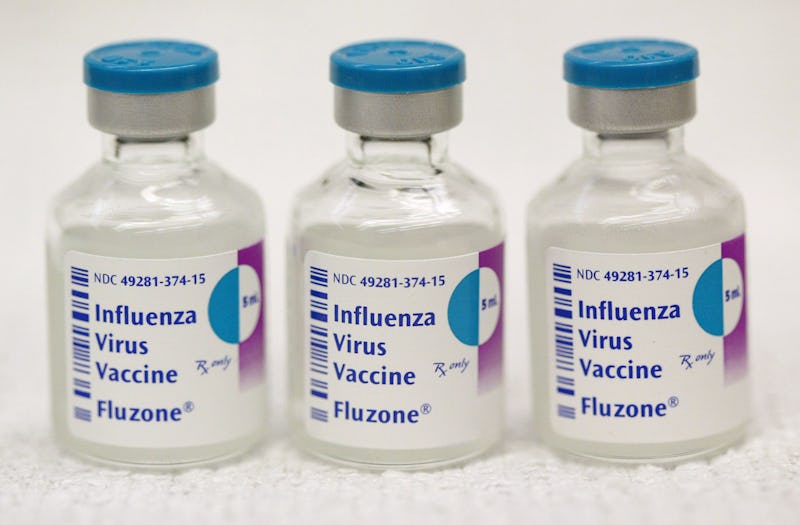 Tim Boyle/Getty Images News/Getty Images
As the summer season begins to wind down, everyone starts to look forward to the fun activities that come along with cooler weather: pumpkin picking, drinking apple cider and hot chocolate, being able to wear the cute new coats you bought during Labor Day sales, and even experiencing the first snowfall (although, don't worry, we have a while before that happens!). One thing everyone is definitely not looking forward to is the illnesses that come with fall and winter, and that, of course, includes the flu. Flu season is almost upon us, and while that's a scary thought, keeping informed can keep you from getting sick. You should know the basics, like info about the flu shot, and when the flu season is at its worst.
You can get the flu at any time of the year — just this week, for example, an Emirates plane flying to New York City from Dubai was quarantined with a suspected flu outbreak that affected up to 100 people. But there is definitely a time when there is a lower risk for catching the flu, and a time for a higher risk. Flu season is the time of year when the illness seems to be spread the most, and that is usually from October through May.
That's a pretty long period of time, covering most of fall, all of winter, and much of the spring. But some months are worse than others. According to data from the Centers for Disease Control and Prevention (the CDC) that looks at flu activity from 1982 through 2018, the months when the flu is the most active are December, January, February, and March. February has, by far, the highest amount of flu activity, which shows that the middle of the winter is the worst time when it comes to the illness.
To get this information, the CDC collects, compiles, and analyzes information on flu activity year-round in the U.S. They also have weekly surveillance reports to really look at data in depth. They look at where and when flu activity is occurring, track flu-related illnesses, determine which viruses are circulating, detect any changes, and measure the impact the flu is having on hospitalizations and deaths in the U.S.
If you're worried about potentially catching the flu, you don't need to panic just yet. October and November have a pretty low amount of flu activity - it isn't until December when it really starts to increase. In April, it begins to taper off, and in May, activity is down quite a bit.
If you're still stressed, though, you can try to avoid getting the flu by getting a flu shot when the time is right. As the weather starts to cool down and we get closer to peak flu season, you'll notice more advertisements for the flu shot and it will become available all over. The flu is, according to the CDC, our best defense against getting the flu.
And you'll definitely want to take your precautions - last year's flu season was the worst one in decades, so who knows what could happen with this year's flu season. You're better safe than sorry!